You have /5 articles left.
Sign up for a free account or log in.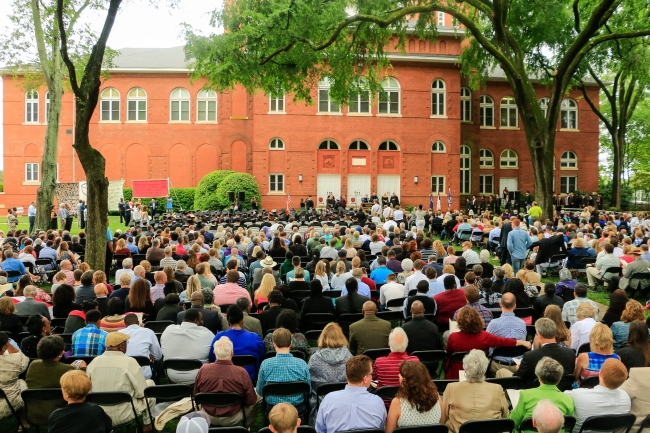 Erskine College and Theological Seminary
Erskine College and Theological Seminary is poised to consider splitting into two institutions after the leadership of the conservative church with which it is affiliated supported exploring the idea and moved to steer its financial support solely to the seminary.
A decision to split would be breaking with many of the trends seen in theological education today, when changes in the way faith is practiced have combined with financial pressures to push many seminaries toward consolidating. It would also reveal a unique series of divisions at Erskine -- an institution that has in recent years found itself at the center of controversies over its stance on sexuality, actions seen as limiting academic freedom and an attempt by the affiliated Associate Reformed Presbyterian Church to exert more control over the college's Board of Trustees. The institution represents the faith's only college and seminary.
But insiders say the move toward a split is very much being driven by money and opportunity. And while they acknowledge different factions may be pushing for the change, many of those factions appear less concerned with culture wars on campus than they are with the idea that the college and seminary can't serve their very different sets of students while shoehorned into the same organization based in the rural town of Due West, S.C.
"When you have a college of 600 or so students and you have a seminary and we're not nearly that size, over the years people have thought the seminary gets the short end of the stick," said Mark E. Ross, a professor of systematic theology in the seminary who supported separation earlier this year.
The push toward a split took a step forward Thursday, when the Associate Reformed Presbyterian Church's General Synod voted to support exploring the creation of two separate institutions. The support came after Erskine's trustees decided this spring to create an ad hoc committee to explore strategies for the seminary's future -- strategies including creating a new legal entity to govern it.
Trustees opted to set up that committee after seminary faculty members this year asked trustees and the church to create a mechanism for separating college and seminary. That motion also asked for a way to divide institutional assets like real estate and endowed funds.
The synod did not go so far, however.
"That the 212th General Synod go on record in support of the Erskine Seminary faculty's request to separate Erskine College and Erskine Seminary into two separate institutions if it is deemed in the best interest of both," read a motion passed by the synod.
It's not the first time a split has been explored. But financial issues give the idea a new sense of urgency, following budget cuts after Erskine was placed on probation by its accrediting agency in 2014.
Over two years, Erskine reduced the budget by $2 million from 2014-15 levels, said spokesman Cliff Smith. Cuts included 5 percent salary reductions for faculty members and staff, cuts to retirement benefits, attrition, and staff cuts. But seminary faculty members opted to take a deeper pay cut of 25 percent to avoid some layoffs.
Some faculty members feel the seminary has been asked to disproportionately bear the financial burden of the cuts. The seminary represents a small percentage of Erskine's overall operating budget, which totaled $30.9 million for the 2015-16 year, according to a report to the Associate Reformed Presbyterian Church's General Synod. The seminary's budget is just $2-3 million, Smith said.
Meanwhile, college and seminary would seem to be headed in different directions. Erskine's incoming class in the fall was 217 freshmen and 26 transfers, moving beyond an admissions goal of 222 students and representing the largest incoming class in 40 years, according to the report to the synod.
The seminary, on the other hand, has struggled to attract students. Its enrollment in the fall was 67.5 full-time equivalents, and its vice president who was developing plans for a stronger financial footing resigned due to health issues. The synod report said the seminary was expected to post an operating loss of more than $100,000 for the year.
But the synod signaled strong support for the seminary, deciding to direct all of its yearly financial support to that side of the institution. Erskine in 2016 received $407,000 from the denomination. It requested $448,000 for 2017 and went into the synod with $421,000 having been recommended.
The money going solely toward the seminary is a break from recent tradition, under which the funding from the church has been split 60 percent for the college and 40 percent for the seminary, said Smith. But there is no net impact from the funding decision, he said -- the funding level for the overall Erskine institution remains the same.
Still, many said the funding decision sends a message.
"This is a symbolic gesture in some ways," said David Dangerfield, a 2005 Erskine graduate and former member of the institution's alumni board who runs a Facebook group called Alumni for Erskine. "The college is hurting, too, financially."
Erskine has been working to put itself on more solid financial footing. It drew 5 percent from its endowment during the 2015-16 year as it sought to cut its endowment draw from 10 percent to 4.5 percent over a four-year period under a financial stability plan. The change came as average tuition paid per student went up 14 percent to $21,000, up from $18,500 two years ago. But in the long run, its goal is to increase undergraduate enrollment to 700 students. College and seminary together had 590 full-time equivalents in 2016, up from 520 in 2011.
Dangerfield isn't necessarily against splitting off the seminary if it proves to be the right move, he said. He does not support the way seminary faculty members pushed for the split, but he said he can see how there could be benefits.
"For me, it's whatever is best for the institution," Dangerfield said. "I buy their argument that the seminary would do better in a metropolitan area. Due West is very rural. There are not a lot of places for families for a seminary student who's probably got a full-time job."
Different seminary faculty members listed different reasons for wanting to explore a split. It would be in large part an acknowledgment that today's seminary students are not flocking to rural parts of the country where they're isolated from many job and housing options. Students are increasingly looking for campuses in metropolitan areas that allow them to hold other jobs and support families.
The move to split is in many ways a struggle to find a way forward after fights for control over the college have been underway for years, said David Danehower, who recently rotated off Erskine's alumni board and runs the Facebook group with Dangerfield. The direction of the college could become an issue, said Danehower, who considers himself a "moderately liberal" conservative.
"There were all kinds of people at Erskine, and now it seems like it's drifting more toward 'you've got to have your theological conservative card stamped at the door,'" Danehower said. "In some sense it is also a struggle within the church."
But he added that seeing the debate as a struggle between theological factions is not accurate. It's more about institutional control and money, he said.
At least one other voice sees the move in a similar light. The Reverend Charles Wilson publishes ARP Talk, a blog that closely watches the church and Erskine, and can be sharply critical of deviation he sees from traditional church teachings.
"I know that folks will turn this into a religious war," he said. "You're not dealing with theological issues at this point. You're dealing with money."
At this point, though, the monetary impacts of splitting the institution aren't clear. Legal fees would have to be paid to establish a new institution. Erskine's endowment and other assets would have to be broken apart. The endowment stands at $35.4 million. That's down from $43.4 million at the end of June 2011.
Smith, the spokesman for Erskine, demurred when asked about the financial impact of any split, calling the issue an ongoing discussion.
"It would be a little premature to try and comment on what that would be," he said.
As for any cultural difficulties arising from a breakup, different people have different takes on the closeness of the seminary and the college. Some say they've become more closely linked in recent years, with college-friendly administrators gaining more control over the seminary. Others point out they've been the same legal entity since 1925.
Some in the theological school point to a possible path forward if a split does occur -- relocating to a more metropolitan area.
"Many students in seminary are choosing seminaries geographically," said Ross, the professor of systematic theology, who is based at a campus in Columbia, S.C. "They're choosing to go to a school that's near them, where they can commute."
Ross also rejected the idea that the proposed split is the result of a theological divide forming within the church.
"There would certainly be an element of the Erskine alumni who have thought that the school and the seminary have moved to the right, and they're not happy about that," Ross said. "And then we have folks in the denomination who think we haven't moved far enough to the right. The tensions on the split in the college, I would say, are really not a part of that aspect of our struggle."
More from Religious Colleges