You have /5 articles left.
Sign up for a free account or log in.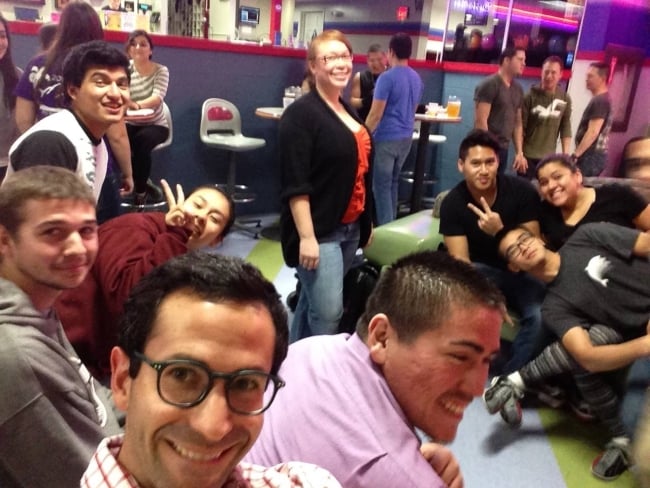 Across the country, male students are falling behind female students in college enrollment, academic performance and retention. According to National Center for Education Statistics, 56 percent of male students graduate in six years, compared to 62 percent of female students. From 1970 to 2010, the rate of women's bachelor's degree completion in the U.S. increased from 14 percent to 36 percent. The rate for men grew by just seven percentage points -- from 20 to 27 percent.
At the University of Redlands, men are trailing women, too, with a retention rate of 85 percent compared to 90 percent for women. The private liberal arts university in California has long had a Men's Retention Committee, but it had failed to boost graduation rates. Last year, Zack Ritter, the university's associate director for campus diversity and inclusion, and Reggie Robles, the university's first-generation-students coordinator, decided to try something new.
Using the budget usually reserved for the committee, they created a program called Dudes Understanding Diversity and Ending Stereotypes, or DUDES.
"It's masculinity programing designed to improve retention," Ritter said. "We know male students exhibit higher rates of alcohol and substance abuse. And we also know they're less likely to seek out student support services. This takes the support to them."
Ritter describes DUDES as a "traveling men's center." Several organizations operate out of the center, including groups focused on diversity, social justice and personal development. DUDES also operates a leadership institute called Men Achieving Leadership Excellence and Success, or MALES.
The center provides peer mentoring, organizes recreational sporting events and brings guest speakers to campus. Recent presentations have included discussions about men and gun culture, pornography, and masculinity and spirituality. Earlier this year, DUDES partnered with the Latino Student Union on campus to organize a group discussion about the concept of machismo across different cultures. While the programming is designed for students who identify as men, women and transgender students are also welcome and encouraged to participate in any of the events.
If DUDES' focus seems a little broad and abstract for a program aimed at improving retention, Ritter said that's intentional.
"Our goal is really to get people to be their authentic selves, because I think you learn better, you grow better, you understand better, if you show up at the table authentically as yourself," Ritter said. "It's about taking off whatever mask you think you have to wear. Building an overall better environment feeds well into retention efforts."
Redlands is not the only institution creating programming focused on this concept. Helping students discover their "authentic masculinity" is billed as the core mission of the University of Richmond's Richmond College. At Richmond, students are divided into two "coordinate colleges." Women belong to the university's Westhampton College, while men belong to Richmond College.
"Research has shown that young men today face challenges in determining what 'authentic' masculinity looks like," the Virginia university said in a statement. "Society promotes several conflicting images of what a 'real man' is or should be. Richmond College promotes the idea that 'being a man' is about discovering your best self."
The university's men's college offers several programs and initiatives with this goal, including "I am Richmond College," a project that collects interviews with students about diversity and masculinity. Students are asked to describe what the phrase "to be a man" means to them.
"Masculinity means being assertive, strong, being a leader and having initiative," one student responded. "It also means being compassionate, vulnerable at times, loving, caring, and handling responsibilities that require both emotional intelligence and technical skill."
Similar programs exist at Trinity College in Connecticut, the University of Massachusetts and the University of Missouri. Kevin Kruger, president of NASPA: Student Affairs Administrators in Higher Education, said that such programs are "increasing, but not widespread."
Colleges looking to create masculinity programs, Kruger said, should be sure to also focus on how "toxic masculinity can promote and normalize sexual violence" and promote dangerous drinking habits, in particular among fraternity members and athletes.
"The research is very overwhelming that hypermasculinity is a part of the high-risk alcohol and substance abuse we see on campus," Kruger said. "Researchers also speak about the 'weaponization of alcohol' and how sociopathic men target vulnerable women with alcohol and also create male allies by inducing their intoxication and getting them to 'buy in' to an assault. Masculinity education programs within Greek life and athletics need to focus on this dimension of alcohol use in male-dominated groups."
A study published earlier this month found that more than half of male college athletes, both intercollegiate and recreational, have pressured women into having sex with them. Driven by negative attitudes toward women and misperceptions about rape and consent, 54 percent of the athletes participating in the study said they had engaged in sexually coercive behaviors -- defined as "any unwanted oral, vaginal or anal penetration as a result of verbal or physical pressure, including rape" -- compared to 37 percent of the nonathletes surveyed.
A survey conducted last year by the National Collegiate Athletic Association found that male athletes struggled to understand consent more than nonathletes did. Nearly two-thirds of male athletes said they agreed that "it is OK to take it to the next level unless you get a definite no," compared to 47 percent of nonathletes.
Fraternity members are three times more likely to commit sexual assault than nonmembers, according to a 2007 study authored by John Foubert, a professor of higher education and student affairs at Oklahoma State University and founder of the sexual assault prevention program One in Four. A study published by a NASPA Journal concluded that women involved in Greek organizations were 74 percent more likely to experience rape than other college women.
Another study published in NASPA Journal in 2009 found that 86 percent of fraternity house residents engaged in binge drinking, compared to 45 percent of nonfraternity men. Fraternity members were twice as likely as nonfraternity men to engage in unplanned sex.
The DUDES program at the University of Redlands now partners with four fraternities to discuss alcohol use, drug abuse and sexual assault prevention with their members, Ritter said.
"We look at where the barriers are to being an authentic person, and that includes ideas about sports, drugs, drinking and sex," he said. "That's led us to focus on issues beyond just retention. We have been able to gain access to Greek orientation, so we talk to them about active bystander intervention, Title IX issues, consent and also healthy sexual relationships."
Foubert, of One in Four, said it's not yet clear if these kinds of programs can actually help prevent sexual assault or excessive drinking. Decreasing sexist attitudes, while a positive outcome, has not yet been directly linked with reducing sexual assault, he said, and a study published last month found that interventions designed to reduce alcohol use among fraternity members are not effective.
"But I am a fan of dialogue," Foubert said. "If a program is there to create a space for men to talk about masculinity, I think that is a positive thing."