You have /5 articles left.
Sign up for a free account or log in.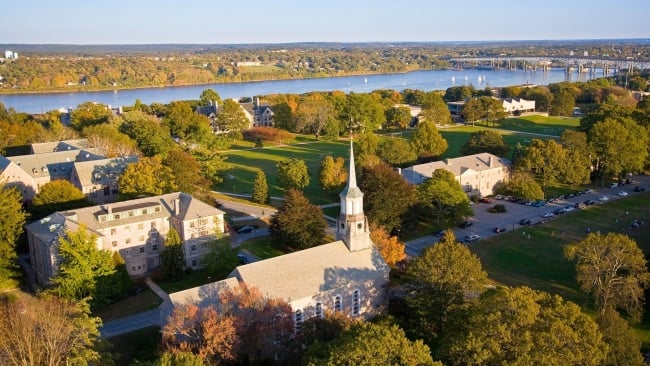 For some students, registering for courses and considering fields of study can feel like checking off items from a shopping list. Math? Check. Foreign language? Check.
But for students entering Connecticut College in the fall, this approach will be strongly discouraged. Starting with the class of 2020, the private liberal arts college is unveiling a new general education program called Connections aimed at encouraging more intentional learning.
As the first major change to the college's curriculum in 40 years, Connections features a host of new requirements that seek to promote interdisciplinary thinking. Most notably, students will now be required to take interdisciplinary 100-level courses called ConnCourses and choose pathways that guide their studies.
"As a faculty, we had grown increasingly dissatisfied with what you might call the check-box approach to distribution requirements or general education, where students have a series of courses they're supposed to take and no real rationale of how they relate to each other," said Jefferson Singer, dean of the college. "There was no larger purpose to taking those courses."
"The best part of the liberal arts has to do with the connections it allows students to make among the very different aspects of their four-year experience," said Katherine Bergeron, president of Connecticut College. "What we want to do is create the structures that will allow students to maximize those connections."
Revamping Intro Courses
As a staple of most college curriculums, 100-level courses are meant to provide students with basic knowledge of a discipline. The new ConnCourses represent nothing short of a "rethinking of the 100-level course," Bergeron said.
"The ConnCourses are based within a particular discipline, but they show the connection of that discipline to other related disciplines," Singer said. "They also ask the student to think about applications to real-world problems."
Faculty members in a range of departments piloted 12 ConnCourses last year. Darryl Phillips, chair of the classics department, said he took advantage of the opportunity to inject surprising new elements into his course The Roman World.
When teaching about Augustus, Phillips invited a colleague in the art history department to deliver a guest lecture on the parallels between Augustus in ancient Rome and Mussolini in fascist Italy. The colleague highlighted that both Augustus and Mussolini erected obelisks as victory monuments to legitimize their regimes.
A more traditional approach to the class in the past would have never come close to the 20th century. "That was an example of making connections for the students," Phillips said. "I was extending out from my traditional focus on all things ancient and looking at the impact today."
Phillips said he hopes the ConnCourses ensure that students routinely engage in interdisciplinary thinking. "If they start making these connections as first-year students, they're going to be doing fascinating projects that link together areas by the time they're seniors," he said. "By the time they go off to their careers, it's going to be a habit."
Charting a Path
After taking a ConnCourse during their freshman year, students will be asked to choose a pathway during their sophomore year in addition to their major. Five pathways have been approved so far on topics including global capitalism, public health, and peace and conflict, Singer said.
Faculty members are currently working to develop additional pathways on subjects such as the body, identity and urban schools, Singer said. The goal is to eventually offer 10 to 12 pathways in total, he said.
Catherine Stock, professor of history and director of the American studies program, said she enjoyed helping to develop the pathway on peace and conflict. "If you think about peace and conflict in the broadest possible way, you think about what is required for a community to maintain peace and what the consequences of war are," she said.
Stock said she hopes to use her course World War I and the Making of the Modern World as a launching point for students interested in that pathway. "The course will engage issues of history, the arts and memory," she said. "So students won't feel like they're just going to a classroom and memorizing the battles. They'll be seeing how all these different disciplines can inform World War I."
The pathway on peace and conflict will benefit from Connecticut College's partnership with the Coast Guard Academy, which is located across the street from campus, Stock said. A course at the Coast Guard Academy on the science of terrorism could be included in the pathway, she said.
Students across pathways will be asked to pick an animating question of personal interest to them, Stock said. Examples of potential animating questions include "How have the technologies of war changed over time?" and "What role have women played in sustaining peace and making war?" she said.
Students will also be required to complete courses within their pathway in at least three "modes of inquiry," Bergeron said. The approved modes of inquiry are creative expression, creative interpretation and analysis, quantitative and formal reasoning, scientific inquiry and analysis, and social and historical inquiry.
Connecticut College is among a minority of institutions to offer pathways as part of their general-education programs, according to a recent survey by the Association of American Colleges and Universities. Only 29 percent of chief academic officers surveyed reported that their institution offered "structured pathways that progressively develop proficiencies in key areas."
Debra Humphreys, senior vice president for academic planning and engagement at AAC&U, said she applauds Connecticut College for introducing the pathways. "The idea of pathways is really productive," she said. "You have to have these kinds of structures that help students see the point of studying a broad array of areas of knowledge and bring that knowledge to bear in society."