You have /5 articles left.
Sign up for a free account or log in.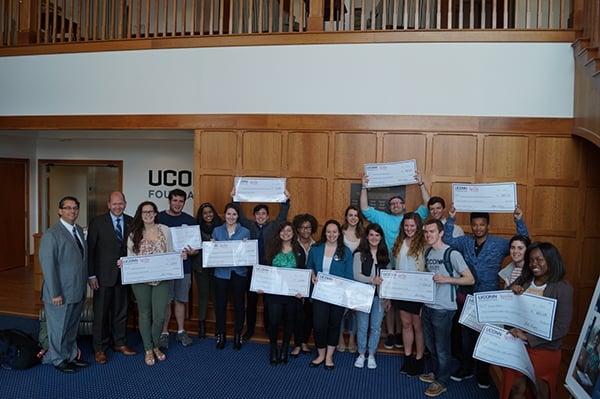 Northeastern University took a beating in early June for a fund-raising effort derisively dubbed a student loan lottery on Twitter. But beyond social media sneers, the effort provided a window into a larger struggle to turn young graduates into donors.
That struggle is more difficult because of the higher student loan debts, tougher job markets, increased mobility and new technological trends of recent years. Despite challenges, though, experts say colleges and universities have to try new strategies to cultivate young donors. While institutions may misstep from time to time as they find the best way to reach recent graduates, they need to do so to set themselves up for the future.
Northeastern's ridiculed fund-raising effort was a text message offering students the chance to win $1,000 toward their student loan payments if they made donations. It drew quick rebuke on Twitter, with one user, @carrohalpin, posting, "Appreciate the acknowledgment that I have loans. But that's why I'm not donating [right now]. 1K is a drop in the bucket." Another, @Nick_Beek, posted, "Student debt is not a game like lotto games played at @7eleven. Cut out the outrageous fund-raising text messages."
The university declined to comment for this article, instead providing the same statement it released in early June: "Inspired by a well-intentioned donor, the university launched a one-time text message campaign to a limited group of alumni," it said. "It was a one-day effort and has now concluded."
Experts generally weren't willing to comment directly on the campaign, either. But they were willing to discuss the broader trends in higher education fund-raising into which it fits. Important among those trends is that institutions have ridden large donations to record levels of fund-raising. Yet at the same time, donor participation rates are dropping.
Colleges and universities drew a record level of charitable contributions in the 2015 fiscal year, $40.3 billion, the Council for Aid to Education said in January. But the portion of alumni who made donations actually fell to 8.4 percent -- down from 8.6 percent the year before and 11.7 percent in 2007.
The general consensus is that participation rates are falling as technology allows colleges and universities to keep track of more of their graduates -- the pool of potential donors is expanding, even if the number of actual donors is not falling. But institutions still want to raise their participation rates, as they are important in university rankings. Reaching the huge number of recent graduates is an important way to do so.
At first glance, recent graduates might not appear all that important beyond participation rates. While some have money, as a group they're less likely to give the major gifts that higher education has increasingly relied upon of late. But reaching younger donors is seen as cultivating them for the future. They might not be able to give much now, the thinking goes. But recent graduates establish their giving habits early.
So it's now or never if institutions want to lay the groundwork for the future. And at a time when institutions with tight budgets are relying more and more on fund-raising, never is an extremely unappealing option.
"We have to engage them now, otherwise the capital campaigns 10, 15 years down the road are really going to suffer," said Joshua Robertson, vice president of analytics and strategy for Ruffalo Noel Levitz, an enrollment and fund-raising consulting firm with an emphasis in higher education.
But one of the major challenges to reaching younger donors now is their mobility. Many millennials plan on moving this year, Robertson said. They're less likely to update their address with the U.S. Postal Service.
Institutions can try to overcome that challenge by performing their own change-of-address research, Robertson said. Or they can send mailers to parents. But mobile phones have become the new gold mine in fund-raising. Robertson calls the cell phone number the "forever number" because graduates tend to keep them, no matter where they move in the United States, he said.
Even if they have a cell phone number, institutions still need to be able to talk to their recent graduates and find campaigns that appeal to them. Intelligent requests for donations are key, Robertson said -- institutions can't try to raise $1,000 from someone who can't afford it. For younger donors, he likes the idea of small gifts on a recurring basis, which can raise significant money but don't feel as intimidating to cash-strapped donors.
"They may be completely comfortable doing $5 a month," Robertson said. "It's moving to where everything is a subscription. You're used to Apple Music costing $9.99 a month."
Still, the financial barriers shouldn't be minimized. Younger graduates early in their careers have never been able to match the giving power of older, established donors. Now many see the difference compounded by the slow job markets and high student loan debts of recent years.
Those issues can be overcome, said Peter Fissinger, president and CEO of Campbell & Co., a Chicago-based nonprofit and fund-raising consulting firm that works in the higher education field.
"Once you control for wealth and education, generations have been pretty much equally generous," he said. "I believe that, in the end, millennials will prove to be as generous as any generation that preceded them."
Understanding a new graduate's motivations is key to raising money from him or her, Fissinger said. He acknowledged that graduates who have struggled with jobs and finances likely feel differently about their alma maters than those who have not. So institutions need to change the way they interact with graduates.
"They've got to work not just on asking donors to give, but to authentically promote the value," Fissinger said. "Which means helping them with career preparation and helping them find their first job. That's been different than what they do in the past."
That is, however, easier said than done. It can require work between different departments within colleges and universities. It can also mean spending money up front to win donations far in the future.
"It's easy to say we need a stewardship piece, we need to do more to make people understand why we need their support," said Robertson, of Ruffalo Noel Levitz. "But it's hard to rationalize the investment."
It can be easier to rationalize existing strategies, like advertising. But even that has changed with technology. The days of simply mailing out hard-copy magazines and brochures that control the message are gone. Today, whether an institution is running a Facebook campaign or sending out text messages, the story can evolve as alumni comment and repost.
Many experts mentioned crowdfunding as a new strategy that can connect with young graduates. It links them directly to causes they care about, it includes elements of game playing and it lays out a clear story where even small donations of $5 or $10 can make a difference, Robertson said.
The University of Connecticut has had success with a crowdfunding campaign it calls Ignite, said Karen LaMalva, director of annual giving. The competition has student groups competing to raise funds from students and young alumni. Groups also compete for prize money from the UConn Foundation, which they receive for winning challenges or recruiting the most students and young alumni.
The competition, in its fourth year, raised a total of $44,236.68 in 2016. That might not be a huge amount of money, but it came from 2,096 donors -- a substantial number of young donors for a university that graduated 8,760 this year.
"We really want to focus on getting them engaged and involved and keeping them connected to UConn," LaMalva said. "Once they pay off their student loans and have the means to make [larger] donations, hopefully they will step up."
Institutions still need to make sure donors feel their money is making a difference today, said Robert Henry, vice president of education at the Council for Advancement and Support of Education. He thinks it's important to talk about how gifts can be used for purposes like financial aid and keeping classes affordable.
"Students make the assumption, as you can imagine, that tuition is covering the college experience, and the truth is, it doesn't," he said. "I think students do want to help students."
By and large, institutions are trying to think creatively, Henry said. Of course, even the institutions that are keeping up with the changes will make some missteps.
"Part of it is you have to try it," Henry said. "Some things may work and some things may not."