You have /5 articles left.
Sign up for a free account or log in.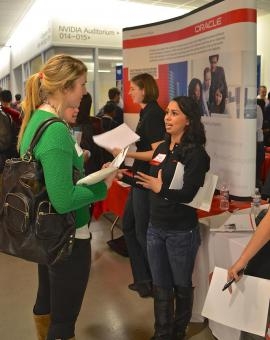 College career centers are increasingly creating corporate partnership programs, providing access to students to company hiring departments in exchange for thousands of dollars. The partnerships include increased access to students, preferential treatment at career fairs and advertising on career center websites.
Those in favor of the practice argue that the partnerships help ensure that students land fulfilling, high-paying jobs after graduation. But more traditionally minded career counselors worry that the partnerships have created a system that prioritizes large companies from wealthy sectors while shutting out employees from less wealthy sectors like education and nonprofits.
"The idea is interesting given the budget crunch in higher education as well as the desire to engage employers with students throughout their academic tenure," said Lisa Severy, interim dean of students at the University of Colorado at Boulder and an expert on career services. "Managed well and carefully, I could see it being successful. That said, I think there is a very slippery slope in terms of providing specialized services."
The corporate partnerships began appearing a little more than a decade ago, with the creation of a program at Stanford University. Thirteen years later, similar programs now exist at more than 30 of the Association of American Universities' 62 U.S. institutions, all of them prestigious research universities.
A study published this year by the journal Research in the Sociology of Organizations found that the partnerships are particularly prevalent at colleges in Western states. All but one campus in the University of California System now offer such partnerships. The lone holdout, UC Davis, is expected to start doing so soon.
The rapid growth of these programs, which the authors refer to as turning career centers into "a type of headhunting agency," has caused some tension at UC and elsewhere.
"[The partnerships] create semi-exclusive hiring arrangements between a university and its corporate partners -- a new model that is at odds with the decades-long professional orientation of career centers," the authors write. "Whereas career centers have traditionally been student focused, providing career counseling and job search skills for students to lead their own job searches, [corporate partnership programs] attempt to directly deliver students to a small portfolio of companies willing to pay rents to the career center."
This "commercialization of practice is in tension," they write, with the model of more traditional career counseling. The researchers, Daniel Davis and Amy Binder, both sociologists at the University of California, San Diego, interviewed several career counselors as part of their study. One counselor described the partnership model as turning career services into "wind-up, coin-operated vending machines."
Davis and Binder described how, at one UC career center that they declined to identify, traditional counselors and those who work with corporate partners are kept on separate floors in the building. Those on the counselor floor expressed skepticism about the partnership programs, the authors wrote, while those on the other floor hailed the program as an innovative step forward for career services.
Similar reactions were found at a small private college that the authors visited.
"[The college] is really on the cusp of just completely changing the field," the director of career services said. "I care deeply about our field of career services being elevated to a newer level. We're no longer a straight-out counseling model, and many universities still have that. Maybe it will give them the wake-up call that they have to change. Otherwise they're going to be a dinosaur, if they're not already."
Stanford now lists more than 40 companies that partner with its career center. The arrangement provides companies their choice of booth placement and increased visibility at career fairs, exclusive access to Stanford research about student career preferences, and invitations to numerous campus events. It also allows companies to provide their "unique career content" for use in targeted newsletters and social media posts sent to students with relevant career interests.
Stanford offers a wide range of pricing for differently sized organizations. Companies with up to 10 employees are charged $750, while companies with 1,000 or more employees are charged $10,000. About half of the companies partnering with Stanford employ more than 1,000 people, with at least 13 employing more than 10,000.
The program's largest partners include employers such as Bank of America Merrill Lynch, Capital One, Deloitte, Morgan Stanley, Shell Oil Company and Visa. About a dozen partners have fewer than 1,000 employees. Five or so of the companies have fewer than 50.
"Our career education offerings go well beyond partner programs and include a wide array of services for students," Brad Hayward, Stanford's senior director of strategic communications, said. "Within the context of partner programs, we believe it is clearly important for students to be exposed to a wide variety of career opportunities and potential employers. Our partner program has been evolving to increase the representation of smaller organizations, nonprofits and start-ups, and right now we have one of the most diverse groups of partners ever."
At the University of California, Los Angeles, how much an employer is willing to pay determines the benefits and access it will receive. Those who have met a few requirements, such as attending at least two recruiting events during an academic year, qualify for the tier known as "Friend of the Career Center." This tier is free and grants employers "recognition" on "acknowledgment walls" in the career center, in annual publications and on the career center's website.
Partners willing and able to pay $2,500 also receive reserved parking when recruiting at the career center, a "custom-tailored résumé book" and recognition on the center's social media pages. Paying $5,000 will get employers all of the other perks, as well as priority access to recruiting dates, preferred booth location at career fairs, communication with student organizations, event space in the career center and advertising on the center's website.
Companies that pay $10,000 also receive a two-year membership to the center's employer advisory board, an "employer profile" on the career center's website and access to one career fair of the partner's choice. The latter two tiers are known as executive and senior partners, and include only a handful of companies: Charles Schwab, Kaplan, the Princeton Review, AT&T, Boeing, Cisco, Enterprise, JM Eagle and Northrop Grumman.
Lisa Raufman, president of the California Career Development Association and a career counselor who got her start at UCLA, said institutions such as UC colleges have "ethical polices that don't allow them" to treat companies unfairly.
Similar benefit and pricing tiers exist at UC Berkeley, UC Merced, UC Riverside and UC Santa Cruz. The University of California System declined to comment on its institutions' use of corporate partnership programs.
"Higher levels of access to organizations with a special relationship with a school is fine, as long as criteria for accessing those services is evenly applied," Severy, of the University of Colorado at Boulder, said. "I think if these details are front and center and in everyone's minds, it can be done in an ethical way. But it could also easily become a pay-to-play system where only the organizations who have the most resources and give the most money have access to the best students."