You have /5 articles left.
Sign up for a free account or log in.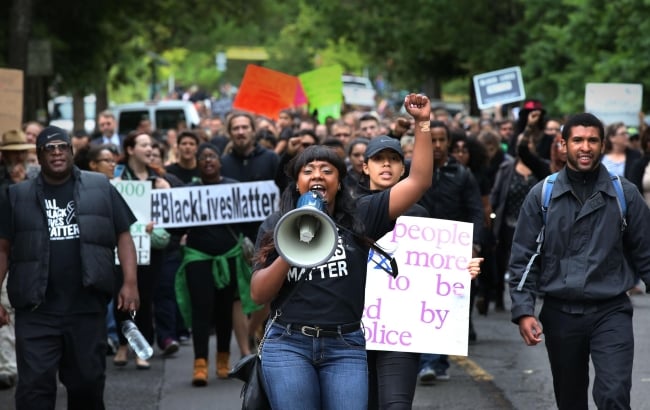 Chris Pietsch / The Register-Guard
Campus activism is typically less active in the summer, but recent shooting deaths in Louisiana, Minnesota and Texas have led to campus protests, college vigils and statements from academic organizations.
Some student events have focused on the killings of black men by police officers -- incidents that led to the creation of the Black Lives Matter movement, which has been embraced by many students. Other events focused on or included the shooting deaths of police officers in Dallas.
Black Lives Matter
At the University of Oregon on Friday, students marched to protest the killings of black men by police officers, with a focus on two deaths last week: Philando Castile and Alton B. Sterling.
The Black Student Union organized the event, which attracted several hundred. Before a march, students placed dozens of photos of black people killed by police officers on stakes in a campus lawn. Students then marched, holding signs that said, "Black Lives Matter," "Protect Black Lives," "All We Want Is Equal Rights" and "Make America Equal for the First Time," among other slogans.
Thursday night, students gathered at the University of Michigan for a vigil for Castile and Sterling. The University of Denver held a discussion, and attracted a standing-room-only crowd, Friday. University of Kentucky students held a vigil Saturday night, and students at the University of Texas at El Paso planned a rally for Sunday.
Many students who were home for the summer participated in rallies in numerous cities nationwide. And some students on campuses traveled to those events.
A Personal Letter From Morehouse's President
At Morehouse College, a historically black college for men and an institution known for producing civil rights leaders, students are scattered for the summer. President John Silvanus Wilson Jr. wrote a letter to all students, reminding them of their academic successes but also noting that "the pathway to success probably feels different now compared to last week, given the recent tragedies in Baton Rouge, La.; Falcon Heights, Minn.; and Dallas, Texas." He urged students to be "be mindful, be safe and be constructive."
Wrote Wilson: "I encourage you to endure the recent disruption to your standard summer activities, including your internships, family gatherings, travel and renewal. Keep your heads and your hearts in balance. Look toward the future and strive to be a man of acuity, integrity, agency, brotherhood and consequence. By doing so, you will find your own individual blueprint to change and unite our country. That is why your lives matter. And, moreover, remember this: black men have managed to survive and remain remarkably productive throughout the slave trade, post-Civil War atrocities, the civil rights movement and so many other challenging periods in the life of this nation -- and yet, like the great Morehouse College established 150 years ago, we are still standing as strong men of peace and justice!"
At MIT, an Admissions Blog Unafraid of the Issues
Many minority students nationally have complained that admissions websites and blogs portray race relations in simplified, rosy ways. On Friday, the admissions blog of the Massachusetts Institute of Technology posted a piece by an undergraduate from Nigeria who described how he arrived in the United States unprepared for the way race matters in the country. He was surprised when his new African-American friends would find it odd that an African man loves country music.
But the piece takes a serious turn when the student describes being falsely accused -- by a man who lunged at him -- of grabbing a woman's wallet. The man calls the student slurs -- even as he admits that the student didn't take anything from anyone.
"I don't know why I'm writing this," writes the student, identified as Vincent A. "I'm not quite sure what I hoped to achieve when I sat in front of my computer and began typing. But 30 minutes ago, I was looking through Facebook comments, on a news post about a man named Philando Castile, and the comments are going 'Why do black people never protest black-on-black crime?' and 'They always look for ways to play the victim.' I'm thinking of the video of Philando leaking blood, and I'm thinking of his girlfriend trying to stay calm and I'm thinking of their kid in the back seat. And I'm staring at these comments. Someone has just put up a meme of a lady staring intensely at a laptop; the meme is captioned, 'There Must Be Some Way This Victimizes Me.' And I want to post a reply. I want so badly to say, 'Shut up! Shut the fuck up because you don't -- you absolutely do not know what the fuck you're talking about.'"
The blog post features lists of black men killed by police officers.
Explaining What 'Black Lives Matter' Means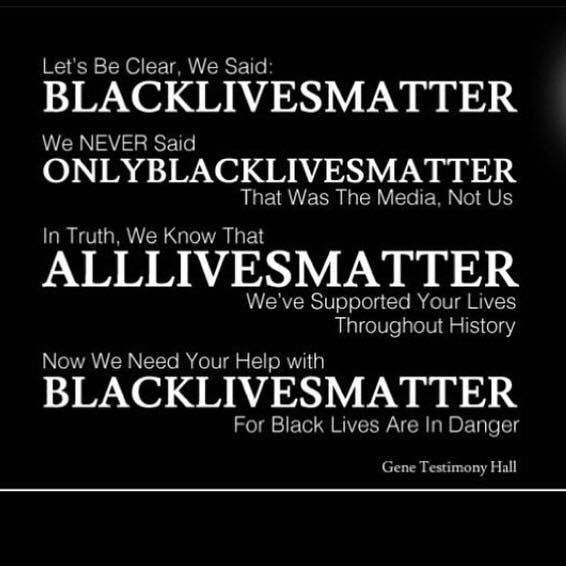 John J. Sygielski, president of Harrisburg Area Community College, has been using the #blacklivesmatter hashtag on social media, where he is active in commenting on community college and social justice issues.
He noted on Facebook that some have questioned why he is using the hashtag when he is so closely associated with the community college. He answered by posting the image at right to his Twitter feed and Facebook page. Via email, Sygielski said that those who have complained were not affiliated with the college, and that students and faculty and staff members at the college have supported his efforts.
At Vanderbilt, Debate Over Controversial Professor
Vanderbilt University has organized a discussion for today about the deaths of Castile and Sterling.
George C. Hill, chief diversity officer at Vanderbilt, posted a statement online that said in part: "The frustration, the anger and the grief are real and warrant our dedicated efforts to affirm and protect the dignity of all human life. We need to step back, reflect and ask: What can we at Vanderbilt and in our nation do to make communication, respect, understanding, dialogue and inclusion stronger?"
But on social media, Hill's statement is not being discussed. Rather, the Vanderbilt person being discussed is Carol Swain, a professor of political science and of law, and a prominent black conservative whose comments have regularly set off controversies. In an interview with CNN Saturday, she called the Black Lives Matter movement "very destructive" and said that she hoped it would fade away.
Of the movement, she said, "It's a Marxist organization all about black liberation. It's not really addressing the real problems affecting African-Americans and so it's problematic, it's misleading black people, it needs to go."
Swain also criticized the Black Lives Matter movement and others who believe that recent videos show that the shootings were not justified. "We need to look at the credibility of the witnesses, we need to not rush to judgment, and I find the media, they're putting too much focus on the videos before we have the facts," she said.
The reaction on social media has been intense:
Many on Twitter this weekend were also urging people to sign a petition (from one of the previous times Swain's comments were denounced by many as bigoted) urging Vanderbilt to suspend her. Vanderbilt has in the past distanced itself from Swain's views, while also saying that academic freedom protects her right to express her views.
On her Facebook page, Swain indicated that she would continue to speak out. "I will share my views as long as the media comes to me. I would do the nation a disservice if I simply parroted a predictable party line," she wrote. "I make every effort to use my experience, education and background to bring godly wisdom to situations. It is difficult in the sound-bite culture. Our society needs truth and godly wisdom."
On Sunday, Susan R. Wente, provost and vice chancellor for academic affairs at Vanderbilt, issued this statement: "Professor Swain's views are her own and in no way represent those of the university. Vanderbilt University is committed to diversity, inclusion and freedom from discrimination. Ensuring that our campus is a safe, welcoming and supportive environment for every member of the Vanderbilt community has been, and will always be, our top priority. Vanderbilt joins the nation in mourning Alton Sterling, Philando Castile and the five officers killed in Dallas Thursday. We have planned an opportunity for our community to come together Monday, July 11, to consider the difficult questions that we all share about how to constructively respond to these tragedies, and will do so with mutual respect and caring for all involved."
Vigil at Eureka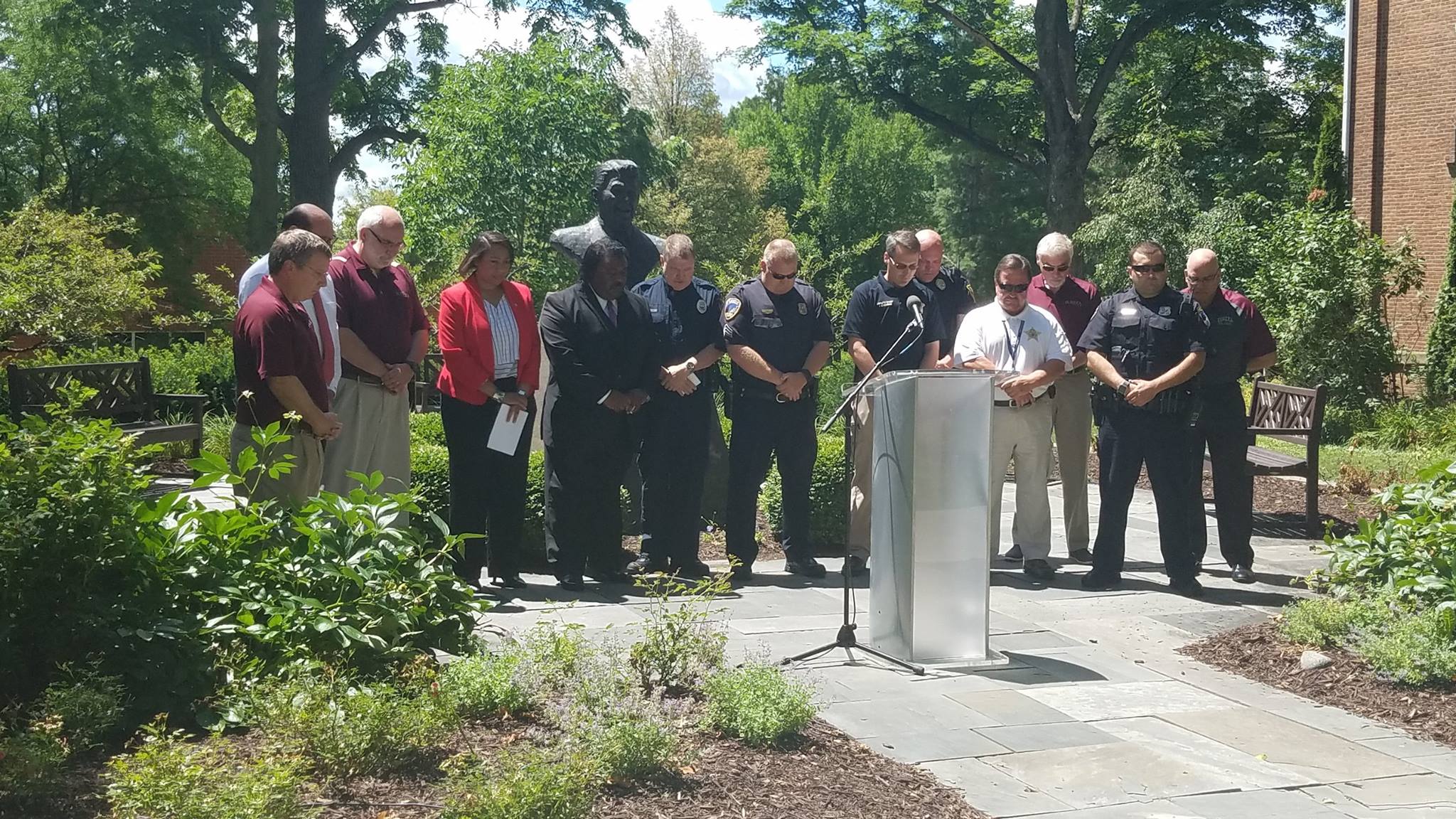 Eureka College was the site of a vigil Friday attended by law enforcement leaders from the surrounding area in Illinois, to honor the memory of the police officers and others killed in the last week.
The vigil was held in front a bust of the college's best known alumnus, Ronald Reagan.
Liberty University held a special church service Friday afternoon in honor of those who died in the last week. Local police officers attended to honor their counterparts in Dallas. Students at Florida International University organized a vigil Friday afternoon for the police officers.
A Call for 'Systemic Change'
The American Anthropological Association on Friday issued a call for "systemic change in U.S. public safety."
"Again. It has happened again … and again … and again," said a statement from the association. "A black man shot down by a police officer. Tuesday in Baton Rouge, Wednesday in St. Paul. Five officers killed and seven others wounded in Dallas. The American Anthropological Association, indeed the entire nation, once again expresses outrage, horror and sadness at the events that have taken place. It is now time to convert conversations on race and racism to action. The cycle of violence must end. Some reforms have been made; some opportunities for further reforms have been missed. We could put trigger locks on all 300 million guns in America, body cameras on every police officer and conduct afternoon civic forums around the country. It would not be enough."
The association added: "Racial hatred need not exist. Through more than a century of anthropological research on race and culture, we now understand that human behavior is learned, conditioned into infants beginning at birth, and subject to modification. Through AAA's public education initiative RACE: Are We So Different?, which has been seen by more than one million people in 40 cities (and currently on display in St. Paul), anthropology puts the spotlight on how to go from distrust, hatred and fear to understanding, appreciation and respect, values that the American Anthropological Association upholds. These shootings must stop. AAA joins all Americans in saying, 'We've had enough!'"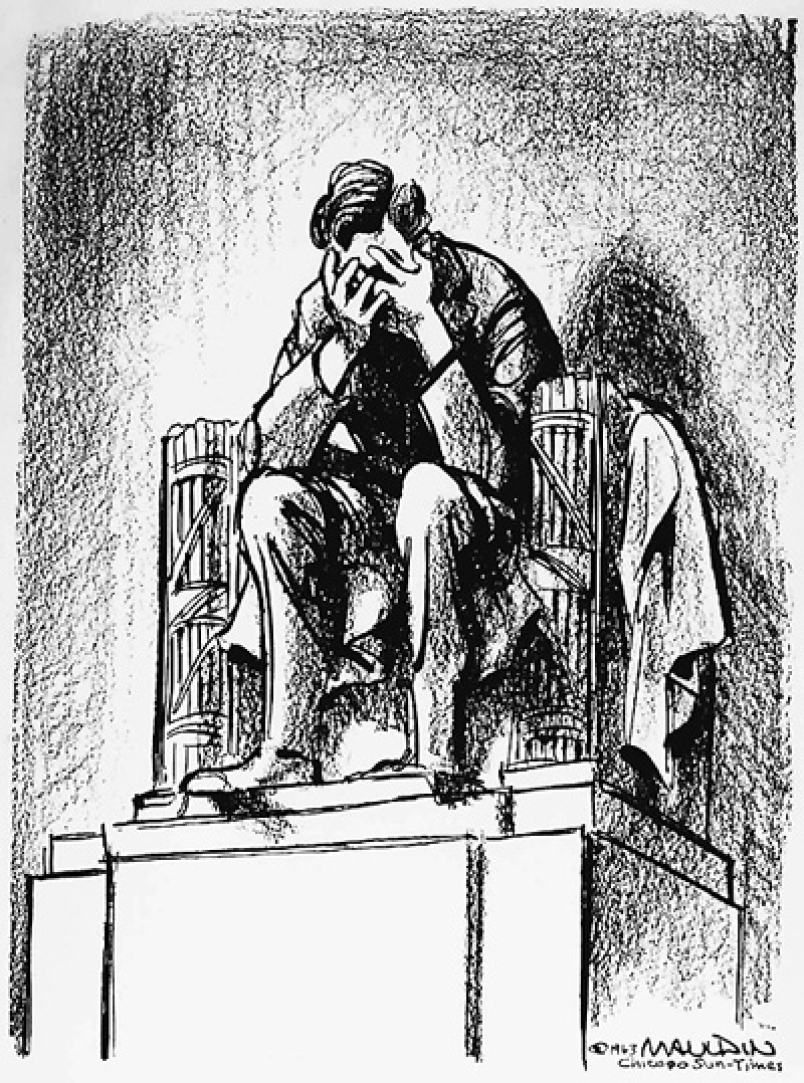 Felice J. Levine, executive director of the American Educational Research Association, issued this statement, accompanied by a political cartoon that is more than 50 years old. "AERA continues to mourn the senseless killings in our nation. The most recent loss of innocent lives -- two black men killed within days of each other in Baton Rouge and Minnesota, followed by a violent rampage directed against law enforcement officials in Dallas -- is a horrifying message that we must confront as educators, leaders and citizens of goodwill. The above drawing by Bill Mauldin of President Lincoln weeping at the time of President Kennedy's assassination in 1963 is as sadly compelling today as it was then."