You have /5 articles left.
Sign up for a free account or log in.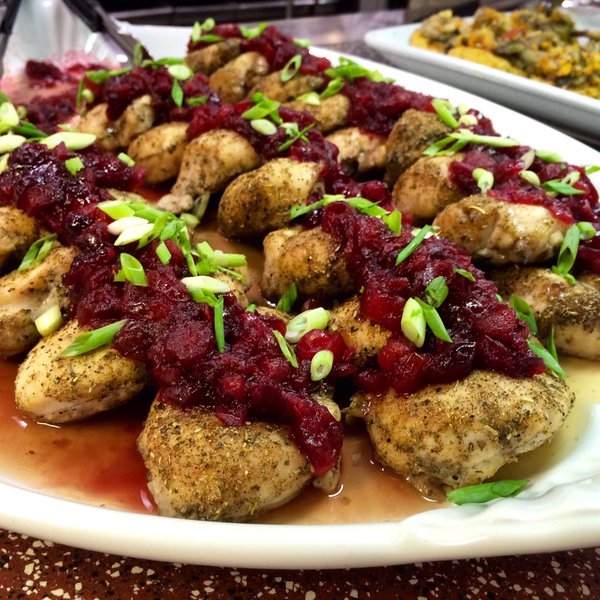 Twitter feed of Bowdoin dining
Why do some seemingly similar colleges admit more low-income students than others?
Malcolm Gladwell, the popular writer (The Tipping Point, among other books), has an answer for that question. Elite colleges that spend to have quality food and other amenities for students are making choices he finds immoral. Letting students make do with mediocre food would enable these colleges to admit more low-income students and provide them with the aid and support they need to succeed, he maintains.
In his new podcast series, Revisionist History, he makes this point by contrasting Bowdoin College, which is regularly cited by campus guides for outstanding food, with Vassar College, where students tell him the food is mediocre. Both are elite liberal arts colleges, with highly competitive admissions, respected faculty members and beautiful campuses. But Vassar enrolls a much larger share of low-income students than Bowdoin, and Gladwell blames the gourmet food Bowdoin students enjoy.
Gladwell doesn't just gently suggest that Bowdoin spend more on aid. He says that the college's dining services represent "a moral problem." And he closes his podcast by saying, "If you're looking at liberal arts colleges, don't go to Bowdoin. Don't let your kids go to Bowdoin. Don't let your friends go to Bowdoin. Don't give money to Bowdoin or any other school that serves amazing food in its dining hall."
The reaction -- from Bowdoin, its alumni and higher education observers -- has been intense. While many agree that colleges can and should do much more than they are doing now to increase the admission of low-income students, many question whether Gladwell's focus on dining makes sense.
Federal statistics back Gladwell's assertion that a larger percentage of Vassar students than of Bowdoin students are from low-income families. The U.S. Education Department's College Scorecard reports that 22 percent of Vassar's students are eligible for Pell Grants (family income typically under $40,000) while only 14 percent of Bowdoin's students are in that group. Vassar indeed has been much praised for its admissions strategies that have led it to enroll a much higher percentage of Pell-eligible students than is the norm for elite liberal arts colleges.
Bowdoin's share isn't out of line with plenty of other competitive liberal arts colleges, however. Some comparable institutions with similar Pell-eligible shares of the class include Colgate University (12 percent), Middlebury College (11 percent), Oberlin College (11 percent) and Swarthmore College (14 percent). Some colleges that are closer to Vassar's share include Amherst College (20 percent) and Williams College (19 percent).
The Jack Kent Cooke Foundation, among others, has suggested that elite liberal arts colleges should all be more like Amherst and Vassar and increase their low-income enrollments (although the foundation has focused on possible changes in recruitment and admissions strategies, not food spending).
It also may be worth noting that many public institutions, without the resources of Vassar or Bowdoin, admit far larger shares of Pell-eligible students. At Brooklyn College of the City University of New York, also known for the high quality of its liberal arts offerings, about half of students are eligible for Pell grants.
The Gladwell podcast doesn't really touch on public higher education but focuses almost entirely on comparing Bowdoin and Vassar, describing the mouthwatering options available to Bowdoin students and interviewing Vassar students about their disappointments in the dining hall.
In between, the podcast features an interview with Catharine Bond Hill, an economist who is Vassar's president. She describes the financial challenges for Vassar, which is wealthy compared to most of American higher education, but far less wealthy than Bowdoin and other top liberal arts colleges with which it competes. To keep admitting large classes of low-income students and providing them with generous aid packages and other support, Hill says, she puts off or spends less on such budget options as renovating dormitories or improving the dining halls.
At the same time, she and other Vassar administrators tell Gladwell, they can't skimp too much. That's because Vassar also depends financially on wealthier students who don't need aid but who are likely to expect quality amenities.
Hill only briefly mentions food.
By many measures, Hill has made Vassar a leader on policies that encourage low-income students to apply and enroll. In 2007, in one of the major moves of Hill's presidency, Vassar restored need-blind admissions, in which applicants are evaluated without regard to need, while also receiving a pledge that the college will meet full need for all accepted applicants.
Hill has kept the policy in place, even though Vassar had the misfortune of timing to adopt the policy just before the 2008 economic downturn led to major losses in college endowments. And she's kept the policy even as other elite liberal arts institutions -- such as Wesleyan University and Haverford College -- have dropped similar policies.
'Manipulative and Disingenuous'
If you listen to the Gladwell podcast waiting for Bowdoin officials to explain their financial aid policies, you won't hear them. They weren't interviewed.
Bowdoin issued a statement after the podcast, calling it "a manipulative and disingenuous shot at Bowdoin College that is filled with false assumptions, anecdotal evidence and incorrect conclusions."
With regard to financial aid policies, the statement notes that Bowdoin is among the very small number of colleges that are need blind on admissions, meet full need and never use loans in any part of an aid package. (Vassar's packages for the lowest-income students do not use loans, but loans are included in the packages of students with family income over $60,000.) Further, the statement noted that the average grant for Bowdoin students on financial aid is more than $40,000 a year.
Bowdoin also took issue with the idea that its spending on dining comes out of spending on aid. The college explains that its dining operations are self-supporting, with all funds coming from students who opt to join. No funds from the endowment or other revenue sources pay for dining, the college says.
Beyond the economics of the college, Bowdoin objects to the way Gladwell and his assistant requested information about the college's dining operations. Bowdoin has released the full email Gladwell's assistant sent to the college to set up interviews. Here it is:
My name is Jacob and I'm a producer on an upcoming podcast with Panoply.fm, Slate magazine's podcasting network. One of our episodes is focusing on campus food and amenities. I'm specifically investigating the food at Bowdoin, which tops lists of the best campus dining in the country, as an example of how good college food can get. I would love to get a quick recorded tour of one of your kitchens and dining hall for this episode. I'm hoping to come to campus this weekend or Monday of next week. Let me know what would work best for you. If there would be someone better for me to speak to about this, please let me know as well.
Noting that Gladwell never asked for any information on the college's aid policies, Bowdoin's statement on Gladwell's inquiry does not hold back.
"Rather than seeking to learn about Bowdoin's financial aid practices, our record of supporting first-generation college students and providing financial aid to both low-income and middle-income families, Gladwell and his producer focused only on Bowdoin's food in a manner that was disingenuous, dishonest and manipulative," the Bowdoin statement says. "Their only questions were about food and were directed at dining service staff and students, not the president, not the chief financial officer, not the dean of admissions and not anyone else. Where were the questions for Bowdoin about student aid, institutional values, Bowdoin's commitment to low-income and middle-income families, etc., etc.?"
Via email to Inside Higher Ed, Gladwell defended his approach to reporting for the podcast.
He said that the episode was "about the amenity arms race at American colleges. To that end, my reporter visited Bowdoin and asked them, clearly and plainly, about their amenities. I would suggest that the only deception being practiced here is self-deception, on the part of a nonprofit institution that has over a billion dollars in the bank and nonetheless can do no better than 51st nationwide in helping low-income students." (The figure is from an analysis from The New York Times.)
Strong Reaction on Social Media
Many took to social media -- even some who think Bowdoin should admit more low-income students than it does now -- to criticize Gladwell's take on the issue.
Gladwell responded in kind:
The Amenities Debate
The Gladwell podcast is renewing a debate over amenities on college campuses -- and whether they can be blamed for rising college costs.
There is evidence that colleges that spend more on amenities yield rewards in enrollment, but this is the case for colleges (unlike Bowdoin and Vassar) that are not highly competitive in admissions. A study released in 2013 by the National Bureau of Economic Research found that for most students (who can't aspire to enroll in a Bowdoin or Vassar) spending by colleges on amenities is more likely than spending on improved academics to yield more student interest. Only top students looking at top colleges are swayed by the kinds of spending decisions that focus on academics. (The paper's title was "College as Country Club.")
But there is not much evidence that the amenities that regularly attract criticism (think of climbing walls and lazy rivers) are big drivers of college costs. While many experts think such spending spoils students and creates terrible optics for higher education, much of the spending comes from students who vote to increase student fees to pay for such facilities. Plus, tuition has been going up at community colleges and other institutions that don't serve residential students and that don't build lazy rivers.
Looking at the question of whether high-quality food relates to the enrollment of low-income students, Robert Kelchen is skeptical.
Kelchen is assistant professor of higher education at Seton Hall University and writes regularly about college costs and access issues. He noted via email that Vassar's dining plan closest in offering to Bowdoin's is $300 less than Bowdoin's. "It seems like Bowdoin spends more money on food, but not an incredible amount more," he said.
Doing back-of-the-envelope calculations, Kelchen estimated that if Bowdoin spent $1,000 or so less per student on dining, the funds saved would subsidize about 11 or so new low-income students -- hardly a radical shift in the enrollment patterns.
"I found Gladwell's critique to be fairly weak," Kelchen said. "He didn't get into what the food prices actually were and relied on anecdotes from a few students about food quality rather than more systemic data (which may not exist, to be fair). He also didn't really discuss how unusual Bowdoin and Vassar both are in the American higher education landscape, as they're both in the top 1 percent of American postsecondary institutions in terms of per-student resources. Calling these institutions high access without mentioning there are plenty of majority-Pell colleges out there was a notable omission."
Stephen Burd, a senior policy analyst with the Education Policy program at New America, said he agreed that there were flaws in Gladwell's approach by not talking to Bowdoin. But he said that the idea of comparing elite colleges on their records is a worthy one. He said he would like to see colleges report on the income levels of all students, including those who are not on financial aid, so that the public can see which institutions are enrolling large proportions of very high income students. Such comparisons, he said, would draw more attention to Vassar's worthy efforts to enroll low-income students.
"I think that Gladwell made some very valid points, and a very entertaining program. He just should have done some more reporting," Burd said.