You have /5 articles left.
Sign up for a free account or log in.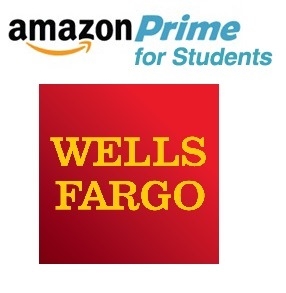 Search "student loans" on Amazon.com and the results include titles like The Student Loan Scam and The Student Loan Mess: How Good Intentions Created a Trillion-Dollar Problem. Now the online retail giant is becoming involved in the student loan sector itself through a partnership with Wells Fargo.
On Thursday, Amazon and the banking and financial services company announced a partnership through which Amazon Prime Student members will be eligible for a 0.5 percentage point reduction on their interest rate for private student loans taken out through Wells Fargo Education Financial Services.
"We are focused on innovation and meeting our customers where they are -- and increasingly that is in the digital space," John Rasmussen, Wells Fargo's head of personal lending group, said in a statement. "This is a tremendous opportunity to bring together two great brands. At Amazon and Wells Fargo, delivering exceptional customer service and helping customers are at the center of everything we do."
The announcement comes at a time when student loans are coming under increasing scrutiny from political leaders concerned with college affordability and overindebtedness. But it signals that even in the current political environment, retailers see student loan borrowers as lucrative targets for marketing.
The deal was met was met with dismay by the Institute for College Access & Success. Pauline Abernathy, the organization's executive vice president, said the partnership is designed to dupe students who qualify for low-interest federal student loans into taking out more costly private loans with fewer protections.
"Private loans are one of the riskiest ways to finance a college education," Abernathy said. "Like credit cards, they have the highest rates for those who can least afford them, but they are much more difficult to discharge in bankruptcy than credit cards and other consumer debts."
Undergraduates with federal Stafford loans will borrow at a rate of only 3.76 percent this year. Interest rates on Wells Fargo private student loans can go as high as 9.03 percent for a variable interest rate loan or 10.93 percent for fixed-rate loans, according to the company's website. Abernathy also pointed to fine print on the company's site indicating that the bank reserved the right to modify or discontinue interest rate discounts at any time.
Federal student loans have other additional protections and provide opportunities to repay balances through income-based repayment plans.
Alexander Holt, a policy analyst at the think tank New America, said that while federal loans are far more attractive, there are borrowing limits for undergraduate students who may still have unmet costs associated with attending college. And although the volume of private loans is growing, they still make up just a fraction -- 7.5 percent -- of the student loan market compared with federal student loans.
"If you still need financing for college above the federal student loan limit, there's nothing wrong with taking out a private student loan," Holt said.
But he questioned why Amazon -- a company hyperfocused on brand reputation and customer service -- would associate itself with private student loans, a product that has traditionally been a liability for brand reputations.
"Amazon is taking a reputational risk for a very low payoff," he said. "It's a big market. But it's not huge and it's always run extreme reputational risk for the companies involved."
Amazon Prime members make up more than half of all customers on the website, according to a report released earlier this month.
Mark Huelsman, a senior policy analyst at Demos, said he would advise a student borrower to pursue options through federal student loans over a deal to shave their interest rate on a private loan with a Prime membership. But from a broader perspective, he said the partnership between Wells Fargo and the online retailer shows how normalized student debt has become.
"There's an assumption that just like students are going to have to maybe shop online for books and supplies and other stuff and Amazon Prime is one way to do that, they're also going to borrow student loans," he said. "It's somewhat telling that student loans or student loan borrowers are now a niche market in themselves."