You have /5 articles left.
Sign up for a free account or log in.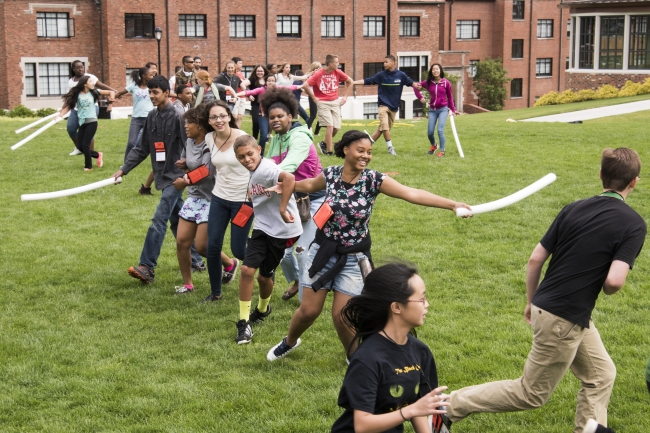 Ross Mulhausen, University of Puget Sound
Colleges in the same region often view each other as competitors, whether on the athletics field or in the admissions office. But the nine colleges in Pierce County, Wash., see each other as the opposite: collaborators.
Pierce County is home to a diverse set of educational options. There are two public institutions (Evergreen State College and the University of Washington Tacoma), two private institutions (Pacific Lutheran University and the University of Puget Sound), and five community and technical colleges (Bates Technical College, Clover Park Technical College, Tacoma Community College and the two campuses of Pierce College).
In 2014, amid increasing national focus on getting more Americans to attain postsecondary education or training -- the so-called completion agenda -- these nine institutions banded together to form the Pierce County Higher Education Team.
The goal of the team is to promote a college-going culture among local K-12 students. Accomplishing this goal involves boosting both the county's high school graduation rate and college graduation rate.
"Our nine colleges never collaborated historically," said John Hickey, executive director of community engagement and associate vice president for business services at Puget Sound, who coordinates the team. "There haven't necessarily been strong reasons for us to do so. But we certainly have hit on an important mutual objective … helping young people in Pierce County get the right match of education."
As an example of the team's collaborative approach, Hickey cited a community event last fall. At the event, local students watched a video featuring the nine institutions' presidents and chancellors. Instead of touting the benefits of any one institution, the presidents and chancellors stressed the availability of different types of postsecondary education for different students in Pierce County.
It might seem counterintuitive for the nine institutions to cooperate, since they are vying to attract many of the same students, said Karl Smith, associate vice chancellor and chief admissions officer at UW Tacoma. "A lot of times, you're viewing it as a finite market, and everyone's trying to increase their market share," he said. "But we realized that we could look at it as increasing the size of the market. There are going to be more students attending all of our institutions, which will benefit everyone."
The market indeed stands to increase. The graduation rate of public high schools in Tacoma -- the largest city in Pierce County -- hit a record high of 82.6 percent for the class of 2015. Looking ahead, Tacoma's high school and college graduation rates will hopefully both see a 50 percent increase by 2020, Hickey said.
Underrepresented Students
Young people in Pierce County might not see college in their future. This is especially true if they are from underrepresented populations -- a category that includes first-generation students, low-income students and students of color, said John Welch, superintendent of the Puget Sound Educational Service District, which has supported the work of the Pierce County Higher Education Team.
"While the initiative over all certainly encompasses all kids, there is a prioritization of first-generation kids, who in the region are overrepresented by kids of color and kids of poverty," Welch said. "We're trying to make sure that we have strategies that affect those students who most need the support and service."
A key strategy involves spreading awareness of the College Bound Scholarship, Welch said. Enacted by the Washington Legislature in 2007, the scholarship covers some tuition and fees for low-income, in-state students who sign up in seventh or eighth grade.
"We want to make sure that all eligible kids sign up for the scholarship," Welch said. "It really helps reduce the economic barrier that kids face when they want to go to college."
Students are eligible for the scholarship if they are in foster care, report a certain family income or receive food stamps. They must also complete the Free Application for Federal Student Aid.
Another key strategy of the team therefore involves encouraging students to fill out the FAFSA, said Dolores Haugen, director of conduct, compliance and partnerships at Tacoma Community College. In August, the team will hold an all-day FAFSA training for Pierce County community members at Pacific Lutheran University, she said.
The team is still engaged in ongoing discussions about other ways to boost the FAFSA filing rate, Haugen said. "Some research suggests that when you make it part of the K-12 school day, you get a much higher completion rate," she said.
Driven by Data
The Pierce County Higher Education Team has engaged in robust discussions of future ways to increase the county's college graduation rate. Often, discussion has turned to sharing data between colleges and school districts.
"One of the things we're really interested in is getting better data sharing," Haugen said. "We want high schools to give data to colleges. And then the colleges can report back to the high schools on how their graduates are doing."
This sort of data-sharing agreement would benefit both parties, Haugen said. "The school district wants to make sure their students are doing well," she said. "Colleges want to make sure their students are being well prepared."
It could be helpful for community and technical colleges to track the rigor of students' course work, Haugen said. For example, if many students from a certain high school were taking remedial courses below the college level, that high school could adjust its instruction.
Colleges could also report the number of first-generation students who matriculate, Smith said, noting that first-generation students comprise about half of the student body at the University of Washington Tacoma. Other data points could include the number of students who identify as an underrepresented minority and the number of students who are eligible for a federal Pell Grant, he said.
"In a lot of ways, once a student leaves high school and comes to the university, the university sometimes disconnects some of that longitudinal data that would be beneficial to the partnership," Smith added. "We want to try to collect data so that we can tell a bigger story that goes beyond our institution."
'Cradle to Career'
Creating a college-going culture may not solely benefit students. It may also benefit the local economy -- as long as many students take jobs in Pierce County after graduation.
"We're very interested in a cradle-to-career strategy," Hickey said. To be sure, recent graduates are free to leave Pierce County for other opportunities, he said. But those who stay can have an important impact.
"There are a lot of great jobs in the region and the local community in Pierce County," Welch said. "We want to make sure young people see their path to those jobs. So there's a whole economic development component to this."
Jobs are currently emerging in a handful of industries, Welch said. The Economic Development Board for Tacoma-Pierce County identified four industries in its recent work plan: aerospace, cybersecurity, health services and trade and logistics, he said.
Connecting graduates with these jobs ultimately has a ripple effect in the region, said Michael Wark, director of external relations at UW Tacoma. "If you can increase the educational attainment in a community, it affects a lot of things -- everything from higher wages to less dependency on social services," he said. "A more highly educated population even helps attract more companies and employers."