You have /5 articles left.
Sign up for a free account or log in.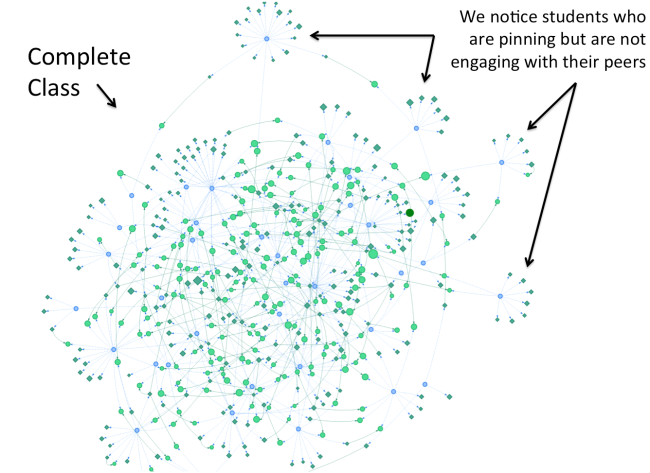 This is what a class looks like.
More specifically, the image above is what a Northwestern University class looks like based on data collected by Yellowdig, a social platform developed by the Philadelphia-based start-up of the same name.
Instructors and IT staffers at Northwestern earlier this year built a data visualization tool prototype on top of the platform to see how students use the platform to learn and communicate. The platform, which plugs into learning management systems, gives students in the same class a private board where they can share articles and other content relevant to the course they are taking, participate in discussions and award one another points.
The visualizations show which topics captured students' interest and how items in the news made an impact on class discussions, but they also uncover student behavior that may be difficult for a instructor to notice in a large lecture hall.
In the image, students, the content they share and the comments they leave are represented by blue circles, green diamonds and green circles, respectively. Most of the points are clustered in a swarm of activity -- a network of posts and comments -- but four students in particular appear to be sharing content but not engaging with their classmates. Perhaps those students are bored, overworked or even considering dropping the class?
"If you don't see a student engaging in class, you want to check in on what's going on," said Daniel A. Gruber, an assistant professor in the Medill School of Journalism, Media, Integrated Marketing Communications at Northwestern, who has been using Yellowdig in his courses.
That is the kind of insight Yellowdig hopes its platform can help faculty members gain, said CEO Shaunak Roy. He founded the start-up in 2014 after graduating from the Massachusetts Institute of Technology, betting that colleges and students would be interested in a platform that combines academically relevant content with features they are familiar with from Facebook and Twitter.
The result was Yellowdig, which since its launch has also attracted comparisons to Reddit -- for its points system -- and Slack, for its goal of organizing discussions within particular groups or around particular topics. Roy calls it a "social learning platform" -- a social networking platform focused on learning.
"We are living in a world of networks where people naturally connect with one another based on their interests and passions," Roy said in an interview. "That's basically what Yellowdig is doing. You can see the evolution of those networks in courses."
Many faculty members use mainstream social media platforms to "meet students where they are," perhaps creating a Facebook group or a hashtag to capture discussions that take place outside the classroom. But those platforms were not primarily created with education in mind. Twitter's 140-character limit, for example, can make it difficult to share anything other than a headline or a brief summary of a topic. Facebook's data collection might give some users pause (Yellowdig, in comparison, is compliant with the Family Educational Rights and Privacy Act of 1974, giving universities control of sensitive student data). And many students simply don't feel comfortable using their personal accounts for class purposes.
In most cases where faculty members have piloted Yellowdig, the platform replaces the standard discussion forum bundled with many learning management systems, Roy said. To students and faculty members, Yellowdig presents an activity feed common to many other social media platforms. On the back end, the data collected about student engagement can be fed directly into the grade book, if instructors choose.
Yellowdig has about 30 contracted universities -- many of them private research universities -- and plans to add another 25 or so this fall, Roy said. Since the start-up only began making the platform available last year, most of the universities are still piloting it, for which they pay about $15,000 for a six- or nine-month license. The start-up has recently started moving some institutions, including Arizona State University, to long-term contracts, charging them about $10 a student.
Northwestern is also one of them. During its pilot, the university went from using Yellowdig in three classes to about 100, Gruber said in an interview. He teaches courses in the overlapping fields of communication, marketing and management, and said he likes to incorporate topics from the news to help explain to students how organizational theories play out in real life. He said he uses Yellowdig as a "whiteboard for brainstorming topics."
Before moving to Yellowdig, Gruber said, he used Twitter for about five years to share articles with students. Comparing the two platforms and the standard discussion forum, the discussion on Yellowdig is "just very different," he said. It allows for the interactions that take place on mainstream social media platforms, but the discussions are "protected" within the learning management system, giving students the freedom to express themselves more openly than they might be willing to do publicly, he said.
Gruber said he requires students to post and comment weekly on the course's Yellowdig board, which he said also gives students who wouldn't normally speak up in class an opportunity to participate.
"It's so important as faculty to think about where the students are today and the type of technology they are using," Gruber said. Yellowdig, he added, is a "technology and tool that represents where we are in 2016."
Yellowdig, which this month raised $1 million from the venture capital firm SRI Capital, has plans to grow beyond the classroom, Roy said, first as a collaboration tool for entire departments or schools, then for multiple institutions. The start-up plans to further invest in its data analytics capabilities, he said.