You have /5 articles left.
Sign up for a free account or log in.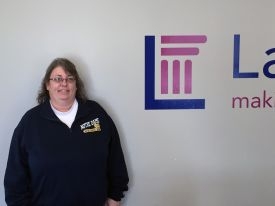 A federal appeals court ruled last week that a former adjunct may not sue Ivy Tech Community College for alleged discrimination based on her sexual orientation.
Title VII of the Civil Rights Act of 1964, which bars employment discrimination based on race, gender, national origin, religion and other factors, cannot be used to challenge discrimination based on sexual orientation because Congress did not intend to ban such bias, found a unanimous three-judge panel of the U.S. Court of Appeals for the Seventh Circuit.
The decision did not discuss the actual claims of discrimination in the case.
Kimberly Hively sued the college in 2013, after having worked as an adjunct instructor in mathematics for 14 years, during which she not only received good reviews from her supervisors but won an award from the college for outstanding teaching. She sued after repeatedly applying for and being rejected for permanent positions at the college and being rejected for continued employment as an adjunct. In an interview, she said that she traced the rejections to her sexual orientation after hearing about administrators who had commented to others about her being a lesbian in a relationship with another woman.
A statement from the Indiana community college denies any discrimination. "Ivy Tech Community College values and embraces diversity," said a statement from the college. "It is an equal opportunity employer that does not condone, and in fact explicitly prohibits, employment discrimination based upon a person's sexual orientation. In 2014, Kimberly Hively alleged that she was not promoted due to her sexual orientation. Ivy Tech takes such a claim very seriously and steadfastly denies Hively's allegations."
In the court proceedings so far, Ivy Tech has argued that the case is invalid because Hively sued under Title VII.
The appeals court ruling agreed with Ivy Tech's argument but also noted reasons why that finding was troublesome. The decision refers to "a paradoxical legal landscape in which a person can be married on Saturday and then fired on Monday for just that act. For although federal law now guarantees anyone the right to marry another person of the same gender, Title VII, to the extent it does not reach sexual orientation discrimination, also allows employers to fire that employee for doing so. From an employee's perspective, the right to marriage might not feel like a real right if she can be fired for exercising it."
Further, the court notes that there are some forms of discrimination that go beyond race alone that have been ruled by courts to be covered by Title VII. For example, courts have backed Title VII lawsuits based on discrimination against those in interracial relationships, finding that such bias is covered by Title VII's prohibition on race-based discrimination.
The appeals court said that it may be time for the Supreme Court to weigh in on whether Title VII should apply to suits such as Hively's. But the judges said that they were obliged not to deviate from past rulings by the appeals court limiting Title VII's applicability. They said this was because of the "silence" of the Supreme Court on the issue, and the consistent rejection by Congress of proposed laws to protect employees from discrimination based on their sexual orientation.
Lambda Legal, a gay rights group that is representing Hively, is considering its next move in the case.
Greg Nevins, a lawyer for Lambda Legal, noted that the U.S. Equal Employment Opportunity Commission has backed the idea that discrimination based on sexual orientation is a form of sex discrimination. He said the ruling in Hively's case was significant in that the judges appear to see the problems with the legal status quo.
"The court acknowledges that this is the wrong outcome and repeats over and over again that the distinctions between discrimination on the basis of gender nonconformity which is prohibited by Title VII and sexual orientation discrimination -- which the court says isn't prohibited under Title VII -- is an arbitrary line; the distinction creates 'an odd state of affairs' because it's a 'false distinction.' Nevertheless, the court felt bound by prior Seventh Circuit case law. The writing is on the wall, the precedents the court felt bound by need to be reconsidered and we need Congress to pass the Equality Act," said a statement from Nevins.
Hively said in an interview that "it is hard to believe that in a society that bans discrimination" based on race and gender, "there are a lot of people left out" of legal protection. She is currently seeking certification to teach at the elementary and secondary level.