You have /5 articles left.
Sign up for a free account or log in.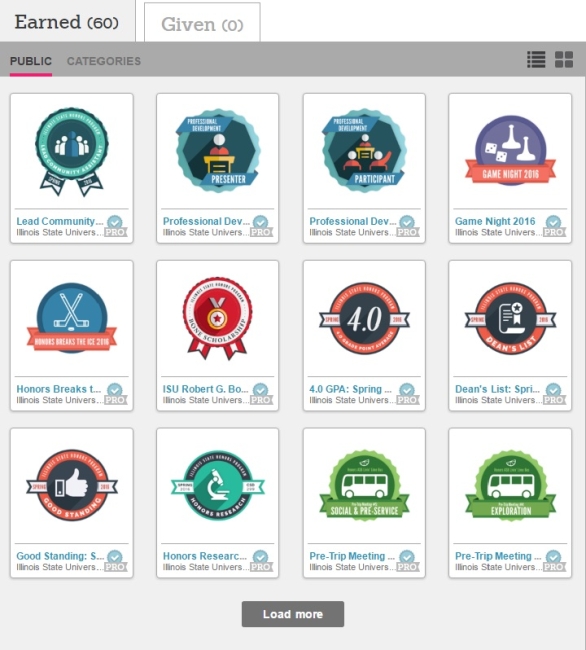 Digital badges aren't replacing the bachelor's degree any time soon. But a growing number of colleges are working with vendors to use badges as an add-on to degrees, to help students display skills and accomplishments that transcripts fail to capture.
Illinois State University is an early adopter. Students in the university's honors program have earned roughly 7,400 digital badges as part of the experiment, which just began at full scale last year. The university brought in Credly, a badging platform provider, for the project.
Administrators at Illinois State said the badges serve as a form of verified "three-dimensional transcript," which augments the traditional degree.
"It's a way for them to organize all of their experiences, all of the skill sets they learn," said Rocio Rivadeneyra, the honors program's interim director.
Students control which badges are public, and the credentials are aimed at helping students position themselves with potential employers or graduate programs, said Amy Oberts, the honors program's associate director, who helped create the badging project.
"Even their diplomas would not necessarily reflect their good standing and ongoing achievements as honors students," she said, adding that the badging platform creates a "collection of iconic badges that actually comes up on their phones."
This form of digital badge, Oberts said, is a visual way of displaying both curricular and cocurricular experiences and achievements. That could include academic achievements, like seminar courses or biology lab work, or noncollege skills learned through internships or volunteer work.
For example, Jackie Durnil, a senior in the university's honors program, includes 60 earned badges on her Credly profile.
Durnil, who is majoring in communication sciences and disorders, displays badges that describe scholarships she earned, a presentation she gave at a professional development night, her role as a peer mentor, her 4.0 grade point average last semester and her independent study in speech pathology.
She also earned a badge for working with a nonprofit that makes meals for malnourished children and for going on an alternative spring break last year, during which she worked with a Georgia chapter of Habitat for Humanity.
Badges earned by students at Illinois State are backed with evidence and the imprimatur of the university. That differs from Mozilla Open Badges -- freely available software and badging standard that is perhaps the most prominent foray into digital badging. Anyone can issue a badge on the Mozilla platform, to anyone, even themselves.
Illinois State's honors program created the criteria for earning a badge. Faculty members and students can submit evidence of their learning or skills, such as PDFs of essays, cloud-based documents like infographics, YouTube videos and PowerPoint or Prezi presentations. Many of Durnil's badges, for example, include uploaded documents and links, such as a PDF documenting research she conducted for an independent study project.
Course instructors typically evaluate the evidence behind a badge application, with exception being when honors program or other university staff can review the evidence, such as for service learning badges or ones that simply draw from a GPA or other student record.
"We chose Credly because their badges offered the option of requiring evidence to be uploaded by students, and we wanted a way to encourage students to create compelling artifacts in response to their different learning experiences," Oberts said via email. "The artifacts created by students become the evidence of learning that is evaluated by instructors and, at the discretion of the student, shared with future employers."
Between the Résumé and Google
One in five colleges have issued digital badges, according to the results of a recent survey of 190 institutions by the University Professional Continuing Education Association (UPCEA) and Pearson. And like Illinois State, most institutions that have dabbled with the form of alternative credentialing hired an outside company to get the ball rolling.
The New York City-based Credly, along with Merit Pages and Pearson's Acclaim, is among those making the most headway as a skills-displaying platform in higher education. Other platforms experts say are worth watching include Badgr, BloomBoard and the PD Learning Network.
The platforms vary in many ways, including whether they technically issue "badges." Merit Pages, for example, began working with colleges on its visual, verified profiles of students' skills before Mozilla began its open-badging project. The company now has more than 250 colleges as clients, ranging from small religious colleges to Georgia State University and the University of Iowa.
The company began with the goal to "take all the things that are happening at colleges and put it in one place," said Colin Mathews, Merit's founder and president. College employees in marketing, student affairs or even athletics departments update students' profiles to recognize their participation in study abroad, the college newspaper or intercollegiate athletics. And colleges "record the outcomes as they happen," Mathews said.
One key difference between badging platforms is how easy they make it for potential employers to search for someone's profiles or badges.
Sheryl Grant is director of alternative credentials and badge research for HASTAC (Humanities, Arts, Science, and Technology Alliance and Collaboratory), an interdisciplinary academic social network. She said vendor-run badging platforms exist somewhere on the continuum between a static résumé and a Google search about a job applicant.
Vendors and their expertise make it easier for colleges to create badges, said Grant, who is a Ph.D. candidate at the University of North Carolina at Chapel Hill's School of Information and Library Science. She praised Credly for encouraging the use of evidence with badges, including from professors, who can recognize learning beyond the grades they issue.
"When you earn it," Grant said of a high-quality, verified badge, "it's going to be meaningful, and you should talk to an employer about it."
Grant and other experts describe digital badges as being related to competency-based education, where mastery of learning concepts, not grades, is the primary currency.
Students in competency-based programs appreciate the "value of credentialing in real time," said Jonathan Finkelstein, Credly's founder and CEO.
Pearson describes Acclaim as a way for "respected brands," including colleges, to "recognize individuals' competencies through digital badges." And there's a big need to be filled, said Peter Janzow, the senior director of business, market development and the open-badges lead at Pearson VUE.
"Once we get out of school, there's no formal way for representing what we know and can do," he said.
Institutions with deep track records in competency-based education have been natural fits for digital badging -- Brandman University and Capella University both have been active in the space. But many community colleges and four-year universities also have hired Acclaim, Credly and Merit Pages.
At Santa Barbara City College, for example, students can earn digital badges on the Acclaim platform in digital design, blogging for business and computer hardware fundamentals, among others. Janzow said the "outcomes-based credentials" are designed to answer the questions: Who did this? What did they do? And who says they did it?
"We don't want to empower organizations that are making this up as they go along," said Janzow, adding that a digital badge "has to be valuable in an outside context."
The most important contexts are searching for a job or trying to get into a graduate program. Credly and Acclaim work with many employers -- IBM uses both, for example.
Finkelstein said companies like Time Warner Cable issue badges on the Credly platform to recognize their employees' skills and accomplishments. Harvard University is also a client, and uses the platform in a similar fashion with its IT employees.
When companies already use badges internally, Finkelstein said, they're more likely to look at them in the hiring process. And in some cases, such as with the Colorado Community College System and the state's advanced manufacturing companies, employers and colleges collaborate to design the criteria for earning a badge.
"They want to ensure that the badges have market value," he said.
The Lumina Foundation has taken notice. Lumina, which is leading a group project on alternative credentials, earlier this year contributed to $2.5 million in seed financing for Credly. The goal, Lumina said at the time, was to the creation of high-quality credentials that recognize lifelong learning.
Badges, if they take off, have the potential to be earned by people long after they graduate from college. And proponents of badging said that feature will become more useful as the knowledge economy matures.
"People should own the evidence of their own achievements," Finkelstein said. "Skills that have been verified by a third party should be a very valuable currency."