You have /5 articles left.
Sign up for a free account or log in.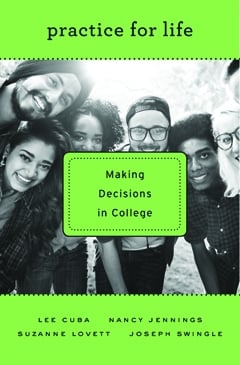 Students are asked to make a host of decisions in college. They pick a major, a housing arrangement and maybe a study abroad destination or thesis topic. They also grapple with dozens of smaller choices, like whether to study for an exam or take a nap.
The process of making these decisions can help prepare students for navigating the complexities of adulthood. That's one of many conclusions of the new book Practice for Life: Making Decisions in College (Harvard University Press). Drawing on extensive data, the authors offer several lessons on how the decisions that students make in college can shape their four years -- and ultimately the rest of their lives.
The book relies on the results of a five-year study, which included over 200 students in the class of 2010 at seven liberal arts colleges (Bates, Bowdoin, Colby, Middlebury, Smith, Trinity of Connecticut and Wellesley Colleges). The authors have ties to a couple of these colleges: two authors are on the faculty at Bowdoin, while the other two teach at Wellesley.
As per the study's methodology, approximately 36 students on each campus were interviewed three times during their first year and once a semester for the next three years. They also agreed to a follow-up interview one year after graduation.
Students in the study were asked a range of questions, including "How are your classes going this semester?" and "Do you feel at home in college?" Their answers provided insights into five areas of decision making: time management, friendship, academic engagement, advice and sense of belonging.
In relation to time management, the study found that many students experienced time in college as compressed and future oriented. The authors say that this is because freshmen are often told that they have plenty of time to figure out their path. But from the moment they become sophomores, students are suddenly encouraged to plan for several important decisions in their future, such as declaring a major or applying for a summer internship. Adding to the pressure, many of these decisions come with deadlines.
The book singles out one student named Jason, who did not get too caught up in preparing for these deadline-driven decisions. Instead, Jason said in interviews that he lived in the moment. (All names in the book are pseudonyms to protect confidentiality.)
The authors say that faculty advisers can take steps to help more students live in the moment and not drown out all excitement of college life in planning for the future. "As teachers and advisers, in some ways, it's hard to get away from that deadline-focused conversation with students," said Suzanne Lovett, one of the book's co-authors and an associate professor of psychology at Bowdoin. "But it's about trying to get students to focus not only on the deadlines coming up, but also more globally on what they're interested in and what they want to accomplish."
With regard to friendship, the study found that many freshmen made friends based on proximity, becoming close with peers who lived across the hall or on the same floor. But over the next three years, other relationships arose from classes or extracurricular activities.
As a result, students had to make choices about which friendships to prioritize. These types of choices, the authors argue, would be echoed in their adult lives.
"As students think about who they want their friends to be as they go through college, there are lots of decisions there about figuring out who they want to stay friends with," Lovett said. "Those are decisions they'll go through as adults, figuring out who they'll share parts of their life with."
The study also unearthed a troubling finding regarding friendship: in crafting their friend group after freshman year, many students self-segregated based on aspects of identity such as race and ethnicity.
"As students start to make their own decisions, they start to choose certain activities, and often those activities can be very segregated, whether you join the school newspaper or an activity geared toward a cultural or ethnic group. Often that can lead to racial segregation," said Joseph Swingle, another one of the book's co-authors and a senior lecturer in sociology at Wellesley. "Yet students said one of the highlights of their first year was the number of diverse interactions they had."
The authors say that to combat this issue of self-segregation, colleges can prolong their attempts to foster diverse social interactions. Colleges make many efforts to shape the social lives of freshmen, assigning roommates and holding orientation trips. But they often scale back these efforts after freshman year, letting students pick their own roommates and holding fewer orientation-like events.
That's where the classroom comes into play. By encouraging discussions of diversity in the classroom, the authors argue, colleges can effectively provide students with more diverse encounters after freshman year.
"We all know that issues of diversity get talked about in certain kinds of courses where race and power and privilege are talked about," said Nancy Jennings, another co-author and an associate professor of education at Bowdoin. "But we think there are opportunities in all kinds of courses to create discussions that highlight people learning from different perspectives."
That's not the only point the book makes about the classroom. In terms of academic engagement, the study found that students can become engaged by various aspects of their education, including a particular course, topic, professor or pedagogy.
The authors say this finding flies in the face of the traditional emphasis placed on declaring a major. Many students are led to wrongly believe that declaring a major is the most important choice they will make in college, and that seeking a depth of knowledge within their major is the best way of becoming engaged, they write.
"Before students even come to college, people are asking them what they're going to major in," said Lee Cuba, another one of the book's co-authors and a professor of sociology at Wellesley. "It's one of the areas that we think is the default path to engagement: digging deep and knowing more about a subject. But that's simply not the way that many students become engaged."
In the section on advice, the authors say the traditional emphasis on the major can even hinder students when they seek advice from a faculty adviser. "If students get a faculty adviser outside of their intended major, they sometimes feel at a disadvantage," Lovett said. "How can they connect with a professor who's not interested in the area they're interested in? Students may not realize that this person can give them access to other areas of the college. So this focus on the major sets up expectations for students that are not the best expectations for them to have."
Finally, the study also found that students could develop a sense of belonging on campus for different reasons. For some students, college felt like home during their first semester because they had already forged strong friendships. For other students, college felt like home once their family home no longer did.
The study relied on a methodology that intentionally oversampled students of color and international students "in an effort to better understand the experiences of these less frequently studied populations." These demographics had mixed reactions to institutional attempts to increase their sense of belonging, such as targeted orientation programs and outreach.
"There were some feelings of tokenism," Swingle said. "Some students felt that the institution was paying perhaps too much attention to their race. They didn't want to be categorized or put in a box …. On the other hand, there were other students who appreciated the effort by the offices of international students and residential staff who would reach out and help these students acclimate to a historically white institution."
In the end, the authors believe that their conclusions can be applied to students at a variety of institutions, not just elite liberal arts colleges in New England. "When you think about our main substantive chapters, regardless of what institution students go to -- whether it's a community college or a large university -- they have to deal with questions of figuring out what engages them and making friends and learning how to take advice and finding a home," Swingle said. "Even though we studied these seven colleges, we think the processes we looked at go far beyond this small sample."