You have /5 articles left.
Sign up for a free account or log in.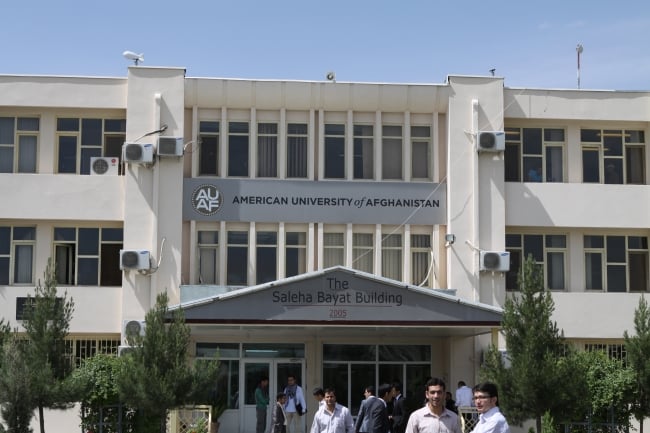 The abduction of two foreign faculty members at the American University of Afghanistan has renewed attention to the risks confronting the decade-old institution in Kabul.
Publicly available details about the kidnappings are scant. A university statement says the two professors were abducted by unidentified gunmen on Darulaman Road, in Kabul, on the evening of Aug. 7. The university, after initially releasing the names of the two professors, subsequently asked they not be reported at the request of family members, and Inside Higher Ed is honoring that request. A spokesman for AUAF declined Inside Higher Ed's requests for an interview with President Mark English about the evolving security situation and precautions the university has in place to protect employees and students.
"Securing the safe return of our staff is our overriding priority and we are working with all relevant parties to resolve the situation as quickly as possible," the spokesman, Shamroz Khan Masjidi, said in a written statement prepared for Inside Higher Ed. "It is not in the interests of the families or the safety of our staff to make further comment on the circumstances."
The two professors -- American and Australian nationals, respectively -- teach in the university's English Language Center. The university closed its Kabul campuses for two days after the abductions but has since reopened.
"We remain undeterred in our vital mission of providing a quality higher education experience for all our Afghan students," English said in a press release.
In January 2014, two AUAF employees -- a student affairs specialist and a political science professor -- were among 21 killed in a Taliban attack on a Kabul restaurant.
A U.S. Department of State travel warning advises against travel to Afghanistan "due to the ongoing risk of kidnapping, hostage taking, military combat operations, land mines, banditry, armed rivalry between political and tribal groups, militant attacks, direct and indirect fire, suicide bombings, and insurgent attacks." The warning notes that attacks may target "official Afghan and U.S. government convoys and compounds, foreign embassies, military installations, commercial entities, restaurants, hotels, airports and educational centers."
But current and former AUAF employees say the university, which receives funding from the U.S. Agency for International Development, attracts foreign faculty and staff members who come despite the risks because they believe in its mission of offering Western-style education -- including coeducation -- to Afghan students.
"This is a group of people who do not see the world the way everybody else does," said Matt Trevithick, the former director of communications at AUAF from 2010 until 2014 and the editor of a book about the university's founder. Trevithick subsequently studied Farsi in Iran, where he was detained in Tehran's Evin Prison for 41 days on what he describes on his personal website as "baseless accusations related to overthrowing the Iranian government."
"This is about being out there, doing good and being on the front line where the most good can be done. The faculty and staff and students are well aware of the risks, and they continue to take them because of their commitment to the idea of the American university," Trevithick said.
Ray Montgomery, who just stepped into the director of institutional research position at AUAF after five years there as an assistant professor of information technology and computer science, said he has "to applaud people who will attempt to provide modern, good education to people in these environments." (Of course, he said, he's one of those people.)
"I think it's a necessary activity," Montgomery continued. "If we're going to get out of the mess the world's in right now, education is going to be one of the key drivers."
Montgomery, who has also lived in Iraq, said he is one of a small minority of AUAF faculty who do not live on the campus, which is heavily guarded (a 2013 Washington Post article about the AUAF campus noted that it is "barricaded by blast walls and guard towers"). Kabul is a less safe place to negotiate now than it was two years ago, Montgomery said, but "it could get a lot worse, actually, before it would be time to close the school."
It could certainly get worse, Montgomery added, but "there's a lot of hope" at AUAF it will eventually get better.
"Of course, people are very sad and they feel very sorry for the families," Montgomery said of the mood on AUAF's campus since the abductions. "There's no way we can possibly say anything to give them comfort. It must be awful."
"But that said, what we don't want to do is have their sacrifice wasted. People come here to do something that we think is important and we're going to do what we have to do to stay here," Montgomery said.
Other universities operating in conflict zones have faced similar challenges. The American University of Beirut, which is celebrating its 150th anniversary this year, endured the assassination of a president and a series of kidnappings of its employees during the Lebanese Civil War, which stretched from 1975 to 1990. The university suspended classes for about seven months in 1989, but its hospital and Faculty of Medicine remained open. Ibrahim Salti, a professor of medicine who served as the university's deputy president from 1987-1993, credited the university's survival through that period to the goodwill it had built up in the local community by virtue of its hospital, which never closed -- "not a single day."
The hospital also stayed open during the 34-day war between Israel and Hezbollah in the summer of 2006. The university suspended all other operations that summer. John Waterbury, the president of the university at the time, recalled that the university suspended its summer classes, repatriated its international students and facilitated the voluntary departure of foreign faculty -- "but as soon as the cease-fire went into effect, we essentially opened for business."
"When I look at AUB I think the underlying spirit was, 'the show must go on,'" said Waterbury, who assumed the presidency at AUB in 1998, shortly after the U.S. lifted a decadelong ban on American citizens traveling to Lebanon. "You may change a lot of personnel, a lot of people may leave, but you find a way to hold classes, graduate students -- maybe at a level and at a quality that you don't think honors your mission, but once you literally close it's going to be real hard to reopen."
But when do security conditions in a conflict-ridden country deteriorate to a point that it's no longer safe for an educational institution to operate at all? "I think it's a question every nonprofit organization working in conflict zones faces -- when is a situation too dangerous for the Doctors Without Borders, or for U.N. children's relief work, or human refugee support work, to go on?" said Ann H. Franke, the president of Wise Results, a consulting firm that works with universities on risk and policy issues.
"It's a balance between the critically important mission and the conditions on the ground," Franke continued. "Organizations that reside or work in the areas have their own emergency protocols for the most likely risks that they face, and it's really a question for their administrators and perhaps the trustees who are most familiar with both the mission of the institution and the local conditions as security situations improve or deteriorate. They fluctuate quite a bit."
Nicole Elliott, a special risks analyst with red24, a global risk management company, said that Afghanistan is "one of the four highest-risk countries in the world for kidnapping," along with Libya, Syria and Yemen. Elliott said Afghanistan saw a reduction in the number of kidnapping incidents in 2013 and 2014, especially of cases involving foreign nationals: in 2014, she said, there were no reported incidents of foreigners being kidnapped in Kabul. But following the withdrawal of some international troops from Afghanistan at the end of 2014, there's been an increase in the number of kidnapping incidents, particularly those involving foreigners. Further, Elliott said, there's been an increase in kidnappings of foreigners in Kabul, which has traditionally been viewed as a more secure area within the country.
Elliott said that most kidnappings in Afghanistan are criminally and financially motivated, although there is also a risk from militant and Islamic extremist groups that carry out abductions for political or ideological reasons. Afghan nationals are the primary victims, but foreigners are perceived as high-value targets. She said that higher education staff and students in Afghanistan don't seem to face a specific kidnapping threat. Rather, she said, "their potential to be kidnapped is based more on factors such as their location, vulnerability, nationality and perceived means, than their occupation."
Peter May, an independent international legal consultant who previously served as legal counsel for AU Beirut and for World Learning, the parent organization of SIT Study Abroad, said that if he were on the response team at AUAF one of the questions he would have is whether the abduction of the two faculty members seems to suggest a targeting of American institutions or of educational institutions. "Basically, if it is a question of being targeted, especially by a powerful interest group (militarily and/or politically), it becomes very difficult to operate and achieve the mission," he said. "As sophisticated as educational institutions can be around safety and security issues, developing a military-style defensive capability is just not a core competency of academic institutions. To develop this would drain too many resources from the teaching and research activities that should drive the core mission."
"Is it sufficient," May asked, "to raise the level of security that we have, to sequester faculty and staff, to provide more services around orientation, or is this a situation where we really do need to consider whether we can operate going forward? I suspect those kinds of conversations are going on."
"These are," May added, "really difficult questions."