You have /5 articles left.
Sign up for a free account or log in.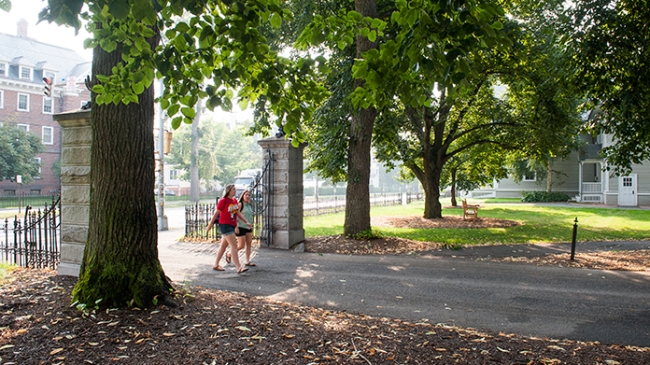 When professors complain about students to administrators, they typically assume their grievances will be private.
But students in the social work program at Smith College held a protest Tuesday after someone leaked two letters from faculty members to college leaders. Those letters accused the social work program of letting students make unfair accusations against people who run parts of the program.
Both letters questioned whether the right applicants were being admitted. One of the letters also said that the social work program has a "tainted" admissions process in which some of those admitted "did not have a reasonable chance of success in our program."
While that sentence didn't directly reference race, the same paragraph did so. "Why do you, as administrators, continue to offer differential outcomes to students of color, in spite of overwhelming data that demonstrates that many of our students, including white­-identified students, cannot offer clients a social work intervention that is based upon competence, skills and ethics," the letter said.
"I am very troubled that we … increasingly, as a school, pay little attention to the gate­keeping function of our profession," added the letter, from Dennis Miehls, professor and chair of the Human Behavior in the Social Environment Sequence at the college. Miehls did not respond to email messages seeking comment. But a college spokeswoman confirmed that he had sent the letter to Smith administrators.
The spokeswoman said she didn't know who wrote the other letter that is now circulating on campus. That letter is signed by "Concerned Adjuncts" of the social work program. This letter said that the administration is too quick to agree with student complaints and to undercut faculty members, especially adjunct faculty members who lack job security. This letter also mentioned admissions.
"There is clearly something terribly faulty with the admission policy when scores of students develop, from the very start, serious problems in both their academic performance and their field experience," the letter said. "What many people are thinking but afraid to say is that when students are admitted who do not have the academic qualifications to do well enough in a rigorous, demanding, stressful program (as has clearly happened with the current second-year class), these students are being set up for failure, particularly when we do not provide adequate support of all types as they pass through the program. This is unethical and immoral. But beyond that, we must acknowledge that social work -- like every other kind of work -- is not for everyone, and we have to stop pretending that it can be."
While students say that there have been many discussions about race among social work students, the two letters (leaked anonymously and sent to many of them) angered many.
The person who leaked the two letters said in a cover note to students with the letters: "We feel that it is critical to share these letters with the community, in order to facilitate transparency and accountability around the violent, racist rhetoric directed toward students of color on the Smith campus. The language in these letters contributes to a climate of fear experienced by students of color at Smith and exemplifies how individuals in positions of power are both participatory and complicit in white supremacist systems at the school."
As an example of "white supremacist language and ideology" in the letters, it cited references to minority students' "perceptions of racism," rather than treating those perceptions as real.
And the comments on admissions particularly upset the person who leaked the letters and many students. "The use of the term 'tainted' to describe a supposed degeneration in quality of students at Smith calls upon a historically racist discourse which casts people of color or others deemed 'lesser than' as contaminants of a pure white bloodline. This is violent language that is completely unacceptable to use in reference to students at this institution."
Smith College officials declined to answer questions about the specifics of the various emails being circulated.
But the college did issue this statement: "We are aware that students have organized a rally in response to a series of attributed and unattributed letters circulating in the community. As a school with a strong antiracism commitment, we are dedicated to the work of inclusion and access. This work is moving forward and will be spurred by the energy that student actions, such as this rally, have generated. This is the beginning of a conversation."
UPDATE: On Wednesday, after this article was published, Marianne Yoshioka, dean of the social work school, released a statement that said in part, "The Smith College School for Social Work is one of the most selective social work programs in the country. Our standards are exceptionally high for those we admit, and we take pride in each of our highly intelligent, capable and compassionate students, particularly throughout the recent campus involvement they have encouraged. For the past year, prompted by these students, we as a community have been engaged in important, productive and collaborative work to continually evolve as an antiracism organization. Social work is not a profession that effectively operates within the status quo. We are clinical professionals specifically committed to social justice and systemic change. The determination brought by our students, the courage they have shown and the accountability they have demanded will challenge us to fulfill our commitment alongside the next generation of social workers."