Dorm Décor Rorschach Test
After photos of U of Mississippi students' room go viral, debate follows on just how fancy a student residence should be.
At some University of Mississippi residence halls, there is a tradition of making dormitory rooms worthy of interior design magazines. That tradition went public Wednesday when photos of one room went viral -- and quite a debate followed.
The room in question belongs to two new students at the university: Abby Bozeman and Lindy Goodson. They posted a photo of their new home on campus on Twitter, and the photo spread there (with many admiring it, and others suggesting it was a bit too much). The debate then went to BuzzFeed, which looked at the reaction with the headline "People Can't Handle This Over-The-Top Gorgeous Dorm Room," and from there to ABC News.
The students stressed to ABC that they shopped around for bargains.
"Most of the decorations were found at TJ Maxx, Marshalls, Hobby Lobby, Home Goods, Target, Home Depot, antique stores and things we found at our own homes," Goodson told ABC. "The lamps were on clearance from Hobby Lobby, the stools were plain from Home Goods and I just added some blue velvet ribbons to jazz them up. My roommate, Abby, found the dresser at an antique store and it was dark wood with a missing drawer and she had it repainted and added crystal knobs from Home Depot. The curtain on the dresser is made of a hand towel I found on TJ Maxx's clearance aisle. The pillows, headboards and extra-long bed skirts were made by a fabric store in Abby's hometown."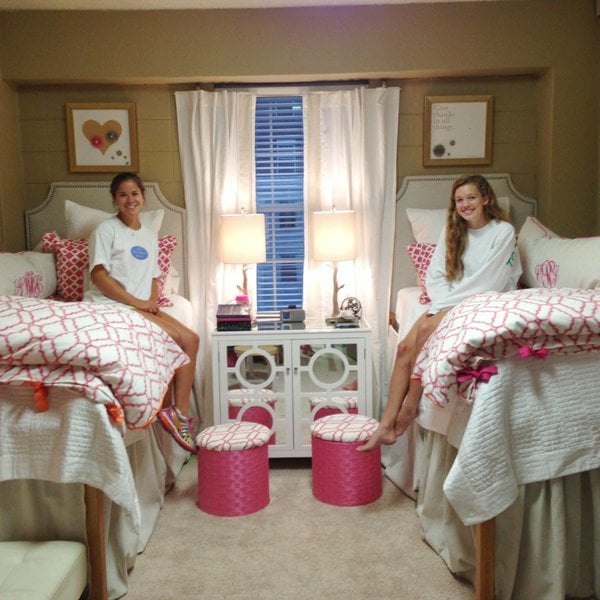 Other dorm room photos from Mississippi then started to appear online, showing that Bozeman and Goodson are hardly alone in looking for ways to make a small dorm space feel like the Ritz. From the various photos, symmetry seems to be highly valued.
The University of Mississippi residence life department boasts about the décor students bring to their rooms, noting on its website recent coverage in Southern Living and Stages Mississippi.
But as the publicity spread, so did the criticism, with many arguing that there is something wrong with college students living in so much emphasis on interior design.
"Color-coordinated patterns repeat on curtains, dressers and lampshades. Headboards and bed skirts, all custom made, compete for the honor of Least Necessary Thing in Any Room, Never Mind a College Dorm Room," wrote Slate columnist Christina Cauterucci. "And the monograms! Oh, the monograms. Everyone's got at least one enormous monogram, making what could have been the most distinct part of a room the least personal of all. Spend an hour or three going down this black hole, and you will either end up with a portfolio full of dorm goals or a throbbing sensation of all-encompassing nihilism."
Like many critics of the Mississippi students, Cauterucci looked back at her own college days.
"One of the best parts of a college dorm is knowing you can totally trash it and no one will ever notice because it's already a pit of cracking, peeling, leaking, flaking, creaking, festering slime," she wrote. "My college dishwashing strategy went like this: eat Easy Mac from bowl; place dirty bowl on windowsill; let Easy Mac remnants dry to crust over period of weeks; wash bowl whenever it's Easy Mac time again. And I was only about the 467th grossest person in my dormitory. How will these young people ever learn the most essential lessons of homemaking -- that industrial Berber carpeting magically absorbs spilled Everclear, that a healthy teen can survive mold exposure for an entire school year, and the best way to cover a hole in the wall that might contain a mouse nest is to sticky-tack a Kurt Cobain poster over it?"
Today's News from Inside Higher Ed
Inside Higher Ed's Quick Takes
What Others Are Reading
Past:
Day
Week
Month
Year