You have /5 articles left.
Sign up for a free account or log in.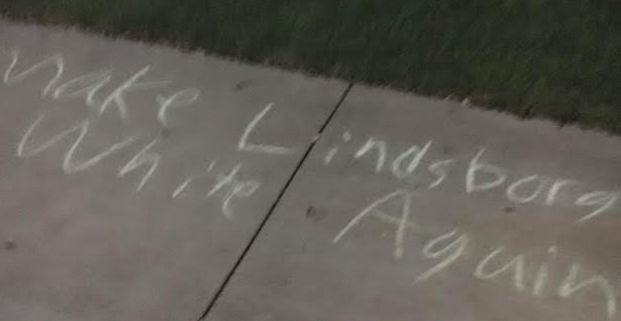 Chalk messages appeared this month on the campus of Bethany College, in Kansas. The chalkings said, "Make Lindsborg white again," referring to the small city where the college is located. Other chalkings featured the outlines of dead bodies with the words "rest in peace my friend."
The various messages upset many at the college. On Friday, its president, William Jones, went public with what he had found out about the chalkings. He began a post on Facebook with the words "What do you do when a white supremacist writes racist and hateful messages directed at your children and at the students you work to serve?"
He said the messages in chalk are "disgusting and are completely contrary to our core values and intellectual identity," and said he had learned that they had been left there by a small group of people who claim to be associated with a hate group.
Jones said that, a few days after the messages appeared, he received a call from a man who is not a Bethany student who said that he and others had left the messages. "He stated that the chalk messages were written in response to the makeup of my family (I have two adopted, biracial children), to some of the things that have been written and posted online and in the press about my work at the college, and in response to the students of color that Bethany College is recruiting," Jones wrote.
Bethany -- founded by Swedish immigrants in 1881 -- has had unusual success at diversifying its student body for a small liberal arts college in a rural state. About 16 percent of its students are black and another 16 percent are Latino.
"That's right. Think about it," Jones wrote. "A man called my office to tell me that messages like the outline of a dead body and 'make Lindsborg white again' were directed at my family -- the love of my life and my sweet children, ages 7 to 14 years old. Let it sink into your mind and heart. Dead body outline. Children. Hate. As a parent, how would you feel?" (Jones and his wife have six children.)
The man called a second time, Jones said, and demanded changes in the college.
"This time [he called] to relish in his 'activism,' to threaten to instigate the forces of his 'movement' to close our college …. You see, our college is on probation, primarily for financial issues," Jones wrote. "This man hopes to gather other bigoted people to keep friends and alumni from supporting our college unless we comply with his demands. He says things to me like 'this is what's going to happen' and 'you will' do X and Y during his brief and troubling calls. I am not worried by his threats. His 'facts' are wrong. More importantly, I know how much our alumni and friends care for Bethany College."
Jones wrote that, with help from a lawyer, the college has banned the man who called and three others from coming to campus. He also said that security has been bolstered.
Via email, Jones said that the second time the man called, he left a message with his name and phone number, which enabled the college to identify him. "He was already on our radar and the police's," Jones wrote. "We have turned this information over to the authorities. He also was identified in an earlier incident in Kansas City in which his organization posted stickers in parts of the city." He added that there were three to five men involved and that they are part of "an organization that is looking to target young adults and colleges."
To everyone, Jones said, the incident suggests an important task. "Please challenge racism wherever you encounter it. Hurtful, racist actions are not 'activism,'" he wrote. "Hate language is not blunt talk. Get to know people of other races and cultures. Think about what you post or share online or the jokes you tolerate. Use your imagination to walk a mile in someone else's shoes, kicks or sandals. Do the simple thing and treat all people the way you want to be treated."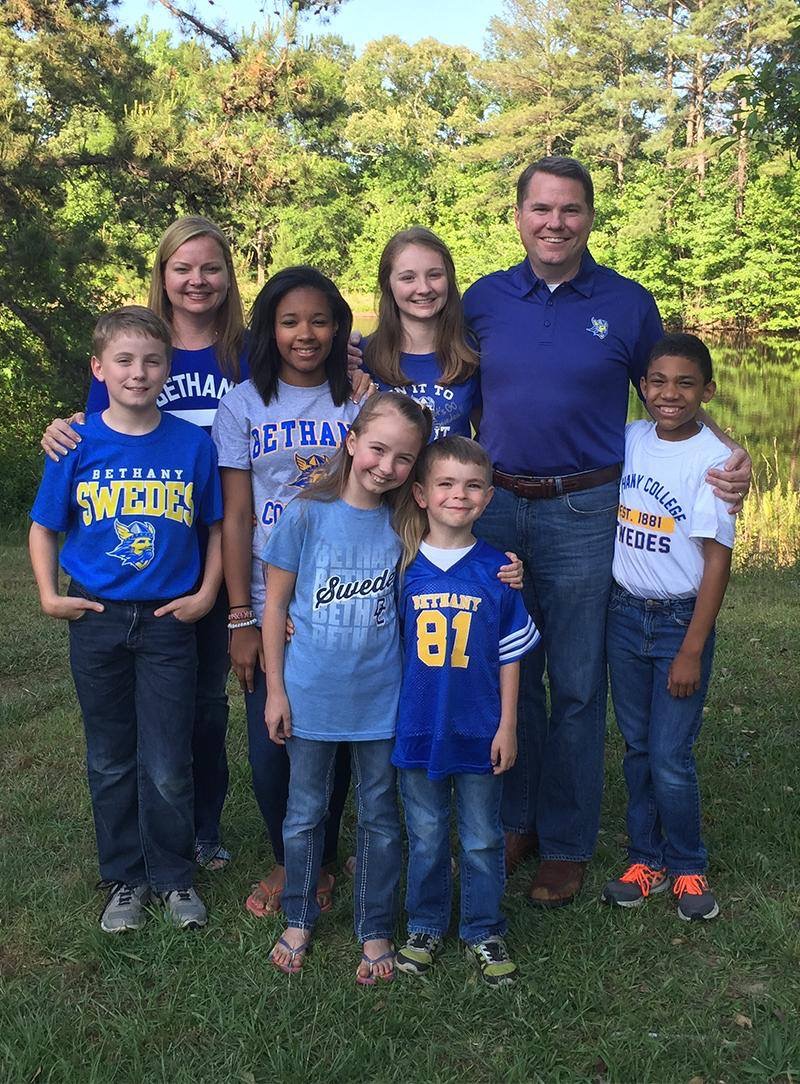 Jones said that he was not planning to change the college's recruiting strategy, which has used its athletics programs to attract nonwhite students. He said that Bethany would continue to recruit and make welcome students of all kinds. He also released a photo of his family (at right).
Jones was named president of Bethany this summer after six years as vice president for external relations at LaGrange College.