You have /5 articles left.
Sign up for a free account or log in.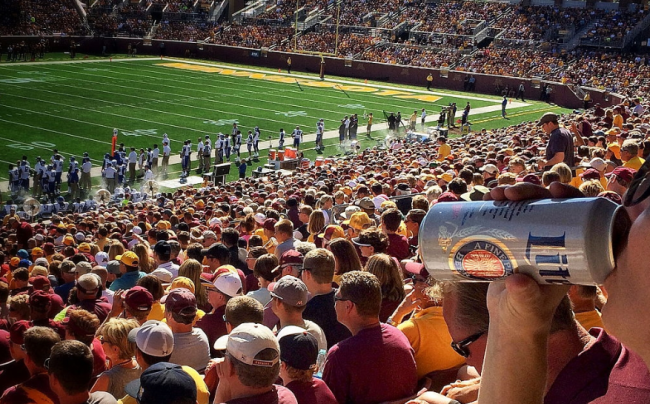 Ohio State University football fans attending the first home game of the season earlier this month saw a new concession item on the menu at Ohio Stadium. Among the hot dogs, pretzels and tacos, the game's attendees were also able to buy cans of Miller Lite.
This season, Ohio State became one of several universities to sell beer at football games. In the last decade, alcohol sales at college stadiums have gone from nearly nonexistent to an increasingly popular -- though largely unproven -- solution for programs hoping to improve sagging attendance at home games.
West Virginia University started offering beer at its stadium's concession stands in 2011, and the idea has snowballed from there. Fans can now drink beer -- and in many cases, wine -- in the stands at the Universities of Cincinnati, Colorado at Boulder, Florida, Louisville, Maryland, Miami, Minnesota, Texas at Austin, and Toledo. Beer is also for sale at Syracuse University, Southern Methodist University and the University of Houston, among many others.
Pennsylvania State University is considering selling beer to general admission fans, and so are the University of Wyoming and Indiana University. Washington State University wants to sell beer at football games but is waiting on the state's liquor board to approve the change. Unable to sell beer inside its stadium because of Southeastern Conference rules, Louisiana State University is exploring plans to create a beer garden just outside the stadium gates. The University of Pittsburgh started selling beer at its football games this season, as did the University of Tulsa.
"We studied the idea for a year," said Don Tomkalski, associate athletics director for communications at Tulsa. "And we determined that it could be done responsibility and be a positive change. It gives us an additional revenue source and adds another element to our game-day fan experience."
Worried about the binge drinking, disorderly behavior and violence that can come with consuming alcohol, most colleges have long been opposed to selling beer at football games. A study published in January by the National Bureau of Economic Research found a 28 percent increase in rape reports by college-age women on days when Football Bowl Subdivision teams play. Earlier research has found that arrests for driving while intoxicated also increase on college game days.
Those concerns haven't been limited to football games. In 1964, the National Collegiate Athletic Association barred beer sales at the College World Series for baseball. The ban lasted until this summer, when NCAA officials decided to allow beer and wine to be sold once again in an attempt to draw in more fans.
The same logic is driving the changes in college football. A decade ago, most college sports fans looking to down a beer while watching their team had to stay at home or go to a bar. And many did just that. Last year, according to the NCAA, attendance at Football Bowl Subdivision home games averaged about 43,000 people. In the mid-2000s, FBS home games averaged about 46,000 people.
"One of the conversations we've been having the past few years is about how we can compete with other fan experiences," said Jack Miner, director of operations at Ohio State's registrar office and a member of the university's athletic council. "Being in Columbus, Ohio, we're not competing against professional sports teams, but locations where someone can go watch a game. Very frequently we were losing attendance to people staying at home or watching from a bar."
Improving the "fan experience" has been a common concern among athletic departments in recent years, leading to college stadiums offering in-stadium instant replay, over-the-top halftime shows and increasingly sophisticated concessions menus.
So far, it's unclear if selling alcohol has actually helped boost attendance. Anecdotally, university officials say they see more fans attending games and staying in the stands longer. But a paper published in the Journal of Sports Economics last year, which studied attendance at 29 midmajor football programs from 2005 to 2012, found "no evidence" of such a correlation.
As an additional form of revenue, though, selling beer at games seems to be working. West Virginia University has received more than $3 million in revenue from alcohol sales since it began selling beer in 2011. Ohio State and Tulsa, which both began to offer alcohol in their stadiums this season, said it's too early to offer concrete numbers, but that they expect to see high returns on the investment.
So many people lined up for beer at Ohio State's first game of the season that one angry fan wrote to the local newspaper, bemoaning the concession stands' sudden popularity. "I am sure the university made a lot of money on the sale of beer," the fan wrote. "It had to, because the lines were horrendous."
The university said it plans on using $600,000 of the new revenue to hire and train four new campus police officers. Another $50,000 will go toward university research on alcohol consumption. Ohio State, West Virginia and other colleges that now offer beer during games all say that revenue and attendance are not the only reasons for the change, however. They said there's a safety component, too.
"One of the things we saw consistently when talking to schools that tried beer sales, is that it began changing fan behavior," Miner said. "We heard a lot of feedback that fans don't feel the pressure to drink and preload before entering the stadium. There's no longer that pressure to chug a few beers while tailgating because you know you can't drink anymore once you're inside the stadium."
It's too early to say for certain that the experiment has led to less intoxicated fans at Ohio State, but the university suggested that it could be having an effect on fan behavior. In the 2015 season opener, 10 fans were ejected from the stadium, which was on par with the season average of 12 ejections. Only two fans were ejected by stadium security at this season's first game.
West Virginia officials, as well, have reported a "sharp decline" in security incidents during home games. Bob Roberts, the university's chief of police, said that's the result of not only selling beer in the stadium but also a series of other precautions the university adopted. Fans can no longer re-enter the stadium if they exit before a game is over, for example, and the university started a campaign called High Five Rules, which encourages students and other fans to "engage in proper behavior." That includes no excessive drinking.
"We had a reputation as being a pretty bad place to come if you were a visiting team, and I think alcohol was a part of that," Roberts said. "The beer sales have had an effect on binge drinking before games. As chief of police, if someone said, 'Hey, we want to sell beer, but not do these extra things,' I would have said 'nope, I'm not supporting that.' But for us, it was a part of an overall strategy for improving safety in our stadium."
Aaron White, the program director of college and underage drinking prevention at the National Institute on Alcohol Abuse and Alcoholism, said he is skeptical of beer sales being able to reduce game-day drinking.
The University of Colorado at Boulder, citing drunken and violent behavior of fans, banned drinking in its football stadium from 1996 to 2014. A 2010 study about the university, published in the Journal of American College Health, found that "arrests, assaults, ejections and student referrals to the judicial affairs office all fell dramatically after the ban on beer sales" went into effect.
"Selling alcohol at sporting events is not a prevention strategy," White said. "It's a tricky issue, but the logic that allowing alcohol sales inside stadiums will decrease game-day drinking is dubious at best."