You have /5 articles left.
Sign up for a free account or log in.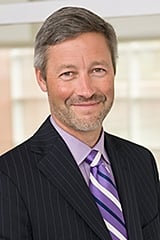 Kenneth Kavajecz was removed last week as dean of Syracuse University's Whitman School of Management. He was also suspended from his role as a faculty member in the business school. No explanation was offered -- and students and faculty members were stunned.
Then Friday came the word that Kavajecz had been charged with the misdemeanor of patronizing a person for prostitution in Salina, N.Y., a small town near Syracuse. The Onondaga County Sheriff's Office released the news after Syracuse.com filed an open records request.
The university, which had said nothing about why Kavajecz had been removed, then gave a statement to local reporters that it had "confirmed with law enforcement that the alleged behavior did not occur on the Syracuse University campus, did not involve members of the campus community and is unrelated to the former dean's university responsibilities."
Kavajecz has not commented on the situation to local reporters, and he did not respond to an email from Inside Higher Ed.
The former dean had earned just under $500,000 annually. The Daily Orange, the student newspaper, ran a profile of him earlier this month, full of praise.
More Rights as Professor Than Dean
Experts on the rights of academic employees said that Kavajecz has more rights as a faculty member than as dean.
Ann Franke, president of Wise Results, a consulting firm that advises colleges on legal issues and risk management, said via email that administrators typically serve a university at the will of their supervisors, so Syracuse likely has wide latitude to dismiss a dean. While she said she had no background on the Syracuse case, she said that the faculty position raises more issues.
"Every institution needs to articulate a standard for temporarily suspending a faculty member during disciplinary proceedings. This type of suspension is sometimes called an administrative or emergency suspension. You want to have a standard in place well before a messy situation arises," she said. "Many institutions use American Association of University Professors' recommended standard that the faculty member must pose a threat of immediate harm to self or others."
"Sometimes misconduct occurs in a faculty member's private life, unconnected to the university," Franke added. "If the situation involved no violence, it may be difficult to justify a suspension under a standard of threat of immediate harm to self or others."
Rudy Fichtenbaum, professor emeritus of economics at Wright State University and national president of the AAUP, said via email that the "dismissal of a faculty member (presumably a tenured faculty member) might happen in a case like this on grounds of moral turpitude …. Of course this should only happen if 1) someone is actually convicted of a crime [that] is considered a crime that is contrary to community standards of moral behavior or 2) there is some sort of due process, in the absence of an actual conviction, where a group of faculty peers recommends dismissal on grounds of moral turpitude."