You have /5 articles left.
Sign up for a free account or log in.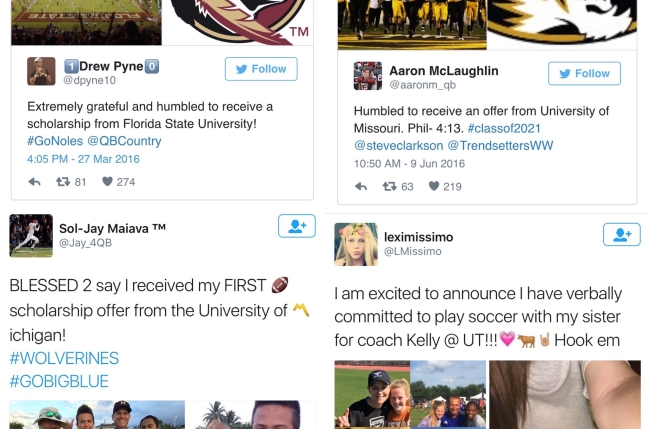 The Ivy League will announce today a series of proposals aimed at curbing early recruiting in college sports, urging other National Collegiate Athletic Association members to "change the culture of recruiting that forces prospective student-athletes to commit earlier and earlier."
The proposed Division I rule changes, which would potentially be voted on at the NCAA's annual meeting in January, would prohibit verbal offers from coaches to potential recruits until Sept. 1 of the student's junior year of high school. The legislation would also prohibit players initiating or receiving phone calls with and from college coaches, and ban any recruiting conversations at camps or clinics until that date.
Current NCAA Division I rules differ among sports, but they largely already prohibit players from receiving phone calls from a coach, going on official campus visits or getting an offer before their junior or senior year. Prospective athletes are allowed to initiate phone calls with coaches, however, and are allowed to visit campuses and meet with coaches prior to their junior year, as long as the trip is an unofficial visit not paid for by the institution.
"We're trying to close those loopholes," Robin Harris, executive director of Ivy League, said. "The current culture is putting more and more pressure on prospective athletes to commit, because they're talking to coaches and making unofficial visits earlier and earlier. You think about freshmen and sophomores and how much they still have to grow, physically, athletically, academically, emotionally, and our concern is that prospects are making decisions they come to regret."
Harris pointed to increasing transfer rates in intercollegiate athletics as evidence athletes are making recruitment decisions too early. According to the NCAA, one-third of college athletes transfer to another program.
"There's a lot of talk about there being a transfer problem," Harris said. "Well, I would say a lot of the problem with transfers is the fact that we have individuals making decisions too soon that are too rushed."
Early recruiting is especially prevalent in sports like women's soccer and lacrosse, where some players are being recruited as early as middle school. An analysis by the New York Times and the National Collegiate Scouting Association in 2014 found that 36 percent of women's lacrosse players who use the consulting firm to commit to colleges are doing so early, as are 24 percent of women's soccer players.
The athletes cannot sign binding letters of intent at such an early age, but middle school students are increasingly announcing verbal commitments to specific institutions after receiving unofficial scholarship offers from coaches.
In 2014, an eighth-grade soccer player verbally committed to the University of Texas at Austin. Earlier this year, another eighth-grade girl said she would be playing for the same team. In January, an eighth-grade lacrosse player verbally committed to play the sport at Syracuse University. In May, another eighth-grade lacrosse player also agreed to play for Pennsylvania State University's men's team.
"The current trend to recruit and commit prospective student-athletes before they matriculate high school or reach puberty is outrageous and detrimental to our sport," Kim Simons Tortolani, the former head coach of Georgetown University's women's lacrosse team, wrote in a blog post in May. "The accelerated recruiting timeline has far-reaching effects: forcing early specialization in one sport, encouraging the growing practice of repeating an academic year in hopes of gaining an athletic advantage [and] promoting participation on club and travel teams at a younger age."
Specializing in a specific sport at a young age is on the rise. According to a survey conducted by the NCAA last year, more than 60 percent of Division I college athletes said they started specializing in their sport by age 12, with many saying they did so hoping to play for a college team.
Early recruiting is occurring in the big-time sports like football and basketball, as well. Earlier this year, an eighth-grade linebacker in Florida received verbal offers from football programs at the University at Alabama and Iowa State, Michigan State, North Carolina State and West Virginia Universities. An eighth-grader football player in Louisiana also received verbal offers this year from Alabama and Louisiana State University.
In March, Florida State University offered a scholarship to an eighth-grade quarterback in Connecticut. He was at least the sixth football player to receive a scholarship offer from Florida State before entering high school. This summer, the University of Michigan and the University of Missouri also verbally offered scholarships to eighth-grade football players.
"The pressure coaches exert on young students to make life-changing decisions in haste erodes their ability to make the right choice, and is therefore in direct conflict with the purpose and process of higher education," Bob Scalise, Harvard University's athletics director, wrote in a letter last year. "The NCAA needs to acknowledge the elephant in the room and engage in meaningful dialogue with its member institutions in order to find a workable solution to this alarming trend."
There have been attempts to curb early recruiting before.
The Intercollegiate Men's Lacrosse Coaches Association proposed rules similar to the Ivy League's proposals to the NCAA in 2009 and 2012, but the association declined to vote on them, with some members saying that many existing recruiting rules are already unenforceable. The Women's Lacrosse Coaches Association also submitted its own proposal, and the NCAA DI Council recommend it in July for the current legislative cycle.
"We expect there to be some negative reactions to our proposals, too," said Harris of the Ivy League. "But our goal is twofold. We want to change the rules to change the culture, but we also want to at least push the NCAA to have these discussions. We've been trying for several years. We think the time is right."