You have /5 articles left.
Sign up for a free account or log in.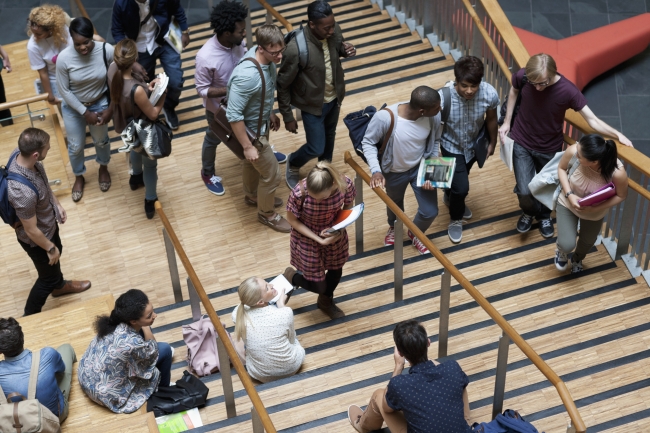 More Americans are attending college than ever before -- nearly 90 percent of millennials who graduate from high school attend college within eight years. But a far smaller proportion of Americans actually have a college degree: only 40 percent of students complete a bachelor's degree in four years and 60 percent graduate in six years. At two-year colleges, 29 percent of students graduate in three years.
Those are the findings of a report released Thursday morning by the Commission on the Future of Undergraduate Education, an initiative from the American Academy of Arts and Sciences begun last November. The commission was tasked with assessing the future undergraduate education by analyzing facts and data rather than relying on anecdotes, and it was funded with $2.2 million from the Carnegie Corporation of New York.
"Our ambition is to help the American population, the American people, to appreciate what college education means now in the United States, which is something much broader and more complex than what a number of us might have thought a few years ago," said Michael McPherson, co-chair of the committee and president of the Spencer Foundation.
The committee's first report, "The Primer on the College Student Journey," examines the current state of undergraduate education, compiling numbers on everything from college preparedness to student loans and providing some analysis. The data comes from a range of sources, including the National Center for Education Statistics, along with think tanks, nonprofits and academic studies.
"From an early point, it was agreed that an important thing to do was get a baseline for the state of undergraduate education so we could get a common set of facts," said McPherson.
This report will inform the committee's work moving forward, and the committee plans to publish another report next summer on the state of higher education for the next 20-25 years.
The report published this morning is also a trove of data on higher education. Among the takeaways from the report:
When it comes to college attainment, gender matters. In 2015, 50 percent of women aged 25-29 had a bachelor's degree; 41 percent of men did.
Race and ethnicity matter, too. Nearly three-fourths (72 percent) of Asian students aged 25-29 had earned an associate degree or higher. That percentage was much higher than for white (54 percent), black (31 percent) and Hispanic students (27 percent).
Many high school graduates are unprepared for college; half must take remedial classes. Remedial classes don't always work, though -- just 28 percent of two-year college students who took these courses actually earned a degree in 8.5 years.
Students are borrowing more. In 2000, about 50 percent of students took out loans; that number had increased 10 percentage points by 2012.
A small number of college graduates default on their loans -- 9 percent. But many more people default if they attended college and did not graduate -- 24 percent. That is why "borrowers at greatest risk of defaulting are typically those who take out the smallest loan amounts," the report said.
Rather than take the conventional four-year track to graduation, many students followed what the report called "a multidirectional transfer swirl."
Approximately one-third (35 percent) of first-time students either transferred or were simultaneously enrolled in two institutions over six years. Although traditionally people might consider transferring to mean moving from a two-year institution to a four-year institution, some students made lateral transfers -- that is, 15 percent of those enrolled at two-year institutions enrolled at another two-year college; 17.2 percent of students at four-year universities switched to two-year colleges; and 17.9 percent of students at four-year institutions transferred to a different four-year.
Socioeconomic status was another big indicator of what type of college students attended.
Those numbers are reflected in statistics from the high school graduating class of 2004: of the 40 percent that enrolled in four-year institutions, 39 percent were in the top socioeconomic quartile and 12 percent were from the bottom quartile. In contrast, among students who chose two-year institutions, 27 percent were from the bottom quartile and only 18 percent from the top.
Socioeconomic status also indicated whether students were likely to attend college at all. By 2014, just about half (52 percent) of low-income high school graduates immediately enrolled in college; 81 percent of high-income graduates did the same.
Add in financial aid, and the relationship of low-income students to college becomes even more complex. Approximately 85 percent of dependent students -- that is, students younger than 24 who rely on their parents for financial support -- with an income below $30,000 receive tuition subsidies that actually cover the entire cost of their tuition and fees.
Despite these financial resources, many lower-income students opt out of going to college because they are not aware of these opportunities. All they see is the sticker price, an expensive prospect.
The report also explored the rising price of college.
At public four-year institutions, students pay 73 percent more in net tuition -- the price they pay after scholarships, grants and loans -- than they did 20 years ago. In fact, they pay 55 percent more than they did only six years ago.
The price tags at private four-year colleges are rising, too -- students pay 32 percent more than they did two decades ago, and 10 percent more than they did 10 years ago -- but the steep increase in price of public colleges is the most significant change.
That dramatic change is often attributed to education-related spending such as faculty and instruction, according to the commission report. In fact, the report concluded, those rising prices are generally thanks to decreased funding from state governments and declining public subsidies.
Even so, the fact that more than 85 percent of students who graduate from high school have some sort of higher education experience before they turn 30 is encouraging to McPherson.
"One thing that really did hit me hard was how pervasive the college experience is in the American population," he said. "That is like nothing in American history."