You have /5 articles left.
Sign up for a free account or log in.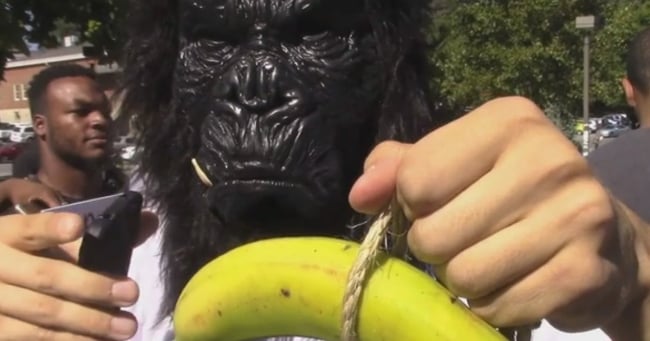 East Tennessee State University was shaken Wednesday when a white student wearing a gorilla mask interrupted a Black Lives Matter rally and thrust a banana hanging on a string in the faces of black students who were participating in the rally.
Images of the white student -- who carried a sack with a Confederate emblem -- taunting the black students spread on social media and outraged many on the campus. The black students did not respond directly to the taunts -- and have received praise for their calm. A university statement said, "Our campus community was outraged by the behavior of one student who confronted the participants. The actions of this one individual go against the values of our university, where people come first and all are treated with dignity and respect."
The student has been identified by campus police as Tristan Rettke. He was arrested by campus police for civil rights intimidation, based in part on his having told the campus police officers that his costume was an attempt "to provoke" the black students. Civil rights intimidation is a felony in Tennessee. Rettke posted bail and has been released from jail, but the university has placed him on interim suspension, meaning that he cannot be on campus, pending an investigation that may result in a permanent suspension or other sanction.
The fall semester has already seen numerous incidents of racism nationwide, including many personal and online attacks that mock the Black Lives Matter movement. The idea of denigrating black people as gorillas is an old racist trope. Also this year, at American University, hundreds of black students held a protest last week after two black women reported incidents involving bananas -- one thrown at a woman and one left outside the door of a woman's room. Students carried signs saying "Racism at AU Is Bananas."
At East Tennessee, the university organized an open forum Wednesday night to discuss what had happened.
Brian Noland, the president of the university, started the event by talking about how proud he was of the way the black students handled themselves when they were taunted. Noland said he was particularly upset because the event took place at a fountain that was dedicated to honor the five black students who integrated the university in the 1950s. He listed their names: Eugene Caruthers, Elizabeth Watkins Crawford, Clarence McKinney, George L. Nichol and Mary Luellen Owens Wagner. He talked about how their values were those of the university and its students.
After he spoke, many students and faculty members did as well. Many black students spoke about everyday racism they face on social media and said that even that experience did not prepare them for the shock and pain they felt on Wednesday. Faculty members spoke of being stunned by what had happened as well.
One professor said that Wednesday's incident was "one of the ugliest things I have seen on a college campus." He asked if administrators present would talk about how they view the balance between hateful statements or acts and the First Amendment.
Joe H. Sherlin Jr., vice president for student affairs, answered by saying that the First Amendment grants "broad latitude for speech" and that "the best antidote for speech that is offensive is more speech."
But he added that when speech "becomes intimidating" or "threatening" or "inhibits someone else's right to express their own civil rights," that may not be protected. And he said campus police officers believed that was the case at the rally.
Several people at the forum noted that another Black Lives Matter rally would take place Thursday. Only about 15 to 20 people were present on Wednesday when the student in the mask disrupted the event. On Thursday, officials estimated the crowd at 350 to 400 -- and there were no disruptions.