You have /5 articles left.
Sign up for a free account or log in.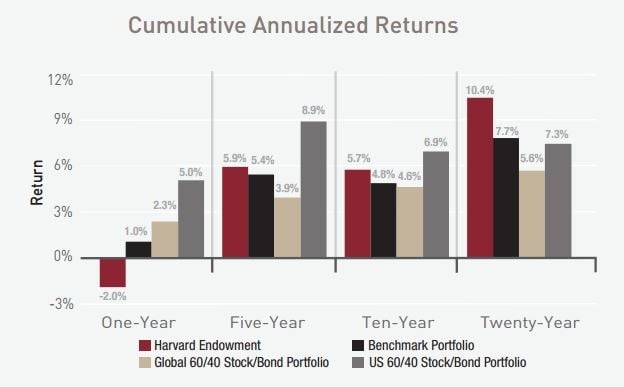 Harvard Management Company
Pressure keeps rising on large college and university endowments, even as early returns show their investment performance falling.
Last week, Republican presidential nominee Donald Trump criticized universities, alleging they do not use enough of their tax-free endowments to assist students with tuition, and then dangling the idea of killing federal tax breaks for wealthy institutions that don't lower costs sufficiently. Trump included the idea in a speech coming just nine days after the U.S. House of Representatives' Ways and Means Oversight subcommittee held a hearing on tax-exempt college and university endowments. It also came as U.S. Representative Tom Reed, a New York Republican, continues to push legislation that would penalize institutions with large endowments that do not spend enough on student aid.
Trump may have raised the profile of a long-simmering debate over endowment spending by tossing it into the presidential race. But colleges and universities packing some of the country's largest endowments have released investment reports this month that could undercut the popular image of ever-growing piles of cash stashed away in ivory towers.
Harvard University, which owns the country's largest endowment, posted a 2 percent annual investment loss. Combined with spending, the negative return dropped the endowment's value by $1.9 billion, to $35.7 billion. Rival Yale University, which has the second-largest endowment in the country, fared better with a return of 3.4 percent. But after factoring in spending to support operations like salaries and scholarships, Yale's endowment dropped in value, too. It fell by $200 million to $25.4 billion.
The two institutions weren't alone. Cornell University on Thursday said its $6.1 billion endowment skidded to an investment return of negative 3.3 percent. Dartmouth College reported a 1.9 percent investment loss as its endowment dropped to $4.5 billion. Outside of the Ivy League, the University of California recorded an annualized endowment loss of 3.4 percent to $9.1 billion, and Pennsylvania State University's endowment lost less than 1 percent, dropping to $3.62 billion. Bloomberg reported Sept. 12 that college endowments were set for their worst performance since the 2009 recession, citing Wilshire Trust Universe Comparison Service data showing that funds with more than $500 million lost a median 0.73 percent in the fiscal year ending June 30.
Endowment Investment Returns

| University | Percent Return |
| --- | --- |
| Ohio State University | -3.4 |
| University of California | -3.4 |
| Cornell University | -3.3 |
| University of Colorado | -2.6 |
| University of North Carolina at Chapel Hill | -2 |
| Harvard University | -2 |
| Dartmouth College | -1.9 |
| University of Iowa | -1.8 |
| University of Washington | -1.6 |
| University of Virginia | -1.5 |
| University of Pennsylvania | -1.4 |
| Massachusetts Institute of Technology | 0.8 |
| University of Oregon | 2.5 |
| Yale University | 3.4 |
The spate of poor returns adds to an element of financial stress looming over college and university operations. It also invites scrutiny of endowment management, as many universities' funds underperformed basic market indicators like the S&P 500 Index. Most agree it won't change anything in the legislative push to examine endowment rules, while endowment defenders say the funds are working as they were designed to function.
A quick dive into Harvard's endowment data illustrates the high stakes surrounding returns. The endowment distributed $1.7 billion to the university in the 2016 fiscal year ending in June. That's more than a third of the university's total operating revenue. It's also about 4.8 percent of the endowment's value.
Pundits were quick to pounce on Harvard's investment loss. Bloomberg View columnist Barry Ritholtz wrote that "the combination of academic hubris and political correctness led to a series of terrible -- and expensive -- decisions" for the endowment in recent years. By Ritholtz's account, Harvard bowed to political pressure from faculty and alumni who objected to high compensation levels for its successful money managers. Harvard replaced its existing team with a slightly cheaper one, but endowment performance has never been the same. Today, he wrote, the university is still paying plenty for endowment management, but it's no longer getting top returns.
Other critics questioned whether most universities with large endowments follow an investment strategy that's too complex, noting large chunks of losses that were driven by investments in natural resources and public equities, particularly foreign equities.
"I wonder if sometimes, in their effort to outperform the competition, they're ending up with portfolios that are so complex that they're hard to get their heads around," said Preston McSwain, managing partner of Fiduciary Wealth Partners in Boston.
Harvard Management Co. Inc., the university arm that manages its endowment, declined an interview request. The group has refined its strategy and hired a new head of its natural resources portfolio, according to a statement from Robert Ettl, the group's interim president and CEO. Former President and CEO Stephen Blyth, who had instituted major investment approach changes, resigned in July, citing personal reasons. His departure left the Harvard Management Co. seeking a new leader for the fourth time in a decade.
Institutions with larger endowments tend to draw more of their funding from those endowments, said Cathy Konicki, a partner who oversees the endowment and foundation consulting practice at Boston-based investment-consulting firm NEPC. Forecasts have said returns across asset classes may be subdued for the next five to seven years, she said. That means it's going to be hard for endowments to meet their target returns.
Stagnant and negative returns can lead institutions to explore lowered spending -- but that might not be easy at some colleges and universities.
"Many university endowments have already done that," Konicki said. "That's a painful process, to have to reduce your spending, and many university endowments have already pulled that lever as much as they can to still be able to support operations for the university."
The crunch may be felt particularly strongly at public universities. With sources of state funding drying up, many are trying to build private sources of cash, including endowments.
"It makes it difficult on both sides," Konicki said. "It makes it difficult for state appropriations to education. And I think historical studies will show you if you have poor stock markets, philanthropy is lower because everybody's pocketbooks are smaller."
Still, one or two years of low returns will not break an endowment.
"The short term does not make the long term," said Nita Patel, managing director at investment adviser Cambridge Associates. "Looking at one year does not build your long-term record."
Patel cautioned against reading too much into the returns that have posted in September, noting that they generally reflect endowment levels as of June 30. Stocks in non-U.S. markets were down at that time, in part battered by the United Kingdom's vote to exit from the European Union. Stocks then rallied in July, and endowments had a chance to buy overseas at attractive prices.
It's also probably too early to panic about endowment contributions to colleges. Short-term struggles tend not to drastically affect the amount of money endowments contribute to college and university operations, said Ken Redd, director of research and policy analysis at the National Association of College and University Business Officers.
Endowments are structured to allow for stable or even rising spending rates in years of financial downturns, Redd said. An annual NACUBO survey found that most colleges reported increased endowment spending in 2015 even though overall investment returns slowed.
"This is exactly why universities want to have endowments," Redd said. "They are a source of spending for financial aid and for faculty research in spite of turbulent financial markets."
The jury is still out on endowment returns for 2016, Redd added. While a number of high-profile institutions have reported endowment losses, they only represent a small sliver of the nation's colleges. NACUBO surveys more than 800 institutions annually for its endowment survey.
Indeed, some endowments have posted gains. The $13.2 billion Massachusetts Institute of Technology endowment gained 0.8 percent in 2016. The $755 million University of Oregon endowment gained 2.5 percent.
Still, it's not surprising that early returns are lower than many would have liked, Redd said. In addition to the trouble with foreign investments, commodities like oil and gas have been beset by financial market turbulence in recent years. That can especially take its toll on larger endowments, he said.
"The schools below $100 million tend to be invested in U.S. stocks, bonds and, relatively speaking, more liquid assets," Redd said. "The larger endowments are much more likely to be in commodities -- oil and gas futures, those kinds of things. When they work, they produce outsized returns. But when they don't work, their returns tend to be fairly steeply negative. So it's a double-edged sword."
Against that backdrop, it looks harder to sell the idea of mandating minimum endowment spending requirements. An argument can be made that forced spending will hurt endowments in down years, leading to smaller overall fund levels that generate lower returns even in good years. Under that line of reasoning, endowments' purchasing power would ultimately be eroded.
"It's what we've always said," said Steven Bloom, director of government relations at the American Council on Education. "Endowments can go up and they can go down, and that's one reason we wouldn't want a mandatory payout. It puts us in a straitjacket."
Many reject that logic, however. They argue that endowments have done well over the last several decades and that the largest endowments are still worth billions of dollars.
Colleges and universities don't just rely on investment returns to grow their endowments, said Dean Zerbe, who was senior counsel to the U.S. Senate's Finance Committee when Republican Senator Chuck Grassley criticized wealthy university endowments and pitched the idea of minimum spending requirements in 2007 and 2008. Institutions are constantly adding to their endowments through donations, Zerbe said.
"Whatever the story is, it's always not a good day to spend money out of the endowment," said Zerbe, now a partner at Zerbe Fingeret Frank & Jadav in Texas. "It's always an excuse, so I think people are a lot more cynical about the universities and the stories they tell about their endowments."
Zerbe is also highly skeptical of a key argument against higher endowment spending -- that large chunks of endowment funds are restricted, or set aside for specific use, making them impossible to dedicate to lowering tuition. He said colleges and universities could use restricted endowment dollars to fund university operations in ways that would lower their need to raise money through tuition. Or they could convince donors to remove the strings they attach to their gifts.
Zerbe also criticizes trustees' endowment oversight.
"Some universities have been better, but by and large, the boards have really failed their duty of taking a hard look at their endowments, understanding them, factoring in the costs, what the spend-out rate should be," he said.
Meanwhile, Reed has not backed off from his push to add spending requirements to large endowments. The congressman, whose upstate New York district includes Cornell University, wants to require institutions with endowments over $1 billion to distribute a portion of investment earnings as grants toward students' cost of attendance. Institutions missing benchmarks would be subject to escalating tax penalties culminating in a loss of tax-exempt status.
Reed cast his legislation as an idea that allows for years with poor investment returns. The proposed required minimum spending on student aid -- 25 percent of annual endowment earnings -- wouldn't apply to years when endowments lose money, he said.
"If you get into a flat or negative space, that distribution number wouldn't be applicable," Reed said in an interview. "That's why we focus on the investment returns, not the principal of the endowment. We recognize that we want these endowments to be sustainable."
At the end of the day, the endowment proposal is one of several strategies Reed wants to follow to cut college costs for students. One year of endowment returns doesn't affect that goal, he said.
"This has always been an additional resource that I saw as a possibility to help us get through the immediate crisis," he said.