You have /5 articles left.
Sign up for a free account or log in.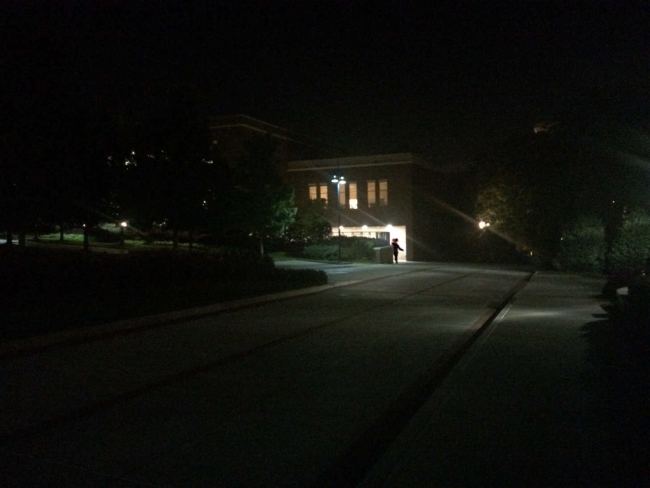 A rash of purported clown sightings on campuses Monday left college officials in the unenviable position of ensuring the safety of their students while not overreacting to a bizarre social media prank.
The reports were the most recent in a string of clown sightings that began in August, when six people in Greenville, S.C., told police that clowns were trying to lure children into a nearby woods. Since then, similar reports have surfaced across the country, though few of the incidents have resulted in arrests or evidence that the clowns actually exist.
Police believe that most of the sightings are likely hoaxes, with the reports either being outright false or stemming from pranksters dressed in clown costumes.
Reports of people dressed in creepy-looking clown costumes stalking college campuses have now occurred at dozens of institutions. Students have reported seeing clowns at the Universities of Connecticut, Iowa, Massachusetts, Miami, Missouri at Columbia and Texas at Austin. Students have claimed to also see clowns at Bloomsburg, Butler, Sacred Heart, Texas A&M and Syracuse Universities, as well as at Mississippi and York Colleges.
Some institutions have chosen to not address the reports publicly, other than to send police to investigate the claims. Other institutions -- including several that experienced alleged clown sightings on Monday -- have responded to the reports more directly.
At Western Carolina University on Monday, a rumor began spreading through social media that a student had been stabbed by a clown. The university released a statement saying that campus police were "attempting to run down a huge number of social media rumors regarding a clown on campus," and that no students had been injured.
In that statement and a subsequent Facebook post, Western Carolina urged students to stop sharing social media posts about the sightings. "Snapchat, tweets and Facebook postings by others typically do not have firsthand accurate information regarding emergencies or threats," the university said.
Also on Monday, the University of New Hampshire informed students that police were unable to substantiate any clown sightings on campus and that the university was not on lockdown, despite rumors to the contrary. That same evening, reports of clowns at Auburn University prompted officials to send a campuswide email instructing students to resist the urge to track down clowns on their own and to avoid wearing clown attire.
"We had a report of students walking around looking for people dressed as clowns," the university's Department of Public Safety said in the email. "For your safety, we strongly encourage you to leave this job to Auburn Police. Please use good judgment and avoid wearing clown masks, as it could be perceived as a hazard or threat to others."
At Pennsylvania State University on Monday, rumors of a clown sighting appeared on the anonymous messaging app Yik Yak. By 11 p.m., hundreds of students had gathered outside residence halls in response to the alleged sighting. Penn State police estimated that between 500 and 1,000 students were involved in the incident, but no injuries or property damage was reported.
The mob, screaming and running through the streets, moved across campus in response to other social media posts, with students saying they were trying to hunt the clown down. At one point, a large image of a clown was projected onto the side of a building. "Some people run away from clowns," one student tweeted. "Penn State runs towards them."
Police -- and the hundreds of students -- did not locate anyone dressed as a clown. Armed with golf clubs, students at Belmont University also searched for a clown Monday, after a student posted an image on social media that depicted a clown hiding near a building on campus. The student later admitted to creating the image with Photoshop. Another clown hunt also occurred that evening at Indiana University, though, again, no clowns were located. 
William Taylor, former president of the International Association of Campus Law Enforcement Administrators and chief of police at Collin College in Texas, said no matter how absurd a safety concern may seem, college officials must avoid too quickly dismissing it as a hoax, even if that has been the case at other campuses.
"Each incident must be judged on its own circumstances," Taylor said. "Just because it is one thing in one location does not mean another location will have the same thing."
A series of clown reports on Monday at Merrimack College in Massachusetts ended with police declaring that the sightings were a hoax, but not before the campus was placed on lockdown for an hour and a residence hall evacuated. Posts on social media claimed that students had seen clowns in a nearby woods and, alarmingly, on the third floor of a dorm.
The clown was allegedly armed with a pitchfork and a rifle.
Christopher Hopey, Merrimack's president, released a statement on Tuesday praising the police department and saying that the college must take seriously every threat to campus safety, even those seemingly stolen from a Stephen King novel.
"We now know this was a hoax perpetrated through social media, not just on our campus but on several others throughout New England last night, a hoax fed by hysteria that has, by media accounts, now affected communities in 26 states," Hopey stated. "This is the world in which we live, with very real threats intermingled with false alarms."