You have /5 articles left.
Sign up for a free account or log in.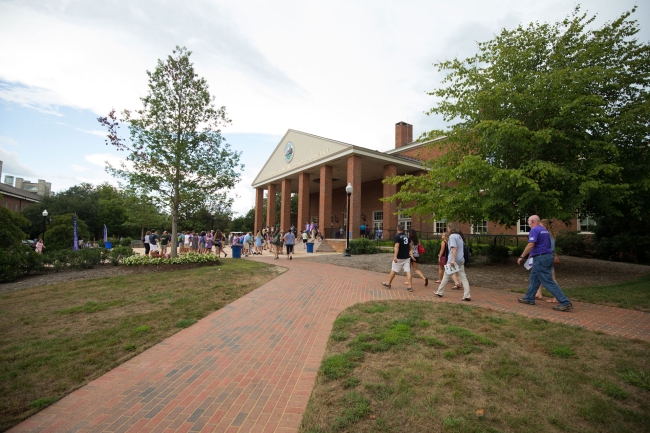 Last month, faculty members at Furman University voted unanimously to scrap their university's mission and install a new one.
Today the liberal arts university, which is located in South Carolina, announced the Furman Advantage, which will guarantee students access to "real-world experiences" alongside their academics. Those experiences could include internships, externships, community service, research opportunities or study abroad.
"We're being purposeful about every student who walks through the door," said Ken Peterson, dean of faculty at the university and co-chair of a committee to oversee the initiative. "From the time they arrive to the time they leave, we're trying to leverage our programs to produce an excellent experience for every student."
The university wants to send a strong message to students and their parents: Furman is working hard to prepare students for jobs and postgraduate lives.
The promise of a four-year pathway from college to career will be funded by a $47 million gift from the Duke endowment. It will be bolstered by mentors who not only guide students, but also encourage them to critically engage in and reflect on their experiences. That information will be gathered and analyzed by Furman in a Gallup-style data system.
"What is the right combination of experiences that help put our students on the path for their success in life, success in careers and deep commitment to improving the quality of life in the communities where they live and work?" said Furman President Elizabeth Davis.
Those are not only questions that Furman will try to answer through the data, but also challenges the university is trying to tackle through Furman Advantage -- challenges affecting both students and the institution.
Origin of the Furman Advantage
The university's real-world experience guarantee germinated from a report Furman commissioned from the research firm Art & Science Group. The charge: to dig into data and look at its enrollment numbers. There wasn't an enormous problem, said Ben Edwards, the researcher who put together the report; both Furman's yield and conversion rates were "OK but not great," he said.
Freshman enrollment numbers have fluctuated over the past few years. In 2011, Furman had 794 incoming freshmen, but that dropped by nearly 100 students in 2012, when the university enrolled 697 incoming students. After modifying its admissions strategy -- targeting out-of-state students who had less need for financial aid -- the number of matriculating freshmen rose to 759 students in 2013. Those numbers are still low and reflect a competitive environment, said Fitch Ratings, a credit rating agency.
In addition, students Furman accepted but who decided not to attend opted to enroll at universities that weren't comparable, such as large public institutions. This is pretty common among liberal arts admissions, Edwards said. Students across the nation increasingly are choosing larger, metropolitan-based institutions.
Furman was left with a question: How could the university set itself apart and attract more students?
"The key factor at play here is one of perceived value," Edwards said. "You have an institution that's charging more than competitors, which have honors programs to try and attract top students. You can't offer SEC football, and you're a smaller city. You have to prove your value in a way that the market could understand."
At Furman, that meant using its assets -- balancing preprofessional experiences with academics and engaging students in the community -- to create a structured campuswide system that would set itself apart.
Outlook for the Liberal Arts
In several respects, the Furman Advantage is unique. And it represents the direction in which many liberal arts institutions may be headed.
"Years ago at conferences, you used to see a discussion about liberal arts or careerism," said Brandon Busteed of Gallup. "Now I'm no longer seeing 'or.' It's 'and' -- how to better integrate meaningful work experiences with liberal arts colleges."
A handful of colleges have established similar systems, such as Northeastern University in Boston. Northeastern's successful co-op program was established over 100 years ago. The system's goal is to intertwine academics with real-world experience.
The University of Cincinnati uses a similar approach. And several other institutions have created smaller programs or additions to the curriculum, though these are rarely at the institutionwide scale of Furman's experiment.
When it comes to liberal arts institutions, a larger leap is better than smaller steps, according to Edwards.
"It takes something concerted and comprehensive to give people a reason to enroll," Edwards said. "The nature of what we found -- study after study -- was that schools can't simply be a little bit more global, or offer a little more career counseling. They have to stand out."
The first part of Furman's gift from the Duke endowment, which is worth $22 million, was awarded last fall for scholarships. The remaining $25 million is meant to jump-start the Furman Advantage. It has several specific purposes:
Student funding for unpaid internships or research projects;
An entirely new IT infrastructure in order to track student data and link mentors to students;
Professional development for faculty and staff, who will be trained in mentoring; and
Unallocated funds, for expenses that have not yet been identified.
"If we're going to make this promise for every student, we're going to need more dollars. We need to be able to increase the stipends and give students more access to that money," Davis said, adding that the initial gift isn't "enough to execute the whole thing, but it will get us started."
Formalizing the Mentor Role
Furman already has a rich culture of faculty members offering guidance to students, Peterson said. But one essential piece of the new vision is institutionalizing a system of mentoring.
"We need to figure out how to build the mentor teams -- I'm mindful that simply having an algorithm to match Mentor A with Person B is probably not the way to go," Peterson said. "So what we really need to do is foster a culture of relationships."
Faculty members will not be the only ones to serve as mentors. Students will have mentor teams during their time at Furman, and those teams may consist of staff members, administrators, internship advisers and alumni -- people outside academia -- along with faculty.
One danger of this requirement is the possibility that mentoring will take away from employees' other requirements, such as research and teaching, said Lynn Pasquerella, the new president of the Association of American Colleges and Universities, the primary liberal education membership group in higher education.
That's why Furman is investing money in professional development: faculty and staff will be trained on a new approach to mentorship.
"One thing we don't want to do is burden the faculty with more tasks," Davis said. "We want to change the conversation … so that students are really guided along individual pathways much more robustly than they are right now."
Building the Plane While Flying
Exactly how the mentoring system will work has yet to be determined. Although the faculty voted to endorse the Furman Advantage last month, many particulars of the program still are not set in stone.
When Davis announced her vision to the faculty in December, ambiguity around specifics caused some skepticism.
"Faculty members are not used to endorsing a vision without all the details of the plan," Peterson said. "It took them a while to get used to that idea that the initiatives are going to come from the faculty and staff, but that they will be coming from the boundaries of the vision."
Over the course of the next semester, Davis and a council that is overseeing the work -- which has representatives from every department and staff members from student life -- hosted forums where professors could voice concerns and questions. Faculty members also were welcome to contribute feedback through an online portal.
By Sept. 20, the day of the vote, faculty members were assured that the vision had two main components: every student would be guaranteed a real-world experience that related to their academic work, and every student would have a team of mentors that would encourage self-reflection.
Going forward, some aspects of the Furman Advantage may take three years to fully integrate into the university, such as building a new IT system.
Other aspects, such as how students will complete their real-world experience, will vary from program to program. Some departments may research programs for certain majors; others may require students to reach out to alumni to talk about careers. Those details will be decided within the next year.
"The vision is not going to change, but how we choose to execute the vision based on the data will allow us to adapt our programs," Davis said.
But, ultimately, administrators at Furman hope all students will graduate with a comprehensive college experience that connects their studies with their careers.
The main goal, said Peterson, is that "whether you're an English major, a psychology major or a chemistry major, you can articulate the skills that you've developed in your course work or in the experiences that you've had in ways that the external world can understand its value."