You have /5 articles left.
Sign up for a free account or log in.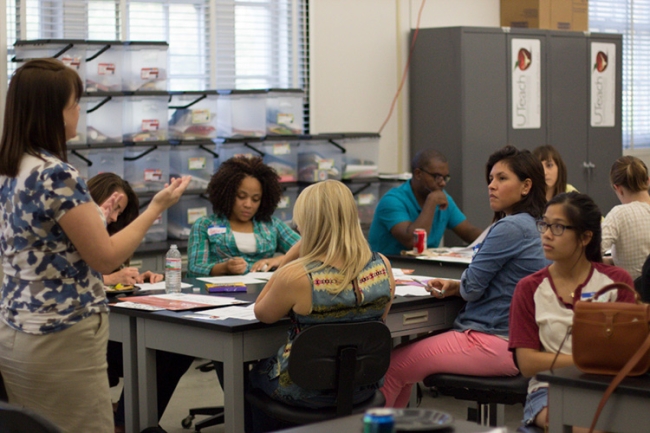 The U.S. Department of Education released final regulations for teacher preparation programs Wednesday that will push states to rate the effectiveness of the programs and tie access to federal grants to student success.
The rules will also require states to be much more active in determining whether programs are effective, at risk or low performing -- the three levels of performance outlined in the rules.
The final rules come after years of negotiated rule making and gathering of input from education interest groups, including teachers' unions and teaching programs themselves. Former Education Secretary Arne Duncan early in his tenure called out teacher preparation programs that he said were doing a mediocre job of preparing educators, largely siding with reform groups such as the National Council on Teacher Quality in finding teaching programs a too-easy path to a college degree.
The new rules require reporting of program-level data on graduates' job placement and retention, consistent with what the Obama administration is doing in other aspects of higher education; feedback from graduates and their employers; and learning outcomes of students taught by graduates of prep programs. The final rules gave significant flexibility to states to determine the specific measures used to gauge student learning outcomes. But that component of the regulations still came under criticism from teachers' groups, which say it will have the effect of punishing programs that place teachers in low-performing schools.
"It is, quite simply, ludicrous to propose evaluating teacher preparation programs based on the performance of the students taught by a program's graduates," said American Federation of Teachers President Randi Weingarten in a statement.
National Education Association President Lily Eskelsen Garcia said that giving more autonomy to states was a positive change from the initial proposed regulations, but said judging teacher programs by student outcomes was a throwback to the days of No Child Left Behind, the federal law governing K-12 education that has now been replaced by Congress.
The initial rules released in 2014 came under fire for being overly reliant on student test scores to judge the effectiveness of teacher prep programs. The final rules, by way of compromise, give significantly more freedom to states to determine what measures of student outcomes they would use for ratings. In a statement, the American Association of Colleges for Teacher Education cited that flexibility as evidence the final rules took into account feedback from the profession.
"The release of this rule provides a catalyst at the state level to generate data regarding our graduates' impact in the classroom and inform continuous program improvement," said Sharon P. Robinson, president and CEO of AACTE.
The regulations were hailed by reform groups that want more accountability for the programs producing new educators as well as by education college deans who want to see more transparency for their programs.
"This is a real opportunity for colleges of education to be leaders in the field and to actually reflect the change that's happening in higher education more broadly," said Benjamin Riley, executive director of Deans for Impact, a group that supports reforms to educator preparation. Riley said programs currently have no idea whether they are actually preparing effective educators. "We don't have information we need about what's working and what isn't," he said. "We can sure do better than what we're doing now."
Jennifer Green, CEO of Urban Teachers, a teacher preparation program started to place educators in high-need schools, said the information that will be available as a result of the new rules will also assist school districts looking to hire recent graduates as well as students considering enrolling in one of those programs.
A former Baltimore City Schools administrator, Green said the district had to make hiring choices for teachers without good information on the performance of the programs that trained them.
"We had no way of knowing which programs were producing effective teachers. We were hiring blind," she said.
The teacher prep rules are one set of a slate of new regulations the Department of Education is pushing to complete by the end of this year before the White House changes hands and, presumably, new leadership comes to the department.
Among the other final regulations still coming into effect are new gainful employment rules for colleges and universities. The teacher prep and gainful employment regulations taken together are part of a new focus in President Obama's second term -- holding higher education responsible for results after graduation, not just program completion.
A key part of the accountability measures for the teacher prep rules is the potential loss of federal TEACH grants, which provide up to $4,000 per year for students who plan to teach a high-need field in a low-income area. Starting with the 2021-22 academic year, teaching programs will lose access to the grants if they are not deemed effective in at least two of the previous three years. States must implement the new rating system by 2018-19.
The regulations will also apply to alternative certification paths like Teach for America or distance education programs as well as traditional certification programs offered by universities.
House Education and Workforce Chairman John Kline, a Republican, said in a statement that the effectiveness of teacher prep programs should have been addressed through a reauthorization of the Higher Education Act.
"While more needs to be done to ensure teachers are prepared for the classroom, the department is taking a one-size-fits-all approach that will lead to unintended consequences," he said.
Senator Lamar Alexander, the Republican chairman of the Senate education committee, said the regulations appear to violate the Higher Education Act by dictating evaluations of teaching programs instead of leaving them to the states.
But the final regulations assign significant responsibility and flexibility to the states, said Arthur Levine, president of the Woodrow Wilson National Fellowship Foundation and former president of Teachers College at Columbia University. He said that was inevitable in light of the passage last year of the Every Student Succeeds Act, which gives states considerable leeway in how they meet requirements of the federal No Child Left Behind law. The rules also reflect the fact that states have different levels of sophistication in the data they collect, Levine said.
"In terms of student performance, there's no way not to make it a state matter," he said. "States collect the data."