You have /5 articles left.
Sign up for a free account or log in.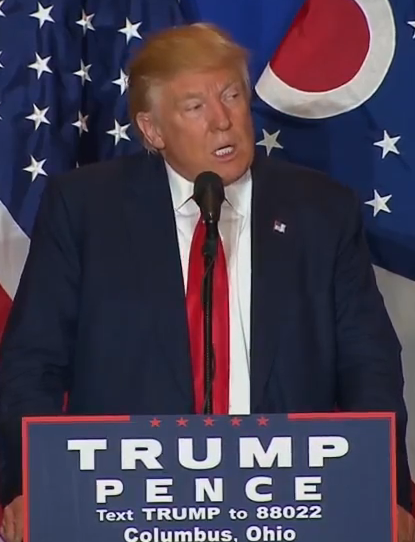 In an unexpected development in a most unusual presidential campaign, Donald Trump devoted about six minutes in a speech in Ohio Wednesday to higher education policy.
He expressed concern about student loans, endorsed income-based loan repayment, blasted colleges for administrative "bloat" and not spending their large endowments on students -- and he vowed to protect student free speech.
Trump framed the speech as being about his concern about student loans. He said student debt in the United States is "a crisis" and "very unfair," adding, "you graduate from great colleges," but "there are no good jobs."
Student debt "should not be an albatross," he said. "Students should not be asked to pay more on loans than they can afford."
Trump proposed that student loans be based on graduates' incomes, with repayment capped at 12.5 percent of borrowers' income. Further, he said that if borrowers repay for 15 years, they should be free from all student debt. Income-based repayment is of course not a new idea -- the federal government's existing income-based plan does much of what Trump suggests -- and has also been endorsed by Hillary Clinton
Jason Delisle, resident fellow at the American Enterprise Institute, on Twitter noted in a series of comments that Trump has proposed freeing borrowers of debt about 15 years, while President Obama's plan ends such debt after 20 years, and President George W. Bush proposed that debt be cleared after 25 years. "Trump running to the left of Obama," Delisle wrote, adding that Trump was "talking some very regressive and bad ideas on student loans here."
Amy Laitinen, director of higher education at New America, said there aren't enough details to know if the plan is progressive or regressive. "It's clear that income-driven repayment polls well," she said via email. "I doubt Trump's supporters would believe he's proposing something that could be interpreted as being to the 'left' of Obama in terms of a 12.5 percent income-based repayment plan (the way I heard it, it would be the only repayment plan). If so and there were no income cap, then it would be super progressive, because everyone would pay a flat percentage and there would be no cap. If it's like current IBR, it would be regressive because the benefits accrue largely to wealthier graduate students [rather] than poorer undergrads and there is an income cap."
Questioning College Spending
Trump also vowed to force colleges to cut tuition rates.
"If the federal government is going to subsidize student loans, it has a right to expect that colleges work hard to control costs and invest their resources in their students," Trump said. "If colleges refuse to take this responsibility seriously, they will be held accountable."
And he said that accountability would include ending the tax-exempt status of colleges and universities with large endowments that do not use those funds to cut tuition rates. Colleges need "to spend endowments on their students, not themselves …. They need to use that money to cut the college debt and cut tuition, and they have to do it quickly." Many college leaders have criticized attacks on university endowments, noting that large shares of college endowments are restricted in their use, and that some of the most generous colleges and universities in the country on financial aid are among those with the largest endowments.
Trump also said colleges could save money by eliminating the "tremendous bloat" in their administrations.
While Trump blamed colleges for rising tuition, he also blamed the federal government. He cited a controversial 2015 study by Vanderbilt University that said it spent $150 million a year to comply with federal regulations. Trump cited the $150 million figure and said he would work to roll back regulations that lead colleges to spend in that way.
But as critics noted when the study came out, about $117 million of those costs related to federal research regulations, which are a sizable issue at a major research university such as Vanderbilt. So most of the $150 million had very little to do with what undergraduates pay.
Trump ended his talk by vowing to protect student free speech -- although he did not detail how he would do so.
Laitinen said Trump was focused in the wrong direction on factors that explain tuition increases. "He pointed to the debunked Vanderbilt regulation numbers rather than focusing on other drivers of college costs including state disinvestment," she said.
Terry Hartle, a senior vice president at the American Council on Education, said via email that "there have long been rumors that he would announce some higher education proposals that would pay particular attention to student loan repayment. Still, given the tenor of the campaign over the last week, it was a surprise that he outlined his plans at this point. In some cases, like income contingent repayment, it's pretty clear what he intends. But with some ideas, such as endowment spending, it's hard to know what he intends. We will look forward to examining these ideas in more detail."
Robert Kelchen, an assistant professor of higher education at Seton Hall University, said via email that this was "the most that I've heard him talk about higher education during the campaign. His basic income-driven repayment proposal (12.5 percent of income for 15 years) isn't too far from other proposals, but it sounded like he might be interested in ending public service loan forgiveness and moving those people into a less generous plan. The ideas of pressuring colleges to use their endowments and reducing regulations are pretty typical Republican higher ed stances."
Added Kelchen: "The broad ideas presented in this speech felt like they could come from a generic Republican politician, an unusual occurrence in this strange election year."
Indeed, many policy observers were scratching their heads Thursday night at a Trump who seemed aware of policy details in higher education. Said Barmak Nassirian, director of federal relations and policy analysis at the American Association of State Colleges and Universities, "Despite the characteristic bluster and the usual Trumpitudes about capping costs and solving problems through negotiations, I was actually surprised by how lucid he was in describing his loan plan: 12.5 percent of income for 15 years. It's not that simple, but, honestly, not too bad for any presidential candidate and amazingly proximate to recognizable reality for Trump."
UPDATE: A spokesperson for the Clinton campaign released this statement Friday morning: "More than a year after Secretary Clinton released her plan to take on college costs and student debt, we are still waiting for Donald Trump to lay out a detailed plan for addressing these issues. The promises he has made so far are as empty as the promises he made to students at Trump University. There is only one candidate in this race with a real plan to make college debt-free and provide relief for millions of borrowers, and it is not Donald Trump."