You have /5 articles left.
Sign up for a free account or log in.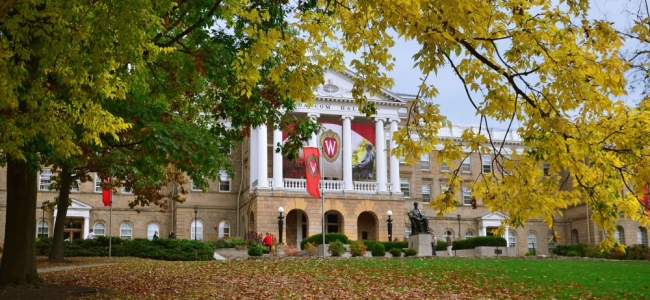 The University of Wisconsin at Madison has long been considered to be among the nation's top universities. But in recent years it has faced deep budget cuts from the state and a critical governor who led the effort to remove tenure rights from state statute. Only some of those provisions were subsequently placed in university regulations, and many faculty members believe the new system lacks sufficient rights for professors.
As the university has faced these controversies, one question has been whether it could hold on to its faculty members. Data released Friday by the university show that Madison held on to 77 percent of those recruited elsewhere in 2015-16. That's about the same as last year and a slightly higher percentage than has been the case over the last five years (most of which predated the changes in tenure and the worst budget cuts). But the number of recruited faculty -- 144 -- is up more than a third from last year.
Provost Sarah Mangelsdorf issued this statement on the data: "UW Madison invested heavily in retaining faculty this year and those efforts paid off in most cases. We like to think that we made a really strong statement that we will fight to keep our faculty."
To hold on to more than three-quarters of the faculty members recruited elsewhere, the university spent more than $23 million: $21.7 million on nonsalary enhancements for faculty members, such as research equipment, research-related funds or extra teaching and research assistants. The university spent $1.86 million on increasing salaries of those being recruited.
Of those recruited who reported a reason for entertaining an offer elsewhere, salary was the most common reason cited. And of those cases where the university was able to compare offers, the median offer was 30 percent higher than the salary at Madison.
The university also released the names of the seven institutions that have had the most success recruiting Madison faculty members from 2007-08 to 2015-16. Each of the universities recruited between five and seven Madison faculty members during that time.
A look at the average salaries of full professors (those most commonly recruited at Madison) shows the salary challenges facing leading public universities. Private research universities outpace public research universities in faculty salaries, and the gap is most visible at the universities that pay the most. An Inside Higher Ed analysis of data from the American Association of University Professors' annual report on faculty salaries found that the top 10 private universities in faculty pay for full professors all exceeded the top-paying public university.
Among private universities, the highest average for full professors was Columbia University at $236,000. The top-paying public university was the University of California, Los Angeles, at $187,800.
The AAUP data may be found on Inside Higher Ed here. Data on full professors from the AAUP show that Madison was starting at a disadvantage -- and in some cases a large one -- in salaries of faculty members, compared to those at institutions that succeeded in recruiting some away. (Salaries of course vary by individual both at Madison and the institutions hiring Madison faculty members.)
Here are the data for Madison and the universities that have been most successful at recruiting away its professors. Only one of the universities has a lower average faculty salary than does Madison.
Average Faculty Salaries for Full Professors at Wisconsin Madison and Seven Competitors, 2015-16
University
Average Salary

# of Madison Faculty
Recruited Away,
2007-08 to 2015-16

Yale U
$203,500
6
Duke U
$197,800
5
Northwestern U
$193,700
5
U California, Davis
$151,400
6
U Illinois Urbana-Champaign
$148,000
5
U Minnesota Twin Cities
$138,000
7
U Wisconsin Madison
$129,500
n/a
U Arizona
$124,500
6