You have /5 articles left.
Sign up for a free account or log in.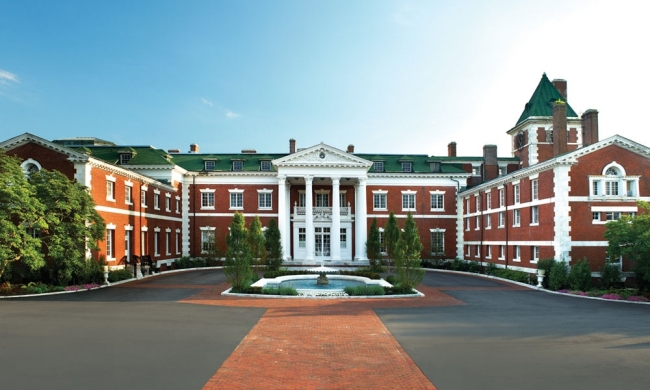 Amity Education Group/PRNewswire
A private Indian university system planning to expand into the U.S. recently purchased a 170-acre, 11-building campus on Long Island but has canceled plans to acquire two campuses of the for-profit Art Institutes, one in Boston and one in New York City, after the deal came under scrutiny from state regulators in Massachusetts.
Aseem Chauhan, Amity University's chancellor, said the university had been "taken by surprise" by negative media attention it received after the Massachusetts attorney general issued a news release raising concerns about its proposed purchase of the New England Institute of Art (NEIA).
"We were given very little opportunity to defend ourselves or to project the correct picture," Chauhan said in written responses to questions. "The sentiments may have been against NEIA and against a transaction which would see the institution survive, but we suffered because of it. We did not see it as worthwhile to continue pursuing the transaction in this environment."
Amity had been in the process of purchasing NEIA as well as the Art Institute of New York City, two Art Institutes-branded campuses in the process of being shut down by their parent company, Education Management Corp.
Plans for the sale were outlined in broad terms in a joint letter NEIA and Amity sent to the Massachusetts Department of Higher Education in July. The Massachusetts department subsequently sent a Sept. 9 letter to the NEIA president, raising a series of specific questions about the proposed sale and seeking additional information about Amity and the Ritnand Balved Education Foundation, which Chauhan said is the sponsoring entity for Amity University. The letter from the department cites "significant gaps in the information that we have about this transaction and the resulting institution."
Massachusetts Attorney General Maura Healey subsequently weighed in, releasing a Sept. 22 letter she wrote to the state's Board of Higher Education urging it to hold a hearing "on the performance of NEIA's current teach-out and its new plan to outsource the remainder of its teach-out obligations to an unlicensed foreign entity."
"Students who invested their time and hard-earned money into this school deserve the education they were promised by NEIA, not [to be] handed over to an unlicensed foreign corporation with no history of teaching art students in the United States," Healey said in the accompanying press release.
In an interview with the national public radio show The Takeaway, Healey expressed concerns about Amity's "track record," specifically noting that "Amity was founded by an individual who was charged with fraud many, many years ago." The Associated Press reported in October that Amity's founding president, Ashok Chauhan, the father of the two current chancellors, Aseem and Atul Chauhan, was charged with fraud in the 1990s in Germany, where he ran a group of companies, but was never extradited from India. A spokeswoman for Germany's Interior Ministry, which includes the federal police, declined to comment when contacted by Inside Higher Ed, saying the ministry does not comment on individual cases.
"I am very surprised to hear this even come up," said Aseem Chauhan. "These were allegations which were looked into more than 20 years ago and found to be baseless. These issues are not in any way related to our education foundation. It is unclear to me why they were brought up and mentioned in the media … related to a transaction which we had just approached the [Massachusetts] Board of Higher Education with to get their guidance. We should have been given a chance to properly introduce ourselves first."
By way of introduction, Amity has 10 campus locations in India as well as eight international locations in Abu Dhabi, Dubai and London, as well as China, Mauritius, Romania, Singapore and South Africa. Chauhan, the chancellor, described it as "one of the largest private nonprofit groups in Asia with 125,000 students" and emphasized Amity's strengths in research and innovation. "University faculty over the past years have filed more than 750 patents and worked on 300 government-funded research projects; they have published more than 1,500 case studies and thousands of research papers in Scopus-registered journals," he said. "In the process of commercializing the [intellectual property rights] developed at the campus and supporting entrepreneurs in the region, more than 300 technology ventures have been incubated at Amity Innovation Incubators."
In June, Amity's campus in the Indian state of Uttar Pradesh earned initial accreditation from a U.S. regional accreditor, the Western Association of Schools and Colleges' Senior College and University Commission. The WASC accreditation is specific to four campus locations -- three in India, in Noida, Greater Noida and Lucknow, and one in Dubai -- rather than to the whole Amity University system.
"Our accreditation from WASC was meant as an exercise to benchmark our quality, governance, systems and processes with the best in the world," Chauhan said. "This was not a strategy to get the accreditation in order to open a campus in the U.S. But yes, having gone through the rigorous process and having achieved accreditation, we feel that we understand in detail the quality standards expected by U.S. regulators and we are prepared not only to meet them, but to exceed them."
Kevin Kinser, a professor and chair of the education policy studies department at Pennsylvania State University, said that Amity's planned entry into the U.S. raises new questions for the regional accrediting agencies, some of which are active or have been active in accrediting foreign institutions. Kinser said the implications of those foreign institutions then using that accreditation to open campuses in the United States "is not something I think they [the accreditors] have thought about."
Amity's Uttar Pradesh campus is one of a dozen foreign universities accredited by or in the process of seeking accreditation by WASC, which accredits institutions based in two U.S. states, California and Hawaii. WASC's president, Mary Ellen Petrisko, said that options for Amity seeking accreditation from WASC for its New York campus would depend on answers to questions about the institution's legal status, including whether it is considered a branch campus, an additional location or a free-standing entity.
"If it were a totally freestanding independent institution, I think the question might be whether they would have to go to Middle States" -- the accrediting agency for the region that includes New York -- "for accreditation, but we don't know the details," Petrisko said. WASC officials say Amity has not contacted them about the Long Island campus.
Chauhan said Amity officials have not finalized their thinking on whether they will seek accreditation through WASC or another accrediting agency, "but are evaluating all possibilities."
Amity announced the purchase of its new waterfront campus on Long Island from St. John's University in October. Chauhan did not directly respond to a question about projected enrollment for the Long Island campus, though Times Higher Education reported that it plans to eventually enroll up to 10,000 students, primarily from the U.S. Kinser, the Penn State professor and an expert on foreign branch campuses, is skeptical, noting that an enrollment of half that would make it "one of the biggest branch campuses in the world."
"It's hard for me to imagine Amity as a brand name from India being the kind of institution that would attract a lot of U.S.-based students," said Kinser.
Chauhan also did not address whether the campus will offer undergraduate or graduate programs or both. "The programs that we propose to offer will have a strong global aspect," he said. "We may also propose STEM programs, which is also an area of expertise for us. We also intend to have a strong research component to all of our programs."
Chauhan said Amity is "in touch" with the New York State Education Department "and will share plans with you as we move further in the process."
In a written statement, the state education department said, "The purchase of real property on Long Island by Amity does not give them authority or permission to operate a college at that location. The New York State Education Department had no role in the purchase of real property in NYS by Amity. Amity cannot open a college at that location, or anywhere else in NYS, without express authority granted by the NYS Board of Regents to do so."
The department said that neither Amity nor Ritnand, the associated foundation, have to date submitted an application or proposal to operate a college in the state.