You have /5 articles left.
Sign up for a free account or log in.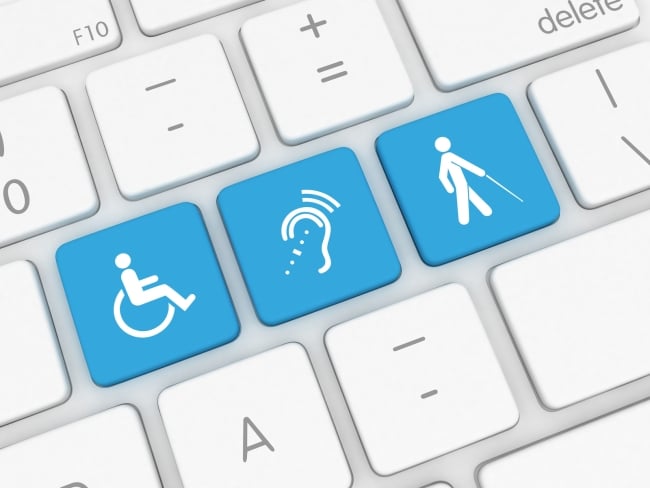 Miami University in Ohio last month became the latest institution to overhaul its accessibility policies for people with disabilities. Within a year and a half, students there will receive personalized accessibility plans and encounter course materials, learning platforms and websites that conform to accessibility standards.
The university agreed to the overhaul as part of a settlement with Aleeha Dudley, a blind student who -- with the help of Disability Rights Ohio, a local advocacy group -- in 2014 sued over a lack of accessible course materials and trained assistants. In 2015, Dudley gained another powerful ally: the U.S. Department of Justice.
Disability studies scholars and legal experts say lawsuits like Dudley's against Miami represent a shift in activism, where high-profile cases help raise awareness about the challenges facing students in an increasingly digital world. More than two decades after the Americans With Disabilities Act of 1990 was signed into law, advocacy groups are pushing to clarify how it and other laws that prohibit discrimination against people with disabilities apply to technology that at the time seemed like science fiction but now has become reality. At the same time, those and other groups are pushing for new legislation, keeping one eye on the upcoming process to rewrite the Higher Education Act.
JoAnna Hunt, an accessibility manager at Blackboard, said the last five years in particular have featured large advocacy groups -- such as the National Federation of the Blind and the National Association of the Deaf -- as well as students and their parents taking a "harder look" at higher education.
"Without a doubt, there's been an increase in formalized, organized advocacy," Hunt said in an interview. "In addition, there's a lot more smaller, more organic, more grassroots things happening. … Students are pushing a little more for what they believe to be their civil rights to equal and equivalent educational experiences."
Of course, since the ADA was enacted (and even before), students with disabilities pushed colleges to deal with physical barriers (such as sidewalks without curb cuts and buildings one could enter only via stairs), for sign language interpreters or other accommodations that would allow them to fully benefit from all that higher education offers. While most college officials now know better than to build facilities that some students can't physically enter, many routinely overlook the accessibility issues raised by technology.
Miami is far from the only university to face legal action over accessibility issues. In the last two years alone, several colleges and education companies -- Atlantic Cape Community College, edX, Harvard University and the University of Phoenix, among others -- have either been sued or settled complaints about inaccessible websites or content. And like at Miami, the Justice Department has occasionally involved itself to reach a settlement.
Lennard J. Davis, a prominent disability studies scholar based at the University of Illinois at Chicago, said those lawsuits highlight a trend of the last 10 years of accessibility lawsuits shifting from concerning physical to digital spaces.
"The web and technology associated with sensory impairments are where it is at right now," Davis said in an email. "The virtual and digital world has replaced the physical world as the locus for discrimination and barriers."
Visual Web Brings New Challenges
Lainey Feingold, a disability rights lawyer, has worked on web accessibility issues since the late 1990s. In an interview, she said the focus of the lawsuits has changed as the internet has matured. Initially, an inaccessible web was an absolute "showstopper" for blind people, she said, but as more and more online content is being delivered in the form of video, the lack of adequate captioning has brought more attention from groups advocating for the equal rights of deaf people. Also, with more knowledge and new technology, digital content can be displayed in ways that make it accessible to those with visual disabilities, but typically only if colleges put thought into the issue.
"There are a lot of initiatives for increased access due to the growth of online education and the tireless advocacy by the NAD and sister advocacy organizations," Zainab Alkebsi, policy counsel for the National Association of the Deaf, said in an email. "These initiatives are being pursued because there is still a lot to be desired, and the NAD and other civil rights groups will continue to fight for equal accessibility on the web."
The University of California, Berkeley, is another example. It, like MIT and so many other institutions, offers free audio and video lectures on platforms such as edX, iTunes U and YouTube. Following an investigation that determined "significant portions" of the content were inaccessible to people who are deaf due to a lack of captions, the Justice Department in August concluded the university was violating the ADA.
The department issued a series of remedial measures, including paying damages to students affected by the inaccessible content and ensuring existing and future content meets the "AA" level of the Web Content Accessibility Guidelines (WCAG) 2.0, developed by the World Wide Web Consortium, a standards organization.
Facing what it called "extremely expensive measures," the university openly contemplated a different solution: delete everything.
"We believe that in a time of substantial budget deficits and shrinking state financial support, our first obligation is to use our limited resources to support our enrolled students," Catherine P. Koshland, Berkeley's vice chancellor for undergraduate education, said in a statement. "Therefore, we must strongly consider the unenviable option of whether to remove content from public access."
The NAD is also backing a class action lawsuit against the Massachusetts Institute of Technology for not captioning many of the free video lectures it makes available online through massive open online courses and other sources. MIT has argued the case should be thrown out, as being required to caption everything would "impose an unreasonable financial or administrative burden, or require a fundamental change in the good at issue." A federal district court on Thursday rejected that argument and allowed the case to proceed.
Critics, Feingold included, have chided Berkeley for the tone of its response to the DOJ's findings. A group of the university's own faculty members even published a response to the response, saying the threat to pull all free online content conflicts with the university's long history of work in the field of disability studies.
"The DOJ letter is an opportunity for us to acknowledge that we can do better," the faculty members wrote. "We must comply with the law, but rather than being defensive and operating from a place of fear, we can be constructive and work towards our mission of public education."
Hunt, of Blackboard, also applauded the DOJ for paying attention to accessibility issues and working with universities to settle disputes. "There have been too many years of uncertainty and gray areas in terms of what regulations apply in higher education," she said.
Doing the 'Right Thing'
The Berkeley and Miami cases are examples of what the National Federation of the Blind has previously described as its "university by university" approach to ensuring that the digitization of higher education doesn't leave students with disabilities by the wayside.
But the NFB's approach could soon receive a boost -- at least when it comes to web accessibility. New rules that have long been in the works at the Justice Department would require all public universities (and indeed all public entities) to follow many of the same accessibility measures Miami and Berkeley are being required to take up.
The department has since 2010 worked on formulating technical requirements governing how public entities should offer services online. In 2015, it decided to tackle the issue of web accessibility on its own, but the process has extended into the final year of the Obama administration. (The NFB issued a scathing statement in response to the delay, calling it "deplorable" and an "example of inexcusable foot-dragging on the issue of web accessibility." The organization did not respond to a request to comment for this article.)
Thirteen higher education organizations -- including the American Association of State Colleges and Universities, the American Council on Education, Educause, and the National Association of Independent Colleges and Universities -- last month came together to comment on the proposed rules. Their comments generally favor some form of standard for web accessibility, though with several caveats and exemptions for college and universities.
Summed up, the associations argued that colleges are not like DMV offices. "[A] university's online presence is far more than just transactional," the comments read. "To take just a few examples, content posted on university websites includes scholarly works posted directly by authors or hosted in open-access repositories; research data; instructional material with a limited target audience; library resources licensed from third parties; archival material; multimedia recordings of nonpublic hosted events; and faculty blogs."
The associations argued colleges shouldn't be punished if someone at the college, like a student, posts content to the university website that doesn't conform to accessibility standards. Likewise, they said the requirements shouldn't apply to content that serves a small audience. They also asked for more time -- three years to come up with an accessibility plan and five years to put it into action, as opposed to the proposed two years.
Jonathan S. Fansmith, who works in government relations for ACE, said in an interview that the associations are looking for a middle ground with regulations that ensure core university functions -- registering for classes, paying tuition and so on -- are accessible to anyone but don't stifle university research output.
"We want to do the right thing here," Fansmith said. "We want to do it the right way. We want to have cognizance of a process that's thoughtful, deliberate and can actually be achieved so you don't get schools that say, 'Look, this is going to be so costly, so burdensome.'"
The National Association of the Deaf is pushing back against claims that the price tag is holding back accessibility initiatives at colleges, however, pointing instead to inadequate training and a lack of openness, among other factors. Alkebsi, the policy counsel, said colleges shouldn't view updating content and websites as a cost, but an investment.
"Researchers who have studied the problem of inaccessible Title II websites have not found cost to be a factor for inaccessibility," Alkebsi wrote. "The NAD asserts that once web accessibility standards are clear in the mandate to include full accessibility for everyone, all higher education entities will incorporate these standards without difficulty."