You have /5 articles left.
Sign up for a free account or log in.
Many students who stayed up late on Election Day -- as well as those who didn't get the results until Wednesday morning -- were dejected and angry about the election of Donald Trump as the next president. Trump had plenty of campus supporters, who organized events on his behalf during the campaign. But even those supporters never claimed to be the majority of students.
Among the most angry on Wednesday were minority students, immigrant students, gay students, feminist students -- and on many campuses they organized quick protests, in some cases marching off campus as well. Plenty of white men protested as well. Many students had for months been angry at Trump's campaign statements about issues they care about, as well as videos showing him boasting of assaulting women. Judging from comments on social media, many of those protesting were stunned by the election outcome (just as many nonstudents were as well, of course). In several cities, high school students held protests as well.
Some students, particularly those on the West Coast, started marches Tuesday night. That's the case with the video that follows, from the University of California, Los Angeles.
At the University of Texas at Austin, students marched through the city after starting on campus. Students also organized protests at the Universities of Connecticut, Oregon and Pittsburgh, and Western Washington University.
At many campuses, students carried signs that said "Not My President," "Love Trumps Hate" or various four-letter words to express feelings about Trump. At some events, students were crying as they discussed their fears about the future in a Trump administration.
Many signs at events termed Trump a fascist.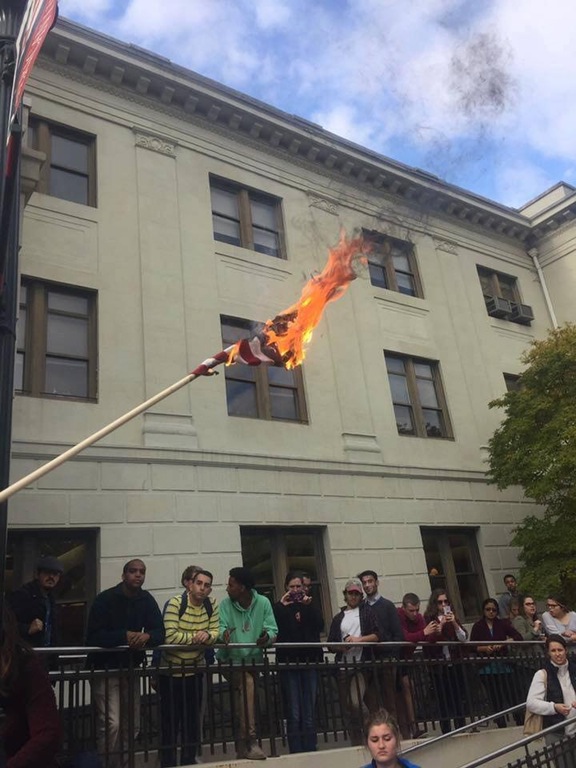 Some protest tactics of earlier generations resurfaced on Wednesday. At American University, students burned a flag.
At the University of Tennessee at Knoxville, a U.S. flag on Wednesday morning was defaced with "Fuck you" written on it, The Knoxville News Sentinel reported.
On Wednesday afternoon, Chancellor Jimmy Cheek sent a campuswide email urging civility. "As is the case across the country, members of our campus community represent a variety of viewpoints and opinions," he wrote. "Whatever opinions we hold, we are all Volunteers."
At some campuses, students reported that pro-Trump messages were left in various places, mixing in statements many found offensive. At the University of Louisville, for example, The Courier-Journal reported that the phrase "Trump Build the Wall" was spray-painted on a statue.
Here are a few social media posts about other protests Wednesday.
Kevin Kruger, president of NASPA: Student Affairs Administrators in Higher Education, said via email that the protests generally are to be expected -- and that the right of students to protest should be supported.
"We should not be surprised by the vocal reaction from college students across the country," he said. "There is a general sense of anger, fear and despair about the outcome of the election. In particular, African-American, Latino/a and LGBT students have felt that some of the political rhetoric has had a direct impact on them from a very personal standpoint. These protests are a healthy and productive way for student to express themselves."
Kruger added that his members have reported that visits to counseling centers were up Wednesday and that many students have been reporting greater levels of anxiety than is the norm.
A key challenge for campus leaders, he said, is providing places for a range of expressions about the election. While most of the protests "have been from those opposed to the election of Donald Trump, it is also important to provide spaces on campus for all viewpoints -- both those who are concerned about the outcome and those who are excited about the outcome," he said. "Creating spaces for those divergent views will be one of the most challenging in the near term."