You have /5 articles left.
Sign up for a free account or log in.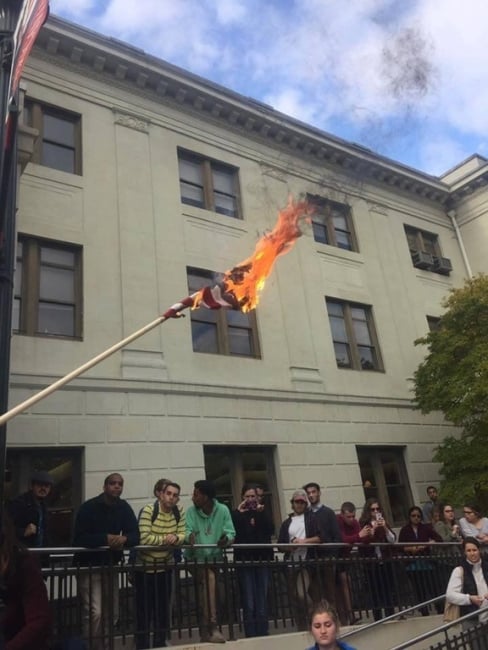 The day after Donald Trump was elected president of the United States, a U.S. flag was burned at a protest at American University.
The overwhelming majority of the hundreds of protests and marches at colleges and universities in the United States since the election have not involved burning anything. But American University is not alone, either. In the days since, flags have been burned at Hampshire College and the University of Missouri at Columbia. At Brown University, some students removed a large number of small flags that were planted on a campus quad to mark Veterans Day. St. Mary's College of Maryland announced Tuesday that an investigation has determined that some of its students were responsible for shredding and lowering to half-staff a flag at a local post office. Those students are being referred to the campus judicial system.
And in an incident two months before the election, but raising some of the same issues as more recent actions, some students at Occidental College removed flags that had been planted for the victims of Sept. 11.
The incidents involving flags have been uniformly controversial, with some students at all of the campuses involved speaking out against trashing or burning the flag. Some have said that burning or trashing the flag is insulting to veterans (some of the incidents took place on Veterans Day) or active-duty military service members. Others have said that they sympathize with those protesting, but that the tactic is unlikely to win over supporters and plays into the stereotypes many already have about higher education (and especially about some of the colleges involved, already known for left-leaning student bodies). Many of those criticizing the tactic are saying that this is just the kind of political activity that reinforces the views Trump supporters hold about elites in America.
Some protests against Trump -- such as one Tuesday organized by students at Hamilton College -- featured people who waved U.S. flags, symbolizing their view that they were marching for American ideals of inclusiveness.
Flag burning in the United States has tended to take place when "there is a sense that the United States has lost its way," said Robert Justin Goldstein, author of Flag Burning and Free Speech (University Press of Kansas). Goldstein, a professor emeritus of political science at Oakland University, said that since the U.S. Supreme Court found in 1989 that flag burning is a form of protected political speech, he thinks there has been less use of the tactic. Before the Supreme Court ruling, he said, burning of the flag tended to result in more attention (and a chance of arrest).
But he said a motivating factor remains the same: burning the flag shocks some people into looking at what is going on. "This is used by people who feel that they are not being heard," he said.
While burning the flag attracts attention, Goldstein said it rarely sways anyone. "It certainly does antagonize a lot of people," he said, as does desecrating flags in other ways (such as removing them and throwing them out).
'A Sad Day'
That has been the case at Brown University.
At Brown, some students removed and trashed small U.S. flags that were set up last week for a Veterans Day ceremony. The university is investigating. Some Brown students intervened and tried to set up the flags that had been removed. The incident took place against widespread student frustration over the election results.
One Brown student posted on Facebook about how he felt upon finding out the flags had been removed: "Today was a sad day. Hundreds of flags were set up on the main green of Brown University by two veterans in honor of Veterans Day tomorrow, and when I got out of class, people had snapped them, ripped them and [thrown] them aside (in the video). I spent 1.5 hours outside taping them back together and putting all of them back in the ground, with a few confrontations. Only two people out of hundreds of people that passed by stopped to help. One person actually stomped on and snapped all of the ones I put back, and when I asked her to stop and explained that they were for Veterans Day, she said, 'I don't care about that.' Always stand up for what you believe even if you have 6,000 people against you."
Another student responded, defending those who removed the flags: "The U.S. military has destroyed the countries, homes, families and livelihood of so many of the people I know and love. Some of us are only here due to that destruction. I understand the respect for the flag but it is important to acknowledge that there are people on campus with a history that has been deeply negatively affected by the U.S. … The military represents so much more than freedom. It also represents trauma and destruction."
Others weighing in noted the political optics of removing flags. One comment on the website of The Brown Daily Herald said, "Vandalizing the flags shows an unfortunate inability for multilayered thinking about what they represent and what their purpose was on Friday, which was not only to honor veterans as a whole but specific members of our community. I am ashamed that our campus continues to have a problem civilly and rationally expressing opposing opinions. We are becoming an echo chamber and the liberal caricature that Fox News thinks we are."
UPDATE: Brown's president, Christina Paxson, today issued a statement criticizing the vandalism, saying she was "appalled" to learn of it and that she was proud of Brown students with military ties. "The investigation of this incident indicates that the vandalism was the work of a small number of Brown students acting individually. Although Brown's policy is to keep the results of disciplinary matters confidential, I want to be very clear that these acts of vandalism are a violation of Brown's Code of Student Conduct, and students found responsible for code violations are subject to sanctions," she said.
'The American Flag Is Particularly Triggering'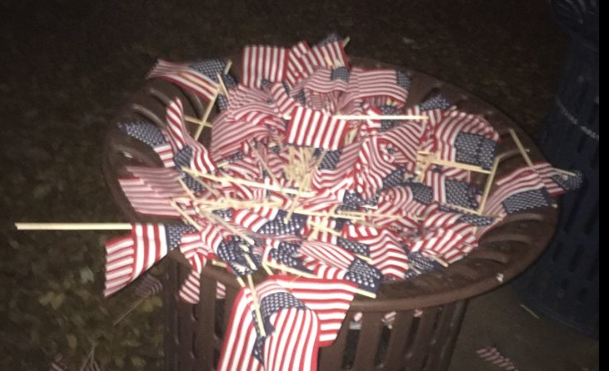 At Occidental College in September, the Coalition for Diversity and Equity criticized a display set up by the campus Republican group that featured 2,996 small flags, one for each victim of the Sept. 11 terrorist attacks. The flags were removed and found in the trash (right). The coalition did not take responsibility for removing the flags but released a statement that criticized the Republicans' memorial.
"On a campus that proclaims itself time and again to be diverse, equitable and safe for all of its students, the display of American flags covering the entire academic quad disproved that proclamation," the statement said. "When we became aware of the purpose of this display, to memorialize Sept. 11, we were concerned by the complete disregard for the various peoples affected by this history. As students of color, this symbol of the American flag is particularly triggering for many different reasons. For us, this flag is a symbol of institutionalized violence (genocide, rape, slavery, colonialism, etc.) against people of color, domestically as well as globally. Additionally, if the goal of the memorial is to commemorate the lives lost during Sept. 11, the singular nature of the American flag fails to account for the diversity of lives lost on that day."
This month, Occidental announced that "students believed to have been involved in the incident were identified, and the college has taken appropriate action in accordance with the college's Code of Student Conduct. Federal and state privacy laws prevent the college from disclosing details about the investigation, the findings or the sanctions."
Conservative websites have spread word about the flag burnings during the postelection campus protests, also noting the frequent uses of profanity and the president-elect's name (something present in far more protests nationally than destroying flags).
Others -- even those who note their respect for the flag -- have defended the right of those protesting to burn flags.
In an essay in The Eagle, the student newspaper of American University, Michael Andersen, a student, wrote that as someone who came from a military family and had served in the military himself, he understood how the burning of a flag at a postelection protest would be upsetting to many. "I have saluted the flag at reveille at the crack of a cold dawn, I have seen my family members wrapped in its soft touch upon their passing, I have seen it worn on the uniforms of our service members around the globe, I have seen coffins of friends draped in it. I know what it symbolizes," he wrote.
But he went on to question those who say no one has a right to burn a flag. "That right of protest comes from the Bill of Rights and includes freedom of speech. Since I swore an oath to protect the Constitution, I have sworn to protect anyone's right to exercise their liberties. There are no special clauses, there are no 'only if' statements, there are no exceptions," he wrote. "So, to the counterprotesters who sought to take away another American's rights that come directly from the Constitution itself: you are wrong. You are violating this country's Constitution and you have no right to be the unilateral judge, jury and executioner."
Issues Beyond the Flag
In several of the flag incidents, questions have been raised that go beyond the question of protest.
At the University of Missouri at Columbia, for example, a small American flag was burned on Friday, but the person who burned it and the purpose is not known. A spokeswoman for the university said that the burning violated university rules but not because it involved a flag -- anyone who burns anything on campus must apply for a permit, and no permit was sought.
At Hampshire College, students lowered the main American flag to half-staff on campus shortly after Trump's victory. Then on Thursday night, someone took down the flag and burned it. College officials criticized that action, saying that the college had wanted the flag flying at full height for Veterans Day. When students and employees (some of them veterans) arrived on Friday, no flag was up. During the day, the college replaced the flag and put a new one up.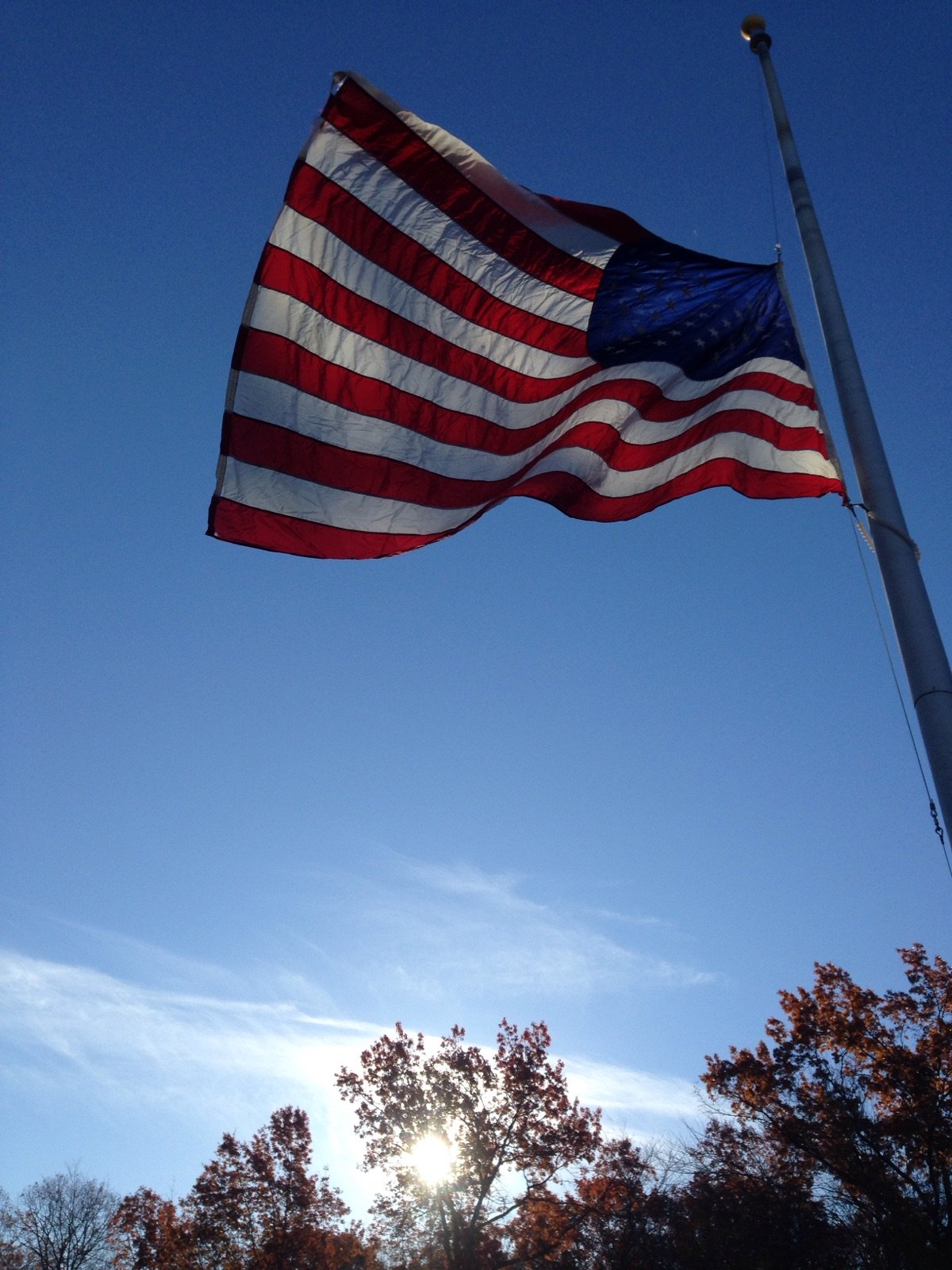 On Saturday, the college's board agreed to lower the flag to half-staff for a period of time (at right) while the campus discusses the flag and its meaning, and various forms of dissent. "Flying the flag at half-staff is a time-honored way to convey mourning, and many have suggested that, in addition to those occasions specified under the U.S. Flag Code, our flag remain at half-staff as an expression of collective grief for the violent deaths that are occurring daily in this country and around the world," said a statement from the board. "And, indeed, our campus has been directly affected on multiple occasions: among us are students and employees who have lost their homes in bombings, had family members murdered for their political convictions or because of the color of their skin, and who cannot safely return home due to war or threats to personal safety."
Robert L. Shibley, executive director of the Foundation for Individual Rights in Education, said via email that it was important to distinguish between burning the flag (a legitimate form of political protest) and burning someone else's flag.
"Just as people are free to burn the flag in protest … people are also free to criticize flag burning or any other protest tactic," Shibley said. "However, you are not allowed to steal, burn or destroy a flag that does not belong to you. If you do, even though you still cannot be punished for choosing to burn the flag, you can be punished for vandalism, theft, trespass to chattels or other charges or claims related to damaging, stealing or destroying property."