You have /5 articles left.
Sign up for a free account or log in.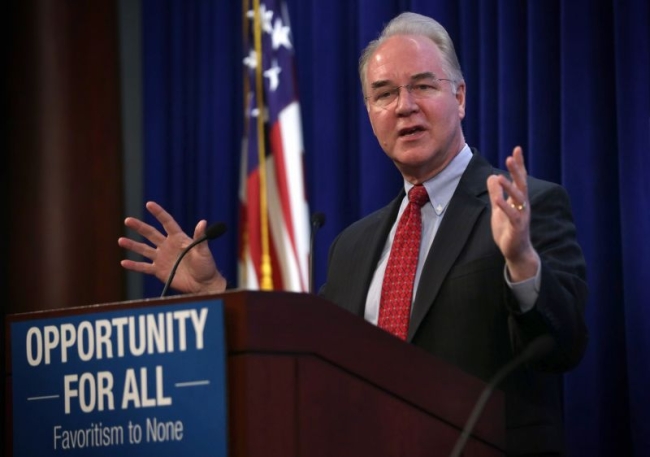 President-elect Donald Trump announced Tuesday that Representative Tom Price, a Georgia Republican, is his pick to lead the Department of Health and Human Services. The selection was widely interpreted as a signal of Trump's intentions to deliver on his campaign promise to repeal the Affordable Care Act. But academics may be more likely to focus on Price's past opposition to embryonic stem cell research and his skepticism about the scientific consensus around climate change.
Most of the discussion of Price's selection noted his strident criticism of the Obama administration's health care reform law and his plans to replace it with a Republican alternative as well as overhaul Medicare.
HHS's primary significance for higher education relates to its direct oversight of the National Institutes of Health, the world's largest provider of funding for biomedical research.
Price, who has sponsored a bill to define human life as beginning at conception, has been a longtime opponent of embryonic stem cell research. The issue became a political flash point during the George W. Bush administration but became less prominent even as the current administration reversed limits on federal support for stem cell research.
Price is also a global warming skeptic who has voted against restricting carbon emissions, which puts him at odds with the scientific mainstream.
"I think people will have a pretty good idea of where he stands," said Rush Holt, CEO of the American Association for the Advancement of Science. "He's certainly not middle of the road on anything as far as I know."
Holt, who served in Congress with Price, said Trump's HHS pick has significant knowledge of the sector. "He's certainly thought about the issues intensely," Holt said. "He may well be a person who will try to shake things up."
Higher education and medical research groups had nothing but praise for Price Tuesday, citing his familiarity with the health care industry and medical education. Lizbet Boroughs, associate vice president for federal relations at the Association of American Universities, said that Price understands the value of medical research, which she said bodes well for funding of the National Institutes of Health.
"I have always found him to be open to listening. And he's very deliberative," she said. "In my dealings with him, he's not a guy who makes snap judgments. He thinks about things. He considers the impact."
Price's home district in Georgia includes several medical centers. Boroughs said his familiarity with the hospitals as an orthopedic surgeon and with medical education should make him a secretary higher ed can work with.
"He's somebody that higher ed and academic medicine feel they definitely can work with, feel like they have a good relationship [with] going into the cabinet appointment, and we're looking forward to working with him," she said.
Medical lobby groups praised the Price nomination, as did the Association of American Medical Colleges, which represents medical schools throughout the country. AAMC President and CEO Darrell G. Kirch said Price understands firsthand the challenges facing medical schools and teaching hospitals.
"We are confident that Representative Price will bring a thoughtful, measured approach to tackling the wide range of issues affecting the nation's health -- from funding for biomedical research to training the next generation of physicians to transforming the nation's health care system in order to provide all Americans with the care they need when they need it," Kirch said in a statement.
The association backed the Obama administration's lifting in 2009 of restrictions on federal funding of human embryonic stem cell research. Asked about Price's criticism of that decision, AAMC Chief Scientific Officer Ross McKinney said AAMC continues to strongly support the research to find new treatments for conditions such as cancer, autism, Alzheimer's and Parkinson's diseases, and diabetes.
"The AAMC looks forward to working with the administration and Congress to ensure that those same standards will continue, and to preserve the ability of researchers to continue pursuing the most promising science in support of treatments and cures for patients," McKinney said.
Hudson Freeze, president of Federation of American Societies for Experimental Biology​ (FASEB), said Price has voted many times to limit federal spending, which he acknowledged was a cause for concern. But he said Price has given the impression he understands the value of NIH. Freeze said funding for NIH and medical research may be low on Price's list of immediate priorities should he be confirmed for the cabinet position.
"My gut feeling right now is that he will have much bigger issues to look at, which includes the Affordable Care Act. That's going to be the principal focus for a good long time," he said. "FASEB is going to be watching all of these things really closely."