You have /5 articles left.
Sign up for a free account or log in.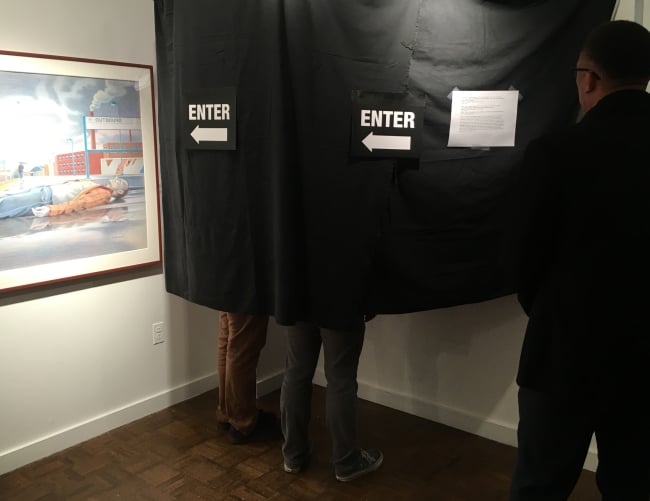 Two colleges -- one a public university and one a private arts institution -- are taking very different approaches to art exhibits that feature works displaying the Ku Klux Klan.
Salem State University on Wednesday reopened an exhibit that it shuttered last week after minority students complained that the art was insensitive. The exhibit, "State of the Union," featured art inspired by the election. Several paintings by artists critical of President-elect Donald Trump and his campaign depicted images related to bigotry and oppression -- not to endorse Trump but to draw attention to bigotry. But many students questioned why some images -- especially one of members of the Ku Klux Klan -- should be shown at all.
The artist whose work was criticized, Garry D. Harley, tried at a meeting with students to explain the history of artworks that depict things the artists were horrified by, such as "Guernica," by Pablo Picasso, which expressed anger over the Spanish Civil War. But students rejected Harley's explanations.
In reopening the exhibit, Salem State put black drapes around the painting, along with an explanation of the work, so that only those seeking to see it would enter.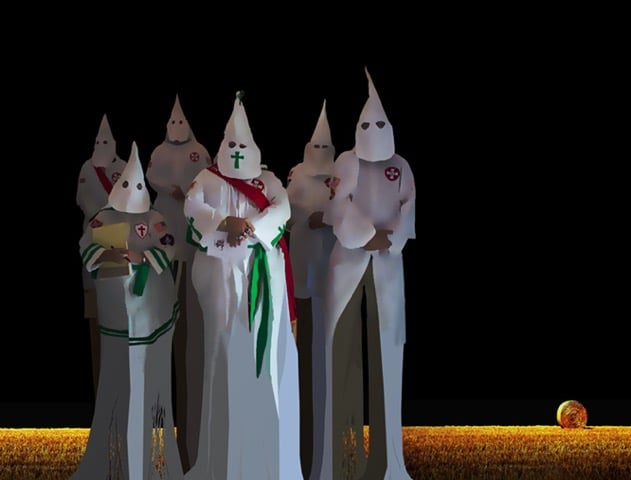 The university also took other steps. It posted a statement outside the gallery noting the concerns some have raised about the exhibit. The gallery added a "public reflection board" so people could share their thoughts. And the gallery posted expanded statements by the various artists. Only the Klan image (at right), however, was placed behind drapes.
A letter to the campus from Patricia Maguire Meservey, president at Salem State, said in part, "The overall outcome offers gains for both those concerned about the exhibit and those concerned about freedom of expression and builds on what has been our approach all along: creating dialogue. Discourse about controversial topics is something that a university community is supposed to encourage. This hasn't been an easy conversation, but as an educational institution, it is a conversation we ought to be having."
Harley, in an interview, said he was surprised that his work was being placed behind drapes. He said he has been at art exhibits that had barriers in front of particularly fragile works, or where there was fear of vandalism, but that he had never seen art placed behind curtains as Salem State has done.
He said he was "uncomfortable" with the message being sent about his work and that this outcome was a "complete surprise" to him.
Harley did see one positive: "I can't imagine that it won't draw even more interest, and maybe that's OK."
'Klan Room Tableau' at MICA
As the Salem State exhibit has been debated in academic and art circles, the Maryland Institute College of Art has been preparing for an exhibit of art by the late William Christenberry, who taught for many years at the Corcoran College of Art and Design and was known for his paintings and photographs of rural Alabama, where he grew up. The works are not sentimental but portray realities of poverty and prejudice.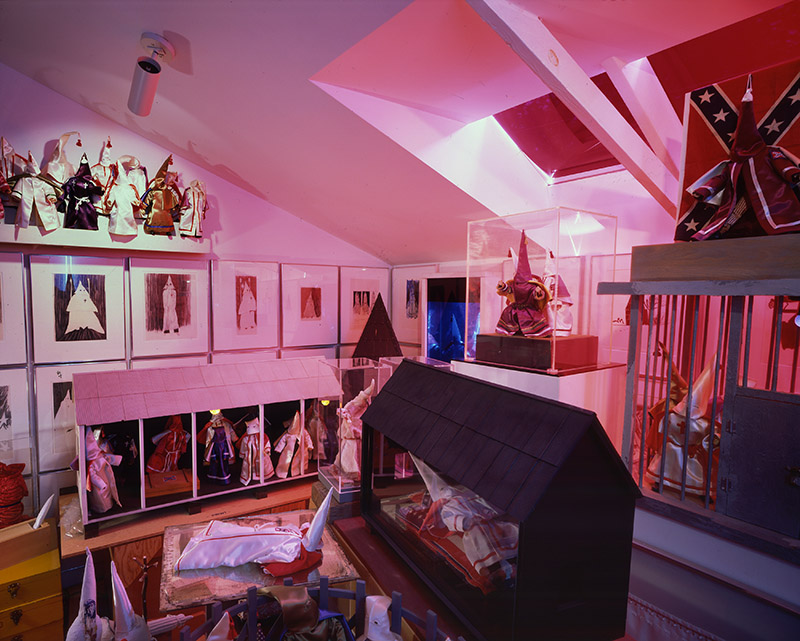 One of Christenberry's most famous works is rarely displayed because it takes a lot of space and is sometimes controversial. "Klan Room Tableau" (at right) is a multimedia installation of items and art from Klan supporters and was intended to illustrate the human ability to promote hate and violence.
Rather than let students simply discover the work, MICA curators recruited students and had them help install it and plan the exhibit, which opens next week.
There have been no complaints.
Gerald Ross, MICA's director of exhibitions and principal organizer of the workshop in which students helped set up the exhibit, said via email that he wanted "to create an empathetic experience for our students: to create a space where they could unpack the objects, hold them, place them and discuss the artist's intentions and methods."
Ross also discussed why art based on the Klan can be significant: "Though controversial, it is necessary for this work to be seen and understood clearly," he said. "Specifically, Christenberry's 'Klan Tableau' is controversial because of the subject matter -- dolls dressed up in Ku Klux Klan outfits and photographed or placed in various settings. In creating this work, the artist used a cathartic process to question and confront his personal experiences of fear and evil at the hands of the KKK."