You have /5 articles left.
Sign up for a free account or log in.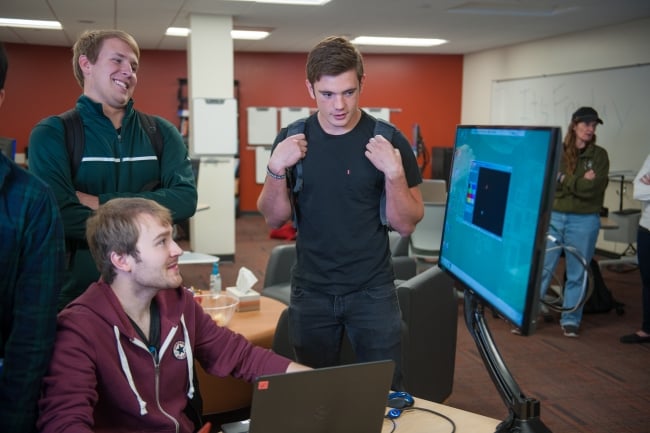 Colleges were once the place where many students encountered their first computer -- and back then, the computer took up an entire room. Now, with computing power in every student's book bag and pocket, some colleges are finding the standard computer lab is no longer needed.
St. Norbert College is one such example. The private Roman Catholic liberal arts college, located in De Pere, Wis., last year finished a complete renovation of its Gehl-Mulva Science Center. The last phase of the project included plans for a computer lab, but with the college about to phase in a bring-your-own-device (BYOD) policy -- requiring that all students bring their own laptops to campus -- filling that lab with desktop computers didn't seem to make sense, said Krissy Lukens, the college's director of academic technology.
"We had been noticing that students were beginning to use their own computers more," Lukens said in an interview. "Even in their computer science classes, about half of the students would bring in their own computers."
As it turned out, the number of students bringing their own devices to campus was higher than that anecdote would suggest, Lukens said. In fact, a full 98 percent of students were using their own laptops, the college found. Making laptop ownership a requirement meant students could use their financial aid funds to pay for computers (though the college also started a laptop scholarship program to cover the last few laptopless students).
The growing use of personal computers and, more recently, smart devices is changing how colleges offer IT services. Without having to acquire and maintain desktop computers, college IT offices are free to move those resources around and change their priorities.
That can come as a much-needed windfall. According to the Campus Computing Survey, which tracks IT trends in higher education, nearly two-thirds of the chief information officers and senior IT leaders surveyed this fall said their offices' budgets have yet to recover from the financial crisis and the subsequent recession. About one-third said they began the academic year with less funding than last year.
Not all colleges are able to require students to bring their own devices to campus, however. At colleges that serve mostly low-income students, for example, a laptop requirement adds an additional financial burden. It also poses challenges for colleges themselves, as their networking infrastructure has to handle the crush of extra traffic.
In St. Norbert's case, the college was able to turn one of its many lecture halls into both offices and the new computer lab. As the before-and-after pictures show, the renovation left the new space virtually unrecognizable. The drab concrete cavern, complete with a leaky roof ("It was awful," said David C. Pankratz, associate professor of computer science), was replaced by a more communal space, with tables for small groups of students to work together, plug in their devices and display their work on large monitors, as well as movable lounge chairs, personal dry-erase boards and -- crucially -- a healthy supply of candy.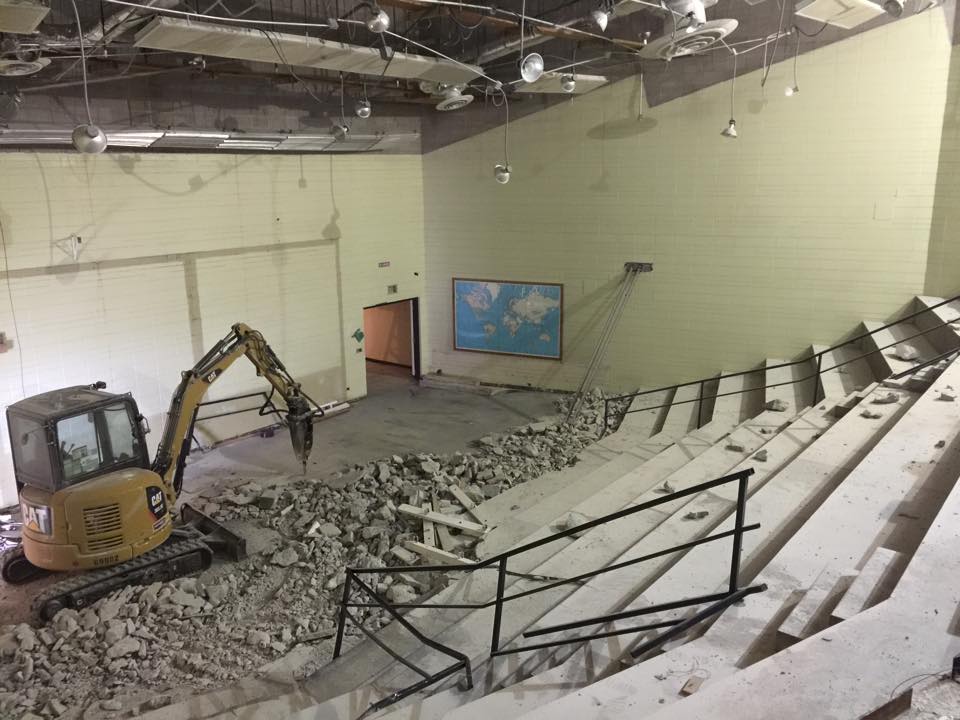 Faculty members in the computer science department said they were able to influence the renovation process, including sharing thoughts on the general layout of the room and more specific wishes, such as the size of the monitors. Since the idea behind the lab was for students to bring and use their own laptops, the faculty members said they focused specifically on creating a room that would give students space to work with one another and for instructors to view that work without invading students' personal space.
Bonita M. McVey, associate professor of computer science, said in an interview that there are some drawbacks to students bringing their own laptops to the computer lab -- lack of common configuration being one of them (though the college offers a virtual desktop environment that anyone can log in to for a more standardized experience). And while many students carry multiple devices with them -- laptops, tablets and smartphones -- she said computer science needs to be done on larger surfaces than can fit in a student's pocket.
"Students can work from anywhere now," McVey said. "What's cool is that students choose to come to the lab."
Since this is only the second year the computer science faculty members are using the lab, they could not say whether it has had an impact on the way they teach. Unlike the room it replaced, the lab isn't being used for lecturing, though Pankratz said he will occasionally schedule classes to meet in the lab rather than the lecture hall if he feels that students need hands-on time with the subject matter.
Similarly, McVey said she likes using the lab as a space where students can show off their work. In that setting, students use the tables and their monitors to host poster sessions.
But both McVey and Pankratz said the main benefit of the new computer lab isn't the technology it contains, but rather what it means for computer science majors at the college.
"We're really happy that our students have a place to call home," McVey said. "It has mattered greatly to us -- people feeling comfortable and feeling like they belong in the major."
More from Digital Teaching & Learning