You have /5 articles left.
Sign up for a free account or log in.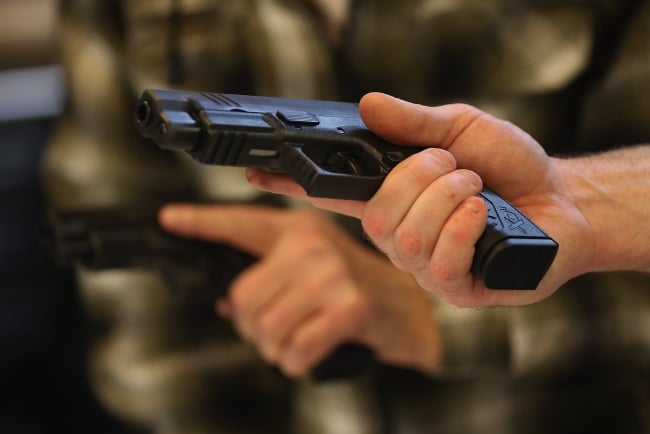 As campus carry legislation continues to spread, Ohio has emerged as the next battle site. It is one of the larger of the 18 states that do not permit guns on campus.
The Ohio Senate and House of Representatives have both now approved legislation that critics deride as the "guns everywhere" bill. Governor John Kasich, a Republican, has not indicated whether he will sign the bill, which has strong support from his party.
The legislation removes blanket bans on bringing guns to certain places, such as college campuses and day care centers. Individual colleges, day care centers and other organizations could still regulate guns in their facilities.
But even if colleges' boards don't rush to welcome guns on campus (and they aren't currently expected to do so), critics say the legislation would effectively make it too easy to bring guns on campus. Currently, bringing a gun to a "gun-free zone" such as a campus is a low-level felony. Under the legislation, doing so would no longer be a felony and would be equivalent to a parking ticket -- so many professors fear that people wouldn't think twice about bringing a gun to campus.
Notably, the law does not affect the Ohio Statehouse, where lawmakers work, and guns would continue to be banned there.
Many faculty members have noted the incongruity. As The Columbus Dispatch noted, loud applause interrupted a legislative hearing on the issue when Molly Farrell, an assistant professor of English literature at Ohio State University, asked, "If guns are not allowed in your workplace here, Senator, why should they be allowed in mine?"
But the Buckeye Firearms Association is also using turns of phrase to advance its cause. In all of its statements in support of the legislation, the group refers to "gun-free zones" on campuses as "victim zones."
Faculty groups are pushing hard against the bill and hoping Kasich will veto it.
A resolution sent to the governor by the Ohio Faculty Council says that "the free and open exchange of ideas" is fundamental to higher education and such "exchanges are facilitated by environments that are violence‐free/safe spaces."
Added the resolution: "An understanding that individuals engaged in these exchanges could legally possess handguns would significantly and negatively impact the dynamic of those discussions and the value of higher education in Ohio."
While the governor's views are unknown, pro-gun groups have seized on the recent stabbing attack by one Ohio State student on others to say that students on campus should have the option of arming themselves.
An essay on the website Bearing Arms says, "Islamic terrorist groups, most notably ISIS, have called upon Muslims in the West to carry out terrorist attacks against soft targets using knives and vehicles. School and college campuses are among the easiest targets available, as they contain high concentrations of people made unarmed and defenseless because of shortsighted state laws that have made most campuses 'gun-free zones.'" (While the incident is being investigated as possibly motivated by terrorist groups, officials have not stated definitively that this was the case.)
Also this week, some Ohio residents marched at Ohio State with guns, proclaiming "No More Sitting Ducks" as the slogan to end gun limits on campus.
Critics of campus carry have responded that the Ohio State police officer who shot the student who was attacking others actually was able to more quickly assess the situation and take action because there were not multiple people trying to use guns at the time.