You have /5 articles left.
Sign up for a free account or log in.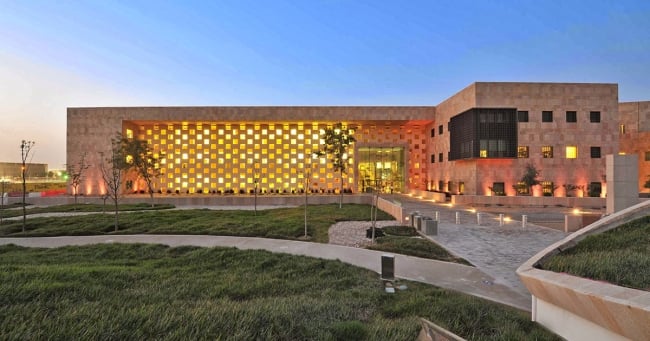 A master's student at Georgetown University who researches human rights and migrant labor in the Middle East was denied a student visa to spend the fall semester at the university's Qatar campus, renewing concerns about the limits on academic freedom at American campuses in the region.
Now a master's student at Georgetown's School of Foreign Service, Kristina Bogos had as an undergraduate studied abroad at New York University's branch in the United Arab Emirates, where she had written critically about her alma mater's treatment of the workers constructing its Abu Dhabi campus.
Upon arriving in Qatar for the first time last June, Bogos said she was detained for five hours. She was told by Qatari immigration officials that state security had placed her on a "blacklist."
As Bogos recounted in a Dec. 15 op-ed that appeared in The New York Times, "Qatari immigration officers informed me that my name appeared on a 'blacklist' maintained by member states of the Gulf Cooperation Council because I had 'made trouble' in the U.A.E. Later, Emirati officials told the State Department that they had placed me on the blacklist for unspecified 'security-related reasons.'" (A State Department official communicated this information to Bogos in an email seen by Inside Higher Ed.)
Bogos was, however, allowed to enter Qatar on a 30-day tourist visa in June. Over the summer, she said, she departed the country twice -- once for South Korea and once for Greece -- to renew the tourist visa. Each time she said she was detained upon re-entry, for one hour in the first case and seven in the second.
On Aug. 3 -- less than three weeks before classes were to start -- she learned that her student visa that would have allowed her to stay in Qatar for the fall semester and study at Georgetown's campus there had been denied. With no option for completing the study abroad experience she had specially negotiated with Georgetown administrators, she departed Qatar for the U.S. on Aug. 22.
In her New York Times op-ed, Bogos wrote not only about her visa denial but also of her discovery that her personal email had been hacked last spring -- she suspects the U.A.E. -- and of being under surveillance during her summer in Qatar. The headline for the op-ed is "American Universities in a Gulf of Hypocrisy."
"I think these universities made a lot of sacrifices when they opened these campuses" in the Gulf, Bogos said. "One is to let the government dictate what research is and isn't acceptable." Research on the conditions of migrant laborers is highly sensitive in the Gulf countries.
The Middle East Studies Association's Committee on Academic Freedom wrote in a letter last week to the presidents of Georgetown and NYU that the denial of Bogos's visa, "and indications that information provided to Qatar by the United Arab Emirates played a part in that denial, call into question your universities' ability to ensure the academic freedom of faculty, students and staff based, or planning to teach or conduct research, at your affiliated academic institutions in these two countries."
The committee, which also sent a separate letter about Bogos's case to Emirati and Qatari government officials, calls on Georgetown President John J. DeGioia "to publicly condemn the decision of the Qatari authorities to deny a student visa to Ms. Bogos and take steps to ensure that she be able to return to Qatar in the future." It also calls on NYU President Andrew D. Hamilton "to exert efforts with the U.A.E. authorities to lift the travel ban on Ms. Bogos. We further call on both of you to denounce the hacking of private emails belonging to members of the academic community, as well as the compilation by the U.A.E., Qatar and (presumably) other [Gulf Cooperation Council] member states of blacklists of students and scholars who are to be denied entry for political reasons."
"We're sorry to hear about our alumna's experience; we have no information or awareness about it beyond her written account," John Beckman, a spokesman for NYU, said in a written statement.
NYU's statement continued: "Abu Dhabi chose NYU to establish a campus there knowing that the traditions of the liberal arts and the principles of academic freedom are at our core. And on the key question of whether the guarantees of academic freedom have been honored, the answer is that they absolutely have, including scholarship on issues related to labor. We are also confident from our conversations over the years that our partners appreciate the importance of the free movement of scholars." (The statement prompted Andrew Ross, an NYU scholar who studies migrant labor rights and who was denied permission to board an Abu Dhabi-bound plane in 2015, to muse, "I don't know where that confidence comes from." But more on that below.)
Rachel Pugh, a spokeswoman for Georgetown, said the university "fully supports faculty and students who conduct research on a range of complex issues around the globe. Last summer, the School of Foreign Service in Qatar welcomed master's candidate Kristina Bogos to campus as part of her studies and supported her research, as they would any scholar. Georgetown continues to support Kristina in her studies and research. We respect that every sovereign nation retains the right to choose who comes into its borders. As Georgetown engages with countries across the world we continue to advocate our position on the importance of academic freedom."
In an October email exchange between Bogos and Joel Hellman, the dean of foreign service, Hellman said that he and the dean of the branch in Doha would raise her "particular case" with Qatari authorities. The spokeswoman, Pugh, has not confirmed whether that's happened, and if so, what response they've received.
"I was able to use the Georgetown Qatar facility and they did assist with my research the best that they could -- but that's their job," Bogos said.
Bogos described the university's deferral to Qatar's national sovereignty in this case as "a little bit ludicrous, because freedom of movement facilitates academic freedom."
"My university opens up a campus in a foreign country, and if students at both campuses are allowed to study abroad at the other, then you can't really argue that it's a national sovereignty issue. You should be able to secure free passage of students and faculty between campus, and if you can't then there are serious problems," said Bogos.
Asked if she thinks American universities should have campuses in the U.A.E. and Qatar, Bogos replied, "It's a difficult question to answer. I am tempted right now to say no, given everything that happened. I do see the benefits to having a campus there. Students can go and conduct research such as myself. But if you can't guarantee academic freedom, then what are you doing? The message that you're sending to your students and your faculty is that we're there for the money."
Both NYU's campus in Abu Dhabi and Georgetown's campus in Qatar are bankrolled by their government hosts -- in Georgetown Qatar's case to the tune of $59.5 million in 2014, according to The Washington Post's reporting. Proponents of these campuses argue that they create exciting new opportunities for students and faculty and that they can play a kind of liberalizing role. (As Beckman, the NYU spokesman, wrote in a 2015 op-ed to the university's student newspaper, The Washington Square News, "we believe our presence in these nations and societies brings more freedom of ideas, not less.") But critics question whether American universities should partner with governments to establish campuses in illiberal states where American norms of freedom of speech and academic freedom are not shared, at least not outside the boundaries of the branch campus.
Bogos's case echoes that of Ross, the NYU scholar who was barred from entering Abu Dhabi and subsequently discovered he was the target of an inquiry by a private investigator. The NYU chapter of the Association of American University Presidents, of which Ross is the outgoing president, wrote a letter to NYU President Hamilton in December describing the actions taken against Bogos as "even more egregious. As a young scholar, she pursued her academic research in Abu Dhabi in the belief that her rights were sheltered under NYU's agreements with its Emirati partner. This belief was shattered after she suffered considerable harm when her email account was hacked and her mobility restricted. Consequently, her academic career has been sabotaged -- she can no longer access the location of her fieldwork in Qatar." (Neither the U.A.E. nor the Qatari embassy responded to requests for comment for this article prior to deadline.)
"It really does send the worst kind of message to faculty and students," said Ross, a professor in NYU's department of social and cultural analysis. "In a place like Abu Dhabi, there's just certain types of research considered off-limits and the state will punish you in some way for taking a public position in respect to that research."