You have /5 articles left.
Sign up for a free account or log in.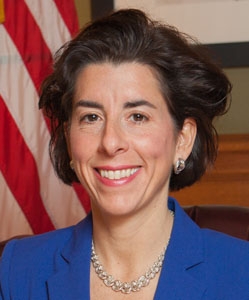 Rhode Island Governor Gina M. Raimondo plans today to propose that the state offer two tuition-free years for full-time students in public higher education.
Students at the Community College of Rhode Island would pay no tuition while earning an associate degree. For state residents who start at Rhode Island College or the University of Rhode Island, their junior and senior years would be tuition-free. There is no income limit, although the public system in Rhode Island serves many more low-income students than wealthy students.
Those who participate at the Community College of Rhode Island will not also be able to do so at the four-year institutions. Room and board are not covered by the proposal. To qualify for the tuition waiver at the four-year institutions, students must have completed 60 credits of course work by the end of their sophomore year, declared a major and maintained a grade point average of at least 2.0.
The proposal is another sign that the idea of tuition-free public higher education -- presumed by many to be dead after Hillary Clinton pushed the concept and lost the presidential election -- may have more legs in the states than at the federal level. Raimondo's proposal comes two weeks after Governor Andrew Cuomo of New York proposed tuition-free public higher education for those from families with incomes up to $125,000.
Both governors are Democrats. But while Cuomo must deal with powerful Republican legislators in the New York State Senate, Raimondo has a General Assembly with two houses that are overwhelmingly Democratic.
David M. Dooley, president of the University of Rhode Island, said in an interview Sunday that he was "very enthusiastic about the plan" and thought it had good prospects for being enacted into law.
He said that the plan recognizes the importance not just of enrolling in college, but of completing. He said that the requirements for students reflect a reality that "college completion is a partnership between students, faculty members and the institutions." He predicted that the plan would have students thinking: "Wow. If I do these things right, I will get assistance when I need it the most."
Dooley said it was legitimate that some in other states worry whether free tuition will be accompanied by sufficient levels of state appropriations. But he said in Rhode Island, "we have a very strong partnership with executive administration and state Legislature. I'm confident that they will take their responsibilities seriously."
Frank D. Sánchez, the president of Rhode Island College, is among those who were briefed on the plan in advance of its official release, and he called the plan "a great approach."
Many critics of free tuition plans have said that too much of the money ends up going to those who might not need it -- and this was much discussed with regard to the Clinton plan and the Bernie Sanders plan that influenced it. But Sanchez said that his institution -- where well over 40 percent of students are eligible for Pell Grants -- doesn't serve many wealthy students.
Rather, he said, it serves a high percentage of low-income students, many of whom fear borrowing and hold jobs (sometimes at long hours) while enrolled. He said that he viewed the tuition-free junior and senior years of the plan as a powerful incentive to students to stay enrolled. And he said that if students don't have to pay tuition as juniors or seniors, many of them could reduce the hours they work in various jobs.
Sánchez also said that the governor has been pushing hard for increased state support for public higher education, so he does not fear -- as some do in other states -- a free tuition plan in which public higher education lacks enough money.
"This is going to help tremendously," he said. "It is going to strengthen the state."
At Rhode Island College, this year's tuition rate is $8,200 for state residents. At the university, the total is just under $13,000.
Generally, private colleges have opposed plans to make public higher education free. In New York State, many private college leaders are quite critical of Cuomo's plan.
The dynamics could be different in Rhode Island, a state with a small population (one million compared to New York's 8.4 million), such that private colleges aren't as dependent on state residents, as are their counterparts in New York. According to the Association of Independent Colleges and Universities of Rhode Island, only 928 of the 6,231 undergraduates who enrolled for the first time in higher education in the state last year matriculated at private colleges.
Daniel P. Egan, president of the association, said in an interview Sunday that his members were concerned about the governor's plan but were also waiting for more details. He said Raimondo has supported scholarship programs that are available to Rhode Island students who attend private colleges, and that he hoped such programs would grow so that the state's residents can consider public or private institutions. "My initial concern is about choice" for those students, he said.
Egan said that he supported the governor's interest "in tackling affordability," but that it should be done in ways that help Rhode Island students at all types of institutions.
Robert Kelchen, an assistant professor of higher education at Seton Hall University, has raised questions about the way some states have considered free tuition.
Kelchen said via email that the Rhode Island proposal was "a really interesting plan" and that he was especially "intrigued in that the proposal would cover either the first two years at a community college or the last two years at a public university, but not both. This means students considering a bachelor's degree have to choose between getting some money to help out with community college tuition right away or the chance of getting more money at a public university two years later -- but only if they have already earned 60 credits and declared a major." Kelchen said that there is some evidence that incentives can encourage students to push toward graduation, but that this is easier said than done.
"My guess is that it would induce some more students to reach 60 credits in two years, but maybe not as much as some may expect," he said.