You have /5 articles left.
Sign up for a free account or log in.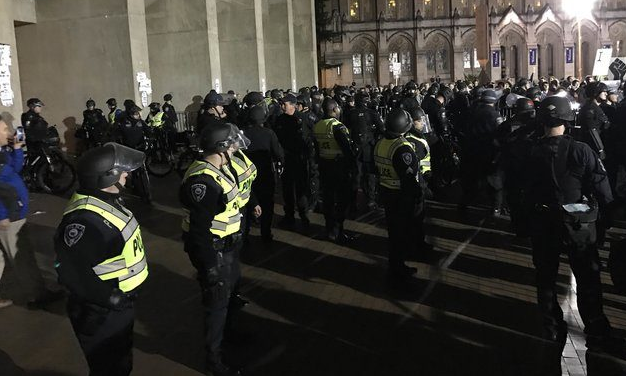 A man was shot and seriously wounded at the University of Washington Friday night outside a building where Milo Yiannopoulos, the Breitbart writer who has been inflaming campuses with his comments about race and gender, was speaking. The shooting victim is in the hospital. The names of the man who was shot and the shooter have not been released, and the university said it could not comment on whether they have any connections to the institution.
As at many other campuses, Yiannopoulos drew protests and there were clashes -- mostly verbal but some involving the throwing of objects -- between Yiannopoulos fans waiting to get in and those protesting. The Seattle Times described some of the chants that took place, with those supporting Yiannopoulos shouting "white power" and those opposed shouting back "Nazi scum."
Many of those waiting to see Yiannopoulos wore red "Make America Great Again" caps from the campaign of Donald Trump, who was inaugurated as president that day. Some carried signs that said "Celebrate Patriarchy." When protesters chanted, "Black lives matter," the pro-Yiannopoulos crowd chanted, "Blue lives matter." Both sides regularly called the other fascist.
If the sometimes ugly scenes outside Yiannopoulos speeches have become common on his tour of campuses, the shooting was still a shock to many.
It is unclear what happened, but a 34-year-old man was shot and is in critical condition in a Seattle hospital. A man who turned himself in to university police said he shot the other man in self-defense after an altercation that led him to feel he was in danger of being attacked by a white supremacist. Friends of the man who was shot, however, told The Seattle Times that their friend was a Bernie Sanders supporter who was not a racist.
The shooting took place despite what would seem extraordinary steps to make it possible for a controversial speaker to appear. The university has confirmed reports that there were 200 Seattle police officers on hand, on top of 25 university police officers. The university bans firearms on campus, except for use by law enforcement.
Speech Called Off at Davis; Appearance Scheduled at Boulder
Amid the protests, Yiannopoulos was able to give his talk, which was sponsored by the College Republicans group at Washington. A week earlier, a speech by Yiannopoulos that was scheduled for the University of California, Davis, was called off -- a decision that the university says was made by the Davis College Republicans, the group that invited him, but that Yiannopoulos said was made by the university.
A large protest (at right) outside the hall where Yiannopoulos was to speak made entry difficult. Yiannopoulos and his supporters said protesters also damaged property, but the university said this was not the case.
Interim Chancellor Ralph J. Hexter said in a statement that he was disappointed that the speech did not take place, regardless of what people think of the ideas being promoted.
"I am deeply disappointed with the events of this evening," said Hexter. "Our community is founded on principles of respect for all views, even those that we personally find repellent. As I have stated repeatedly, a university is at its best when it listens to and critically engages opposing views, especially ones that many of us find upsetting or even offensive."
Yiannopoulos is scheduled to speak at the University of Colorado at Boulder Wednesday. As at Washington and Davis, officials there have said that principles of free speech and the First Amendment require that the campus allow student groups to invite speakers whom many find offensive.
Asked if security would be heightened, Deborah Méndez Wilson, a spokeswoman for Boulder, said via email, "We are aware of what happened at the University of Washington and other recent events, and we continue to make plans for his appearance on Wednesday. As is standard practice, we don't comment on security preparations."
Attacks on Multiculturalism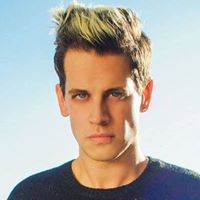 Yiannopoulos (at left) has been setting off campus controversies for a year now -- and his Breitbart connection has become more controversial, given that website's links to Donald Trump. He is known for such actions as going to an anti-rape protest holding a sign that said, "Rape Culture and Harry Potter: Both Fantasy."
He particularly likes to criticize feminist and gay leaders (though he is gay). In a typical move, on Saturday he posted to social media a GIF of sheep being herded, with the line "Live Stream of Women's March."
Some colleges (generally private institutions, not bound by the First Amendment) have barred him from speaking. Others have seen chaos break out, as when students at DePaul University last year took to the stage while he was speaking and prevented him from finishing.
As he has gained fame (and enemies) on college campuses, Yiannopoulos has also attracted attention by singling out for personal criticisms people who are not public figures, although they have played some role in campus politics. At West Virginia University, he broadcast a photo of a professor and referred to him as a "fat faggot." Students there -- with an endorsement from President E. Gordon Gee -- took to social media to defend the professor.
In December, Yiannopoulos mocked a former student at the University of Wisconsin at Milwaukee for being transgender and for pushing for bathroom access consistent with transgender students' identities. Yiannopoulos also critiqued the former student's physical appearance.
'Uncharted Territory'
Kevin Kruger, president of NASPA: Student Affairs Administrators in Higher Education, said that controversial campus speakers are nothing new, and that most colleges have historically erred on the side of providing a "marketplace of ideas" and not blocking appearances even by those who offend.
But at the same time, he said, "It does seem that we are entering some uncharted territory with the increase in booking campus speakers such as Milo Yiannopoulos." Kruger added that "our campuses are more polarized than ever, and the most recent election cycle has increased this polarization. This election season has given voice to views around women's rights, Islam, gender identity and racial issues that many students find offensive and, in some cases, a direct threat to their safety on campus." Some of the views being expressed today in campus appearances are "a year ago would not have been expressed publicly."
A related problem, Kruger said, is the way social media is being used to attack those who question these speakers' views. Fans of these speakers are using social media to "name and ridicule" students who criticize the speakers. "Hashtags such as #snowflake may serve to quiet those students who do not want to be called out in such a public domain," he said.
All of this adds up, he said, to "a very challenging time ahead on college campuses," which will be "caught with having to allow controversial speakers on campus whose speech may be offensive, yet protected."
In this environment, Kruger said, it is a "critical time" for colleges to create opportunities for students to discuss issues of race, gender and religion, and to engage in civil discussions with those with differing backgrounds or views.
The Debate at Washington
Those advocating that campuses bar Yiannopoulos have made the argument that he is mixing political commentary with direct attacks on people based on their identities. Given the pattern, they say, keeping him from campus is not the equivalent of just banning a politician with whom some students disagree.
A petition that called for the University of Washington to ban him called Yiannopoulos a "bigot and misogynist" and noted that the university's policies ban "discriminatory harassment."
Ana Mari Cauce, the university's president, declined to bar him, citing the values of free expression. But she also raised a question about whether Yiannopoulos was actually engaging with students -- as opposed to just provoking them.
"I want to state clearly, especially to the thousands of people who have contacted my office with concerns about an upcoming visit by a speaker known for racist and misogynist provocation, that we understand and empathize with their objections and frustration," Cauce said in a statement. "The statements he has made at other campuses are clearly in opposition to the University of Washington's values …. He is not someone I would ever invite to speak here, not because I don't value a robust or difficult discussion about a range of policies or social issues -- such conversations are necessary and college campuses are ideal places to have them -- but because this is clearly not the kind of conversation he is seeking. He generates heat, not light, and his manner of engagement is anything but civil, respectful or conducive to true dialogue across differences, of which we need more, not less."
She added that the university would not block his right to speak, however. "The right to free speech and expression is broad and allows for speech that is offensive and that most of us would consider disrespectful, and even sexist or racist. As a public university committed to the free exchange of ideas and free expression, we are obligated to uphold this right," she said.
After the talk, she issued another statement condemning the violence and again stating that students have the right to invite speakers -- and to protest those speakers.
Her statement: "I am absolutely heartbroken that someone was shot on our campus during tonight's protest. I have been very proud of our students who, to the best of my knowledge, acted with restraint, whether they were planning to attend the event or protest it peacefully. It is an outrage that anyone would resort to violence in the middle of this otherwise peaceful protest. Political action and peaceful protest are the primary engines of constructive change. Violence is destructive and has no place. Our thoughts are with the man who was shot, and with his family and friends. We fervently hope he recovers."