You have /5 articles left.
Sign up for a free account or log in.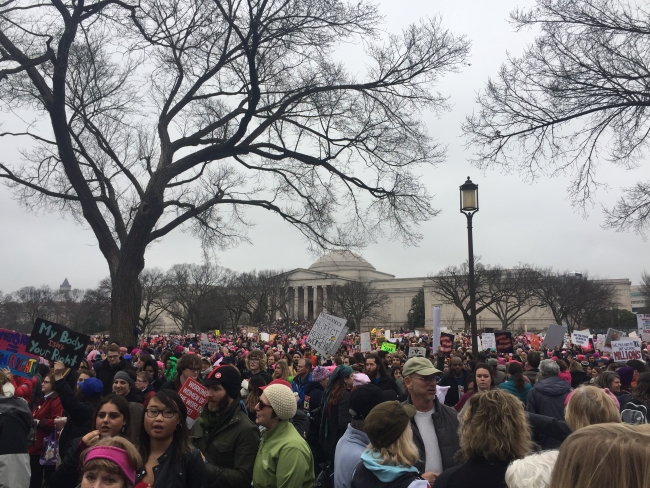 WASHINGTON -- Hundreds of thousands of people converged on the nation's capital Saturday to show solidarity and support for those who feel their rights may be threatened by the new administration, which began just the day before when Donald Trump was inaugurated as the 45th president of the United States.
Among the sea of pink knit hats and colorful signs were tens of thousands of college students, faculty and administrators who feel that their rights, too, are under attack.
Some marched for themselves. Some marched for friends and family members. Some marched with contingents that traveled long hours on buses from campuses far from here. College women marched for reproductive rights and stronger legislation against sexual assault and sexual harassment. Some students said they were marching for the rights of undocumented immigrants, Muslims, members of the LGBT community, people of color and people with disabilities. And university professors marched for freedom of speech, freedom of expression, freedom of inquiry and campus diversity.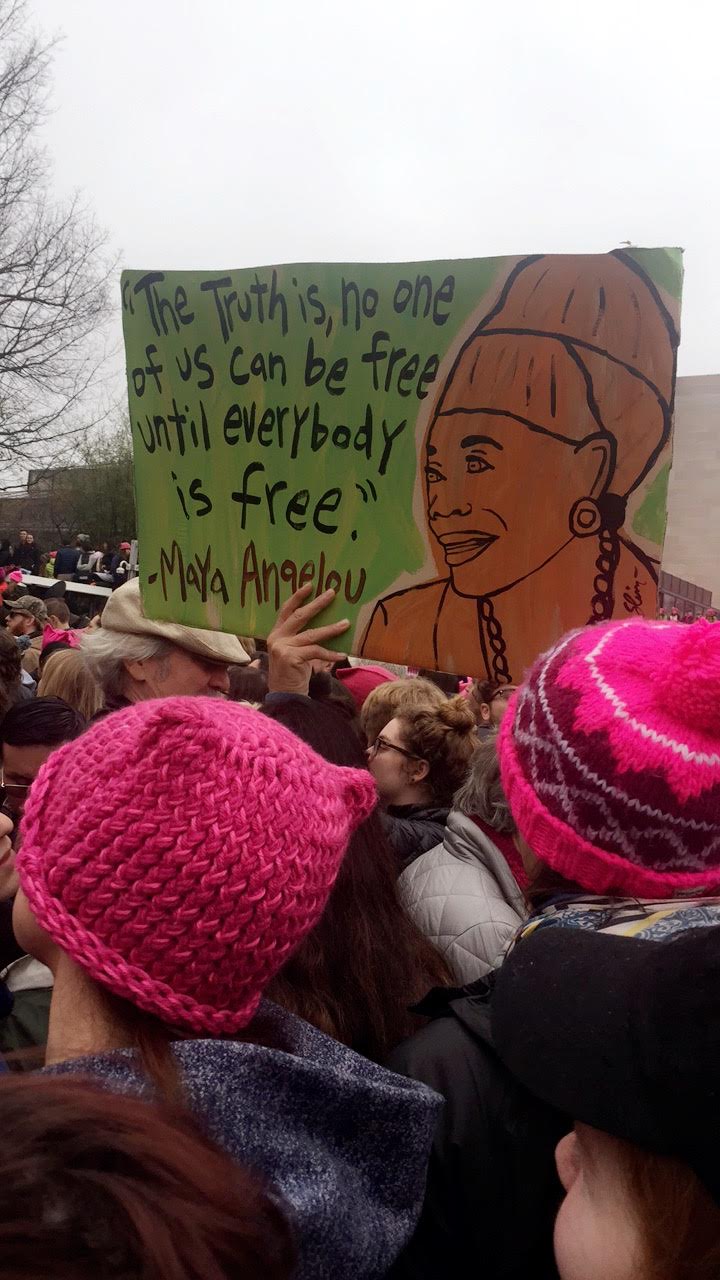 An estimated 50,000 students from college campuses across the country attended the Women's March on Washington, according to Madison Thomas, the march's national coordinator for college engagement.
Thomas, who is herself a 19-year-old student at Georgetown University, helped organize 20,000 of those students by appointing over 250 campus liaisons across 40 states in the weeks following the election.
"Oftentimes, our voices are silenced or overlooked," Thomas said of college students and millennials. "It's important, as the next generation to inherit the United States, to stand up and speak out about what we want to inherit and what the U.S. will look like for us -- how we want our political system and our social structure to treat women."
The march brought together many different people from faraway places with a variety of reasons to protest. Some worried that there would be too many issues represented at the march to create any real resistance.
But Thomas saw it differently. By seeing all that people had to lose, all the reasons they had come to march, she hoped the day would foster a sense of community among college students and forge a unified path forward.
That's how it resonated with Rachel Jackson, a Smith College alumna who now lives here.
"One of the things I found from the march is … it doesn't matter if I'm marching because I want to show the power of women's education and another person is marching for equality and someone else is marching for immigration -- we can all coalesce and join forces," said Jackson, who helped organize a group of about 200 women from the Seven Sisters colleges to come to the march. "That will be valuable going forward. We can all overcome minor differences in priorities to work together. That, I think, is fantastic."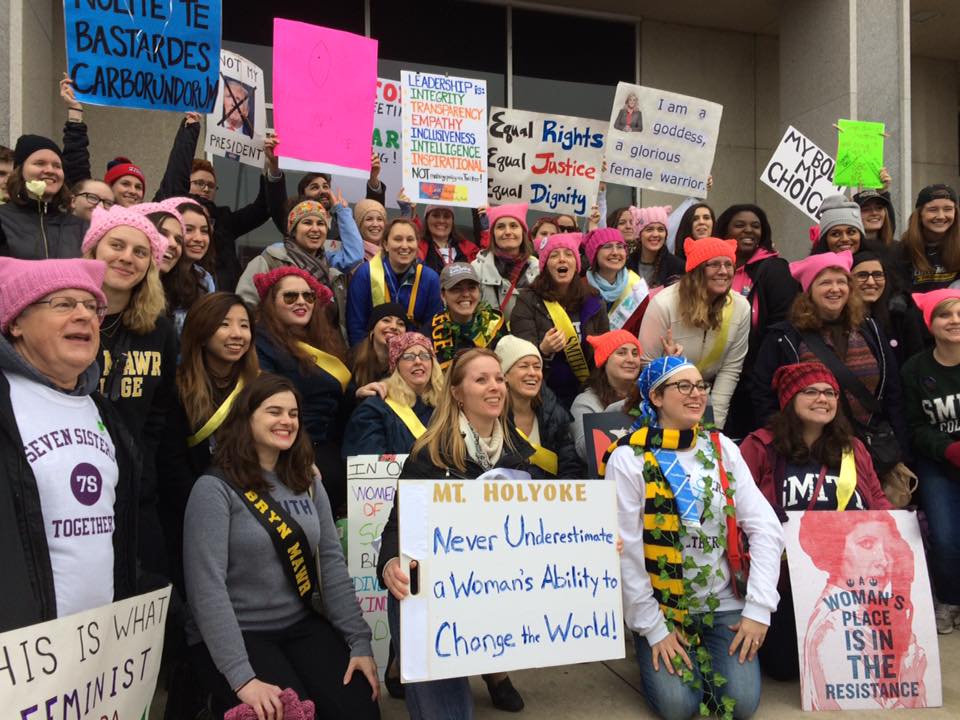 On Trump's first full day in the White House, marchers wanted the new president to hear -- literally hear, if they chanted and cheered loud enough -- that they would not tolerate the same behavior and rhetoric he made the focal point of his campaign.
"It's important that we send a message to our new president that a lot of people care about women's issues, a lot of people care about injustice. And we're not willing to let injustice be normalized, to let sexual assault, sexual harassment and bigotry be normalized," said Sophia Myszkowski, a student at American University. "I think the sheer number of us here -- that alone sends a message."
Although the Women's March was, to some extent, a protest of Donald Trump, most in attendance said they were advocating for something -- reproductive rights, women's rights, human rights -- rather than against Trump himself.
And after Trump delivered what some called a dark, dystopian inauguration speech the day before, the march organizers wanted Jan. 21 to be inclusive and uplifting. That's part of why Deb Kopp, a senior at Temple University in Philadelphia, traveled here for the march.
"Yesterday was hate filled," she said. "Today is much more about love and empowerment."
Kopp, who is pursuing a degree in women's studies, came to the march with about 70 other members of a national Jewish youth movement called Habonim Dror, or "builders of freedom." Six of them had come from Temple.
Kopp worries that Trump does not yet realize the power he wields over the American public. Everything he says carries immense weight now, and he needs to understand that, she said. One of the most important ways to get that message across, she said, is by pushing back every day after the march as well.
"These protests that are happening -- that can't just stop after today," Kopp said. "I've seen a lot of people who don't usually participate in activism here, and that's really amazing, but I'm worried that the momentum will stop after today. It can't. This is the next four years. We have to be resistant. We can't just have one protest and think that's going to make a big change, because it's not. We have to keep fighting."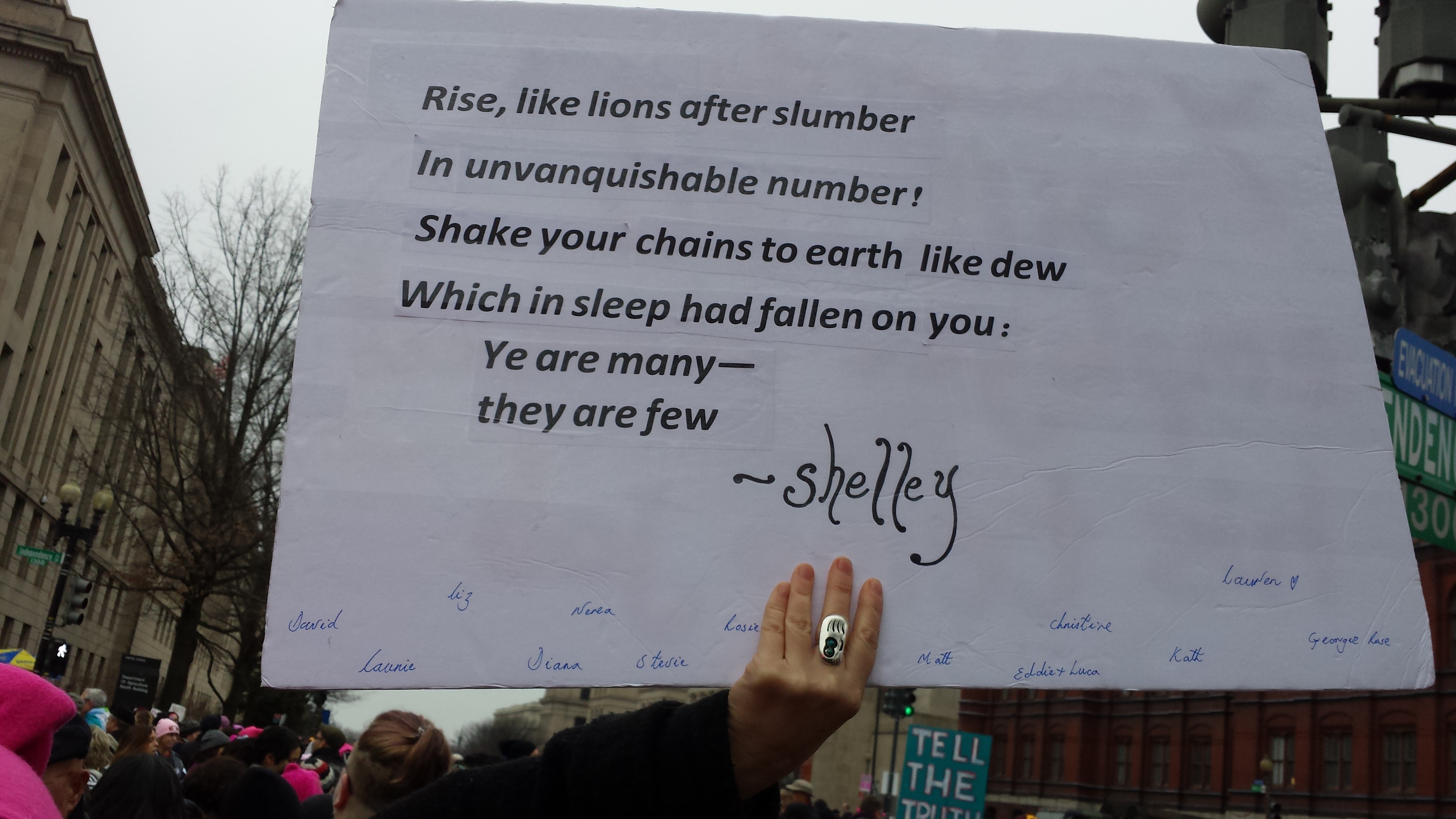 Many professors attended, too, and some signs surely warmed academics' hearts (photo at right by Robert Matz).
Julie Schmid, executive director of the American Association of University Professors, marched in Washington on Saturday because she feels quality education and accountability of educational institutions are now "up for grabs" under the Trump administration.
"We [at the AAUP] see this march as a movement in itself, but it builds upon and brings together a bunch of movements we've been involved in for decades -- social justice, economic justice," Schmid said. "We are here to fight to protect freedom of inquiry and freedom of expression. We'll be here, and we'll keep fighting and standing with other allies in sight."
The AAUP partnered with the Women's March to take a stand against some of the recent attacks against college students and professors, Schmid said. The response was overwhelming. They had members participating in over 600 sister marches across the country. Over 350 people came to Washington from the AAUP's chapter at Rutgers University alone.
"I am heartened by the support we are receiving from members and potential members," Schmid said. "These are things that people care about. People care about the freedom of inquiry; they care about the ability to get a good education for themselves. We are seeing people mobilize around these issues. That gives me hope. This is the beginning of a movement."