You have /5 articles left.
Sign up for a free account or log in.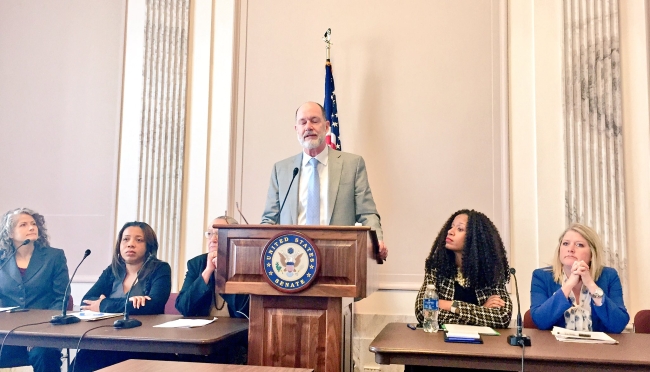 WASHINGTON -- As the Trump administration begins its term in office, college leaders remain unsure about how the new White House will regulate institutions' approaches to campus sexual assault. A briefing Wednesday on Capitol Hill reflected that anxiety, with college presidents calling on institutions to continue the Obama administration's increased focus on protecting students while urging the Trump administration to provide more clarity and to take a less adversarial stance.
"My hope is that whatever Congress or the administration does in terms of peeling back federal regulations, that the universities in this country do not step away from this issue," said Diane Harrison, president of California State University, Northridge. "There are rumors that they're going to lessen what we have to do. So we are potentially going to need to be far more assertive and far more vocal."
The panel discussion was organized by the American Association of State Colleges and Universities and NASPA: Student Affairs Administrators in Higher Education. Those in the audience of the forum included 25 staff members of various representatives and senators, including staffers from the office of Senator Lamar Alexander, the Tennessee Republican who leads the Senate's education committee, and who frequently criticized how the previous administration regulated colleges' handling of sexual violence.
Through detailed guidance documents and investigations at more than 200 institutions, the Obama administration made preventing campus sexual assault a signature issue of its Education Department. The administration's updated interpretation of the federal gender-discrimination law Title IX of the Education Amendments of 1972 -- delivered to colleges through a Dear Colleague letter in 2011 -- allowed the White House to sharply increase the enforcement efforts of the Department of Education's Office for Civil Rights.
The intensified focus on campus sexual assault and Title IX prompted an outpouring of complaints and lawsuits against colleges and universities over claims they mishandled reports of sexual violence. Kevin Kruger, NASPA's president, said Wednesday that while the department's efforts deserved praise, the Office for Civil Rights' enforcement tactics sometimes led to an "adversarial relationship" with colleges.
"What we want is a relationship where a campus has a question about how it's doing something and can get some guidance on that, which ought to be the give-and-take we have," Kruger said. "That doesn't happen because of the fears that you'll be investigated. That fear factor has created a big chasm between our community and OCR."
Trump, who faced allegations of sexual assault and criticism over his treatment of women during the presidential campaign, has said little about how he would approach sexual violence on college campuses. His lack of a plan worried many victims' advocates, and those fears were exacerbated by the Republican Party's platform released at the GOP convention in July. It criticized the Obama administration's policies, saying the White House's "distortion of Title IX to micromanage the way colleges and universities deal with allegations of abuse contravenes our country's legal traditions and must be halted."
When Betsy DeVos, Trump's nominee for U.S. secretary of education, was asked during her Senate confirmation hearing last week whether she would uphold the Obama administration's Title IX guidelines, DeVos said it was "premature" to discuss her plans. DeVos has also been criticized for donating $10,000 to the Foundation for Individual Rights in Education, a group that strongly opposed how Obama's Education Department approached campus sexual misconduct processes.
While the comments concerned women's and victims' groups, advocates for students accused of sexual assault -- who worry the Obama administration overcompensated in its attempts to provide fair hearings for victims -- are hopeful the new status quo could bolster their attempts to require more due process protections for those students. Of particular concern has been the 2011 guidance's directive that colleges use the "preponderance of evidence" standard during campus sexual assault hearings, rather than higher burdens of proof, such as the "clear and convincing" or "beyond reasonable doubt" standards of evidence.
College presidents at Wednesday's briefing were in agreement that they would continue to use the preponderance of evidence standard, even if the 2011 guidance were to be reversed. The majority of colleges were already using the standard prior to the Dear Colleague letter. Alisa White, president of Austin Peay State University, in Tennessee, said the lower standard is appropriate because a campus disciplinary decision does not involve "a loss of liberty."
"I think the preponderance of the evidence standard should be one that would stand," White said, while adding that colleges should not rush to judgment on a student's culpability. "It's important to us and will be important to us regardless of what guidance and policies change."
The presidents disagreed, however, on whether students suspended or expelled over sexual assault allegations should have the charge noted on their transcripts. Last month, Representative Jackie Speier, a California Democrat, introduced a bill that would require academic transcripts to show that a student had violated campus policies involving sexual violence. Speier said at the time that colleges and universities currently have no way of knowing if a student transferring to their campus has committed a sexual assault at a previous institution.
Speier's bill, called the Safe Transfer Act, would clarify federal privacy laws to allow such disclosures and set the disclosure requirement to sunset five years after campus disciplinary proceedings are completed or a year after a pending disciplinary proceeding is initiated. The bill would also require that an alleged perpetrator be notified of the disclosure and allowed to write a statement accompanying the disclosure.
White and John Jasinski, president of Northwest Missouri State University, both said they would be opposed to such disclosures being included on transcripts, saying the notations would alter the intended purpose of academic transcripts and campus disciplinary procedures.
Harrison, of California State, said she favored including the misconduct on transcripts, noting that a student once transferred to her institution after being accused of sexual violence elsewhere. The student was known to have a proclivity for targeting victims who are deaf or hard of hearing. California State Northridge has the second-largest population of deaf and hard of hearing students in the country.
"We did not know we were admitting a student who favored raping hard-of-hearing students," Harrison said. "So I am a very strong advocate of making notations."
Regardless what changes may come from Congress or the Trump administration, the panelists -- who included Title IX coordinators from Georgetown University, Howard University, Virginia Commonwealth University and the University of Maryland -- said they hoped colleges will be consulted before any new action is taken.
"Should government officials seek to issue new regulations or guidance, we would ask that you provide robust opportunities to sit down with us to really understand the different issues that we're trying to deal with," said Penny Rue, vice president of campus life at Wake Forest University.