You have /5 articles left.
Sign up for a free account or log in.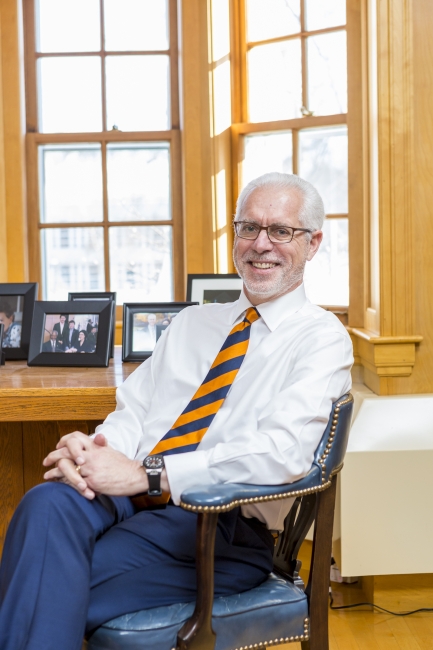 Macalester College President Brian Rosenberg's assessment of President Trump's immigration executive order stands out as unusually sharp, a direct and scathing judgment distinct from the steady stream of critical statements issued by college and university leaders in recent days.
Not every college or university president has the ability to share such a strong set of opinions so clearly -- and many might find themselves facing blowback from trustees, donors or politicians if they did. But Rosenberg said he has been in his position long enough, and Macalester's mission is clear enough, that he was able to take on the highly charged topic in his own voice.
Rosenberg posted a letter Monday, three days after Trump issued an executive order temporarily blocking immigrant and nonimmigrant visitors to the United States from seven majority-Muslim countries. Trump's order set off a wave of confusion and national protest while also drawing condemnation from a broad slice of higher education leaders, many of whom have students and faculty members who were immediately affected. Many of their statements stressed disagreement with the administration's policy and pledged support for students who may be affected.
In his letter, Rosenberg applauded statements from other college and university presidents. Trump's immigration order directly impacts those who work and study at U.S. colleges, making it appropriate for higher education leaders to comment on it, he wrote.
But some of his peers' statements were too cautious, continued Rosenberg, who leads a college in St. Paul with a strong international focus in the curriculum and with a 2,100-student body that is considered left-leaning. Rosenberg argued that leaders should speak with "particular force" when policies pose a great threat "to the central purpose of higher education."
The immigration restrictions threaten safety, security and basic human rights, Rosenberg wrote. He went on to offer a blistering critique of Trump's action.
"It takes no court to see that these orders are cowardly and cruel," Rosenberg wrote. "They make a mockery of the claim that we are a country of generosity and decency."
Later in the letter, Rosenberg referenced the turmoil that unfolded over the weekend as travelers bound for America were turned away from airports overseas or detained in airports on U.S. soil.
"Part of the perniciousness of these actions is the extent to which they have, through lack of competence or lack of compassion, spread confusion and panic," Rosenberg wrote.
Those words stand out as some of the most personal levied by a college or university president in the wake of the executive order.
"I think it's really important for my communications to come from me, and to be genuine, and to be in my voice," Rosenberg said in an interview Tuesday. "I wanted something that didn't sound like institutionspeak. I wanted something that sounded like a human being talking to human beings."
Macalester has students from countries named in the executive order, Rosenberg said. He declined to specify how many. Macalester's website says it has students from 88 countries and that a quarter of its student body is made up of citizens of other countries.
"We do have students who are from some of the affected countries," Rosenberg said. "And, put most bluntly, it's going to force them to choose between school and seeing their families. It's heartbreaking. And then, of course, there are students from other countries and other parts of the world -- the administration has said this might not be the end of the list -- who are waking up every day and wondering if their country is going to be added."
Rosenberg drew parallels between Trump's executive order and the internment of Japanese-Americans during World War II. He also sees the turning away of Jewish refugees during the Holocaust and the McCarthy era as analogous, he said.
"You never know how you would behave, and whether you would have the outrage to speak out," he said. "I just had to ask myself, if I look back in 10 years, will I be at peace with the way I reacted?"
He decided he needed to be honest about policies and behaviors that he saw as inconsistent with the college's mission and outside normalcy. He was aided in that goal by the fact that Macalester has a relatively narrowly tailored mission statement for a college.
Macalester is a liberal arts institution with a special emphasis on "internationalism, multiculturalism and service to society," its mission statement says.
"Whether you agree with the policies or not, it is unquestionably the case that they are in conflict with the mission of this college," Rosenberg said.
Rosenberg's long tenure at Macalester also likely enabled him to take such a firm stance. He's been the president there for nearly 14 years, giving him time to build trust with different constituencies like faculty members and trustees. Rosenberg didn't even ask trustees to review his letter before sending it, he said -- although he did ask some members of his senior staff to read drafts and help him edit.
Although his letter said some college and university presidents' statements on the immigration order were too cautious, Rosenberg was not willing to call on other presidents to use wording as strong as his. His circumstances are unique, he said.
"One of the things I don't want to do is hold myself up as a model for other people," he said. "This is the way I respond, but every college and university president has to decide what is best for her or him, and I respect the right of everyone to make those decisions."
College and university presidents have found themselves the targets of criticism in the past for statements they made about Trump. Many issued statements shortly after the election that may have played well among liberal-leaning students but drew attacks from others, including those on campus.
The social media reaction to Rosenberg's statement has yet to follow that pattern. Commenters overwhelmingly supported the president's stance, with many directly thanking him or crediting him for not parsing his words.
The overwhelmingly positive reaction is unusual, Rosenberg said.
When Rosenberg wrote the letter, he was careful to put in a passage addressing the right to disagree with his views.
"I respect the right of anyone to argue that one or more of these proposed changes in policy is defensible," he wrote. "I hope others will respect my right to argue that they are not."
Still, as a president, Rosenberg has a megaphone that many students or staff members do not. College and university leaders have been criticized in the past for issuing statements that ignore the viewpoints of conservative students or those who aren't liberal.
Rosenberg's biggest concern about writing was appearing to silence students who don't agree with him, he said. He has to weigh the potential impact on different communities against the possible damage to Macalester when he speaks.
"There's no simple formula," he said. "You make a decision, and 95 percent of the time I come down on the side of remaining silent. But 5 percent of the time I come down on the side of feeling I need to say something, because the issue about which I'm speaking is central enough to the mission of the college."
Rosenberg's charge of cowardice might stand out to those who are worried about foreign terrorists entering the United States. Asked whether there is an argument to be made that the immigration policy addresses a threat to safety, the Macalester president asked for evidence that the new policy is addressing the potential problem.
"If the government is going to impose dramatic new policies, I think the government has a responsibility to the people to explain the rationale for those policies," he said. "Of the seven countries that were explicitly mentioned in the ban, in the last 30 years the number of Americans killed on American soil by residents of those countries is exactly zero."
Rosenberg wrote that he will leave it to courts to decide whether Trump's actions are legal. Regardless, he wrote that "legality and morality are not always aligned."
The college president did, however, acknowledge limits to what Macalester can do as an institution. Yet his letter detailed the actions the college will take as it copes with the new policy.
He pledged to lessen the impact of the executive order with any concrete action available within the bounds of the law. He said Macalester would provide those directly affected by the new policy -- particularly students and employees who are Muslim or fall under the Deferred Action for Childhood Arrivals policy -- with the financial aid, housing, legal help and counseling they need. He said Macalester would argue against Trump's action in any possible public setting.
Rosenberg is far from the only higher education leader to use strong words when discussing Trump's order. Several associations blasted it, with American Anthropological Association President Alisse Waterston saying "hateful cultural ignorance" lay behind the order. But associations often have more freedom to issue opinions on controversial issues than institutions' presidents.
Many other college and university presidents more generally referenced deep concerns and the idea that the order runs against institutional values and academic freedom. Before Rosenberg's letter, Purdue University President Mitch Daniels offered some of the most plainspoken criticism, calling Trump's order "a bad idea, poorly implemented." Wesleyan University President Michael S. Roth wrote about "threatening language from the White House," being "appalled by the religious test that is included in this new immigration order" and a "revulsion against the politics of fear and scapegoating."