You have /5 articles left.
Sign up for a free account or log in.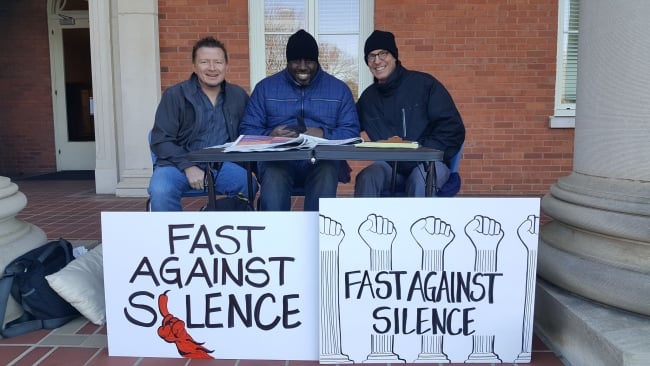 Three Clemson University professors are fasting for six days to put pressure on the administration to oppose President Trump's executive order temporarily barring admission of refugees and immigrants from seven Muslim-majority countries.
Enforcement of the executive order, which bars nationals from Iran, Iraq, Libya, Somalia, Sudan, Syria and Yemen from entering the United States, has been temporarily halted by a federal judge. The Trump administration is appealing a temporary restraining order preventing it from enforcing the ban, which, with some exceptions such as for lawful permanent residents and certain dual nationals, largely bars students and scholars from those countries from traveling to the U.S. Those who were already in the U.S. at the time the order was signed did not have to leave the country but could not return if they did.
Some college leaders have chosen to denounce the ban -- which many civil rights groups have described as a pretext for barring the entry of Muslims -- in strong terms.
"What we want to do is put pressure on the university to join numerous other universities to issue a statement opposing the Muslim ban," said Todd May, the Class of 1941 Memorial Professor of the Humanities at Clemson and one of three professors undertaking what they're calling the Fast Against Silence. May said that as of early Monday evening, 14 other Clemson professors and students have signed up for shorter fasts in solidarity.
"At this point the university is refusing to do that," May continued. "They've signed on to the American Council on Education letter, with [about] 600 other universities, expressing concern [about the executive order], but not real opposition. Many of those universities, many of those 600, have themselves issued separate statements condemning the ban."
May and two other professors have committed to a liquid-only diet through Sunday morning. They began their fast on Monday and say they can be found in front of Sikes Hall, Clemson's administration building, during business hours Monday to Friday of this week. (Two of the professors will leave to teach their regularly scheduled classes. May is on sabbatical.)
May said there were "several reasons" for the university to speak up. "One is to join their voices with the voices of other universities and their weight. Remember, Clemson for indirect reasons has a lot of weight right now. They just won the national football championship."
"A second thing is for the sake of students here at Clemson. I've talked with a lot of Muslim students here. A lot of them are feeling afraid, isolated and not supported by the university administration because they won't issue a public statement."
In addition to signing the ACE letter, which registers concerns about the ban and affirms international exchange as "a core value and strength of American higher education," Clemson President James P. Clements has issued two public statements about Trump's executive order. Neither takes a stand against the ban, but both advised students, staff and faculty from the seven countries not to travel internationally and states the university's support for them.
"The university administration has identified our students from the affected countries -- approximately 115 -- and is in the process of reaching out to help them access resources, get answers to their questions regarding the executive order and provide additional assistance as we can," one of the messages from Clements said. The statement from Jan. 30 reports that the university was also in the process of identifying faculty and staff from the affected countries and had scheduled a series of informational sessions.
"Our international students, faculty and staff, and their families, are a valued and vital part of our university community," Clements wrote. "Furthermore, diversity and inclusion are foundational values of our university and necessary for Clemson to fulfill its mission."
Asked about the faculty fast, the media relations office at Clemson issued a statement to Inside Higher Ed stating that the university "respects the rights of its employees and students to voice their personal views in an appropriate manner." In an interview with a newspaper in South Carolina, where Clemson is located, Clements said the university's board does not comment on political issues.
"There's always going to be an issue that comes out, and another one next week and another one next week," Clements is quoted as saying in a Greenville News article published Friday.
"I'm happy to talk to the faculty, students and staff as I've done," Clements said. "We had a whole bunch of information sessions this past week to talk about the executive order and what it means and to help the students, faculty and staff in any way that we can."
Another of the professors who's fasting said the university administration can do both.
"It's not really a binary between serving students and speaking out," said Chenjerai Kumanyika, an assistant professor in the department of communication at Clemson.
"I'm taking care of my students," he said, "and at the same time we're speaking publicly to say we denounce this ban."
"Many people I know are affected or work with people who are affected," said Mike Sears, an associate professor in the biological sciences and the other faculty member fasting. "For science in our country to remain strong, we need to have a diverse work force. I'm here in support of that and also to be a role model for our students in the sciences who often don't see their professors taking political action."
More personally, Sears said his wife's grandfather had been in a Japanese internment camp in Utah. "You can see where these kinds of policies can flip that direction," Sears said.
"For me, you have to take a stand now," Sears said. "Maybe it helps, maybe it doesn't, but if you're not out here, it certainly can't help."