Iranian scholars and students in the U.S. reflect on Trump's executive order -- temporarily suspended by federal court -- barring travel from their country.
An executive order barring entry to individuals from seven Muslim-majority countries signed by President Trump -- enforcement of which has been temporarily halted by a federal court -- has directly affected more than 17,000 international students and untold numbers of foreign-born scholars who have made their careers in the U.S., many of them former international students themselves.
The majority of the students directly affected -- more than 12,000 of them -- come from Iran, the 11th-leading country of origin for international students in the U.S., right after Mexico, according to data from the Institute of International Education. Under the executive order, students and scholars with most types of immigrant and nonimmigrant visas from the seven banned countries -- Iran, Iraq, Libya, Somalia, Sudan, Syria and Yemen -- were not required to leave the U.S., but those who happened to be outside the country at the time of its signing were not allowed to re-enter and those who left the U.S. would not be able to return as long as the ban remained in place. The executive order called for a ban of 90 days, but it is not clear if that would be extended.
With the restraining order in place, travel has resumed, but the situation remains changeable and subject to court decisions. Civil rights groups have criticized the ban as a pretext for barring the entry of Muslims, a step Trump called for at one point during the campaign. Trump has justified the executive order as a terrorism-fighting measure. "This is not about religion -- this is about terror and keeping our country safe," he said in a Jan. 29 statement.
"The president said multiple times that 'this is not about religion -- this is about terror and keeping our country safe,'" said Shiva, an Iranian assistant professor of computer science at a Midwestern university who asked that her last name not be used. "It hit me really hard hearing those words. I was thinking about hundreds of Iranians that I know and have met in the U.S. that are all scholars at best universities or are working at the best tech companies. They are doctors, lawyers, entrepreneurs …. How can someone link us to terror? It was unjustified in my mind."
Shiva is one of a group of friends who created a Facebook page, "Your Nextdoor Iranian," which shares personal stories from Iranians in the U.S. Many of the stories shared are from people who report getting their master's or Ph.D. degrees at U.S. universities. According to data from the Institute of International Education, the majority of Iranian students in the U.S. -- more than three-quarters -- study at the graduate level, and the majority, again, more than three-quarters, are enrolled in STEM fields.
"The idea of the page came up instantly as a way to show Americans who Iranian people really are, at least those who are already living among them," Shiva said. "We wanted to show we are humans with simple concerns of being able to visiting our families, or not being separated from our husbands and wives, being able to study where we deserve to be. We wanted to show how each one of us is contributing to this country and show how this ban is affecting each one of us."
Shiva, who is in the U.S. on a work visa but has applied for a green card, shared her story of how the ban has affected her. "I came to the U.S. to attend a university for my master's in computer science in 2009. I finished my master's and my Ph.D. in July 2015. I then started a tenure-track assistant professor position in August 2015. As a junior faculty, I already have a lot on my plate, and while I have to focus on my research, this new order has introduced so many concerns for me. I have invested so much time and money in my future during the past seven years, and now I am worried that I have to move somewhere else and I have to start all over again. This is not easy. Staying here with this new immigration ban means not being able to attend any international conferences and not being able to see my family ever again. I had previously been working with Singapore and Finland on different research projects that I will not be able to continue since I am not able to travel."
Other stories on the Facebook page include that of Samira Asgari, an Iranian national who holds a doctorate from the École Polytechnique Fédérale de Lausanne in Switzerland. She was initially barred from entering the U.S. to begin a postdoctoral position at a Harvard University laboratory focused on tuberculosis progression.
Asgari, who filed suit in federal court to contest her denial of entry, was refused permission to board U.S.-bound planes despite having a J-1 exchange visa issued on Jan. 27, the date the executive order was signed. According to the legal complaint, she is an expert in genomics, infectious diseases and computational biology, and her research involves "state-of-the-art sequencing technologies for finding the variants that confer susceptibility to infections, and in particular, pediatric infections." She finally made it to Boston on Friday, six days after she first attempted to board a U.S.-bound flight.
Ali Rostami, a fourth-year Ph.D. student in computer engineering at Rutgers University, is also featured on the Facebook page.
"I spent last four years of my life to help developing driving safety systems for American people to get hurt less and American companies to make more profit. Even thinking about the fact that one out of every two Americans don't want me here makes me sad. Not nervous, just sad," he wrote.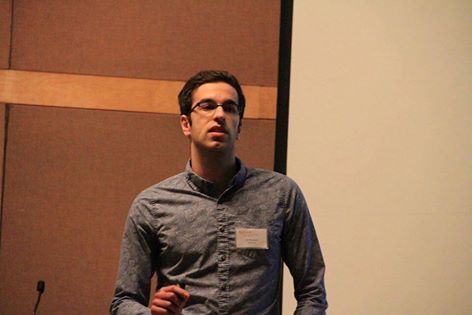 "I'm sad because they don't even know me, and yet they don't want me here," Rostami said in an email interview. "It's called racism. I am getting punished because of something I never did. They don't know what percentage of these seven countries' citizens in the U.S. are contributing to the society and what percentage are engaging in unlawful activities. It's sad, because when I was watching CNN on my flight to LA from NYC, I saw Americans responding to a question if they support the travel ban with 'Yes. I feel much safer now in an airplane.' We don't deserve to be called terrorists. Statistics show zero terrorist incidents (at least after Sept. 11) by citizens of these seven countries. That's where you find yourself discriminated, getting punished for a crime you (or your people) never committed. That makes you feel lonely. Treated unfair."
Rostami said he knew when he left Iran he might not be able to visit his family because of the long time it takes to renew visas. But he thought his family could at least visit him in the U.S., "even if they have to go to a third country to do the interview at a U.S. embassy and wait for six to eight months for a tourist visa, if they could get one. Now, living in the U.S. feels like spending my life in a first-class prison."
"Frankly, I think if they ever say we don't want you (with continuing the ban), I'd simply say goodbye," he said. "I'm confident that I'll be fine finding a highly paid job in Europe."
You may also be interested in...
Today's News from Inside Higher Ed
Inside Higher Ed's Quick Takes