You have /5 articles left.
Sign up for a free account or log in.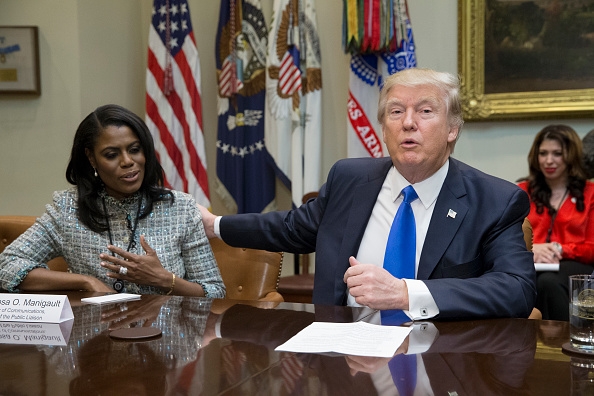 During his presidential campaign, Donald Trump frequently asked African-American voters, "What do you have to lose by trying something new?"
Less than a month into his presidency, leaders of historically black colleges and universities are exploring what they may have to gain from a new relationship with the Trump White House and congressional Republicans.
Some HBCU leaders found themselves disappointed with the first African-American presidency within the first few years of the Obama administration. Now some see a chance to address many of the shortcomings of the previous administration with a White House led by a president overwhelmingly rejected by the vast majority of black voters -- partly because of his history of inflammatory statements about minority groups.
Trump and advisers including Omarosa Manigault, the former Apprentice star who now serves as director of communications for the Office of Public Liaison, have already met with a handful of HBCU leaders, and the White House is crafting an executive order dealing with those institutions, said Johnny C. Taylor Jr., the president and CEO of the Thurgood Marshall College Fund. GOP lawmakers, meanwhile, have organized a meeting in D.C. later this month of elected officials and representatives from more than 100 historically black colleges.
Taylor said that in discussions going back to early January, the Trump team has simply listened to what he and other representatives of minority-serving institutions have had to say. But the meeting later this month with lawmakers is expected to be more of a two-way conversation. And HBCUs have not been shy about making requests of the Trump administration in the talks they've had so far, he said.
"We asked them to look very critically at how to make it a far more successful and far more impactful order by bringing the [HBCU] initiative into the White House and including a specific commitment from federal agencies to spend a fair share of their funding with HBCUs," Taylor said.
He said he also said he spoke in support of charter schools and other school choice options on HBCU campuses and the need to support infrastructure programs at those institutions.
"They're listening. And that so differentiates them, frankly, from our more recent past experience," Taylor said.
The Obama administration faced an uproar from the HBCU sector in 2011 over the rollout of new Department of Education rules limiting access for many families to PLUS loans to pay for a child's education. The change affected colleges and universities across the board, but the effects were particularly pronounced at historically black colleges, which enroll a much higher proportion of low-income students than the national average.
Other criticisms of Obama from leaders like Taylor had as much to do with issues of tone and focus as actual policy differences. But nonetheless, he said, he is optimistic that the sector is "being brought into the conversation prior to decisions being made."
On Feb. 28, congressional Republicans will host college leaders in a meeting at the Library of Congress. The offices of Senator Tim Scott, the first African-American senator from South Carolina, and Representative Mark Walker, a North Carolina Republican whose wife earned two degrees at Winston-Salem State University, have taken the lead in organizing the event.
Jack T. Minor, a spokesman for Walker, said all historically black colleges were invited to the event.
"The new administration expressed a desire to work better with HBCUs and bring opportunity to schools. We want to listen to how the federal government can help," he said.
Walter Kimbrough, president of Dillard University in New Orleans, is among the HBCU leaders who have already said they will attend those meetings. A supporter of President Obama, Kimbrough said he would push lawmakers to expand support for Pell Grants, whose recipients attend HBCUs at a disproportionate rate.
While HBCU leaders have been vocal about grievances with the Obama administration, connections by those institutions with Trump have been subject to sharp criticism up to this point. Talladega College, a historically black institution, came under fire from critics for sending its marching band to participate in Trump's inaugural parade last month -- even though campus leaders said they would have participated no matter who won the election.
And it may be difficult to build a consensus about policy issues. Much of the agenda espoused by President Trump and Republican congressional leaders -- keeping taxes down while spending more on the military, borders and some infrastructure projects -- could make for tight budgets in the student aid programs on which HBCUs depend.
Kimbrough said that his role is to advocate for his university, no matter who happens to be in charge in Washington.
"My responsibility, no matter who is in office, no matter their political affiliation, is for them to support my institution," Kimbrough said. "I'll meet with anyone."
While he understands the frustration with the previous administration from others in the sector, Kimbrough said the sector is still benefiting from stimulus funds approved during the first year of the Obama presidency.
HBCU leaders like Kimbrough should have no problem making a compelling case for supporting their institutions, said James T. Minor, the senior strategist for academic success and inclusive excellence at the California State University System. A former deputy assistant secretary in the Office of Postsecondary Education at the Department of Education under Obama, Minor is an expert on addressing student achievement gaps.
"The question is how well the case maps what becomes of the Trump administration's agenda for higher education and whether or not that includes HBCUs as a central component of whatever the strategy is," Minor said.
Minor said the contents of the executive order issued by the White House as well as the education budget it submits to Congress could confirm the fears of many skeptics in minority communities.
"Or there's an opportunity to really create a bridge and to demonstrate postelection the aptitude, the ability and the willingness to build bridges with programs that bring us together versus those that could be understood as divisive or polarizing," he said.