You have /5 articles left.
Sign up for a free account or log in.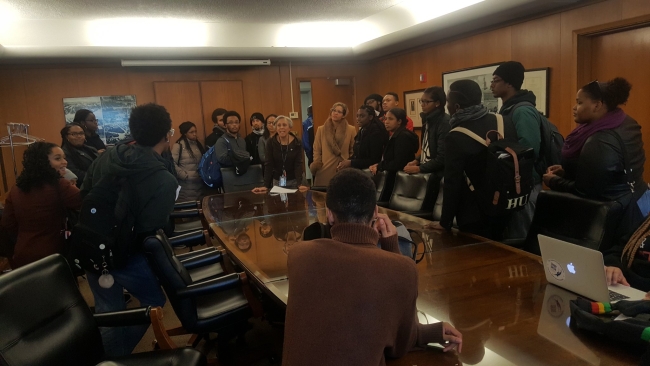 Leaders of historically black colleges have been surprised (and pleased) by recent public overtures from the Trump administration and Republicans in Congress. But protests at Howard University Monday reveal that many students at those institutions aren't eager to see their campus leaders engaging with representatives of a president they find toxic.
Howard student activists held a rally Monday on the university's main quadrangle days after the university president, Wayne A. I. Frederick, hosted Betsy DeVos, newly confirmed as education secretary. The students said they want advance notice from the university leadership of other visits by Trump administration officials and they want the president himself barred from the campus. Interacting with administration officials would diminish the values of the university while bringing no real value to Howard students, said Juan Demetrixx, a senior and representative of Concerned Students, 1867, the group that organized the rally.
"It's so they can get a photo op, so they can say, 'We have some black friends' or 'we have some black people who are aligned with us,'" he said.
Activists also linked the rally to ongoing black protest movements in the U.S. The name of the organization is a reference to Concerned Student 1950, the University of Missouri activist group that led protests in 2015 until Tim Wolfe, president of the Missouri system, resigned.
Howard students issued a set of their own demands to university leadership ahead of the rally, combining several longstanding requests to the university administration with new calls to distance itself from the Trump White House.
They renewed demands that the university declare itself a sanctuary campus, increase resources for underrepresented groups and establish a community center to engage with surrounding neighborhoods. And they added calls for the university to ban the president from all campus buildings and to "refuse to abandon its values in exchange for financial security."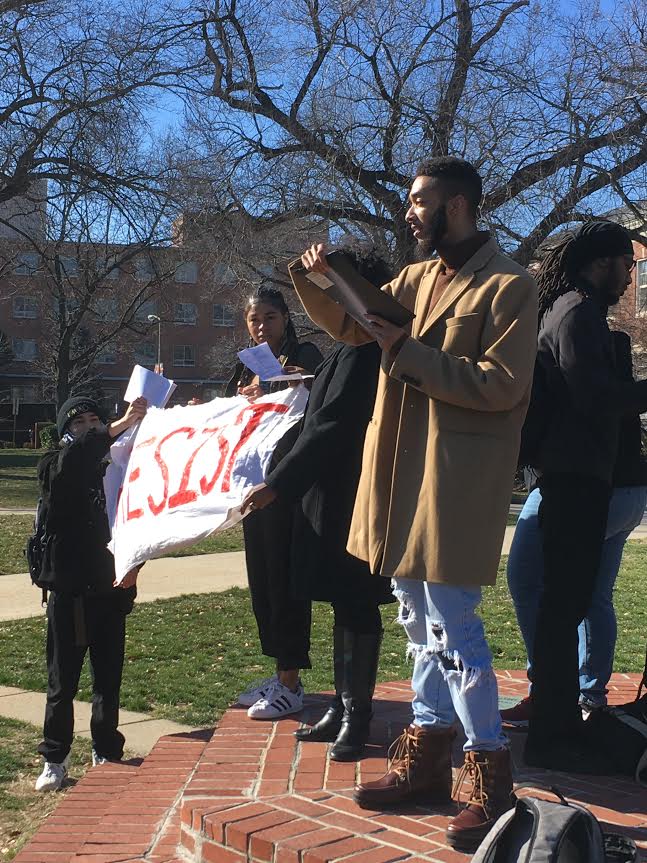 "It is up to us to make sure that our black institutions work for us," Durmerrick Ross, a Howard freshman and one of the rally organizers, told listeners Monday. While the crowd at the rally wasn't large, the event received online support from other black student groups at colleges across the country.
In a statement issued through the university's office of communications, Frederick said he received the list of demands Sunday night and was in the process of reviewing them with members of his leadership team.
"We take the concerns outlined very seriously and support activism on this campus," Frederick said in the statement. "As a first step, I will meet later this week with those concerned students to discuss their demands in greater detail."
A crowd of about 25 students showed up at Monday's protest to hear organizers speak about their demands on the Howard leadership and plans to hold Frederick and other leaders accountable. Students hoisted a makeshift banner reading "Resist" in red lettering onto the university flagpole before heading to the administration building. The university later had the banner removed. If Frederick doesn't meet their demands by Wednesday, organizers said, they plan to pursue more direct actions, including class walkouts.
Shortly after wrapping up the rally, a group of students attempted to deliver a set of demands to Frederick's office, calling on him to distance the university from the White House. But after entering the Mordecai Johnson Administration building, students said, to their frustration, they were met by campus security.
"We did not feel like they were a presence that needed to be there, nor did we feel that it helped at that point," said Demetrixx. "That kind of puts a damper on our optimism about what might happen with Wayne Frederick later this week."
Lezli Baskerville, the president and CEO of the National Association for Equal Opportunity in Higher Education, an umbrella organization for HBCU institutions, said she supported students organizing and making their voices heard on campus. But she also said they should be open to an exchange of ideas with people they disagree with.
"We encourage and support robust exchanges of dialogue," she said. "We encourage and support free expression of your opinion as long as it doesn't trample on the rights of another."
Baskerville said engaging with federal leaders is made more important by Howard's status, along with Gallaudet University, as a federally chartered institution that receives significant funding from the federal government.
Both Democrats and Republicans in Congress have a history of supporting HBCUs, said University of Pennsylvania professor Marybeth Gasman, the director of the Penn Center for Minority Serving Institutions. Meeting with those elected officials makes sense for HBCU leaders advocating on behalf of their institutions, she said. But Gasman said meeting with Trump was a different matter.
"We're dealing with someone who has purposely and strategically surrounded himself with white supremacists," she said. "I hope to see some HBCU president say, 'No, I'm not going to meet with Trump. I'm going to find other ways.'"