Some at UC San Diego object to their university's choice of commencement speaker.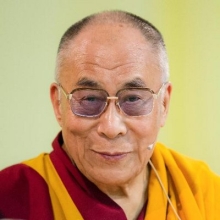 The choice of the Dalai Lama as this year's commencement speaker at the University of California, San Diego, has outraged some of UCSD's Chinese students.
In announcing the commencement speech by the exiled Tibetan spiritual leader, UCSD's chancellor, Pradeep K. Khosla, described the Dalai Lama as "a man of peace" who "promotes global responsibility and service to humanity." In awarding the 1989 Nobel Peace Prize for his leadership of "nonviolent opposition to China's occupation of Tibet," the Nobel committee praised the Dalai Lama as "a Buddhist advocate for peace and freedom" who "has developed his philosophy of peace from a great reverence for all things living and upon the concept of universal responsibility embracing all mankind as well as nature."
But some Chinese students at the university don't see the Dalai Lama that way. They have condemned the choice of commencement speaker as culturally disrespectful and describe the Dalai Lama as a separatist leader intent on dividing their home country.
The Chinese Communist Party has long depicted the Dalai Lama in such terms. The Dalai Lama says he seeks autonomy for Tibet, not full independence.
In a statement it posted on WeChat, the Chinese Students and Scholars Association at UCSD said it contacted the Chinese consulate in Los Angeles for guidance and engaged in negotiations with "relevant departments" at the university.
"The Dalai Lama is not only a religious personality but also a political exile who has long been carrying out actions to divide the motherland and to destroy national unity," the group said in the statement, translated from Chinese by Inside Higher Ed. The group went on to say it would be "firm in boycotting any action taking any form, with unclear motives, that denigrate and belittle Chinese history, that recklessly disseminate provocative and extremely politically hostile discourse, in turn affecting the international image of China."
The statement says "the various actions of the university have doubtlessly violated respect, accommodation, equality and earnestness -- the founding spirit of the university. Moreover, these actions have dampened the passion for learning in many Chinese students and scholars."
Six principal members of the CSSA at UCSD did not respond to an email message from Inside Higher Ed seeking comment on Wednesday. The group also did not respond to a message to its Facebook page.
The university's announcement of the Dalai Lama as commencement speaker generated more than 1,600 comments on Facebook, some from individuals who described the Dalai Lama as a separatist or even a terrorist. "It is disrespectful to those Chinese students who fought so hard for these years in UC San Diego and just to find out that their commencement speaker is someone who wants to separate their home country," wrote one commenter whose profile identified him as a UCSD student.
Writing for the main UCSD student newspaper, The Guardian, Ruixuan Wang wrote that the "main reason why many Chinese students are upset is that our university shows little consideration about cultural respect, as he is a politically sensitive person in China."
Wang wrote, "Commencement is a landmark of our life. Our family members are coming all the way from China, flying for more than 10 hours to celebrate with us. The Dalai Lama, as a political icon, is viewed differently in our country. We want to spend a fantastic time with our family during the commencement, but his presence will ruin our joy. What we want to say is that objectively, he will be an excellent speaker for the commencement. Nonetheless, culturally speaking, his selection to be a presenter is inappropriate in such a situation, considering how many Chinese students and their families are going to attend this commencement."
UC San Diego stood by its decision to invite the Dalai Lama in a statement.
"The University of California, San Diego, has always served as a forum for discussion and interaction on important public policy issues and respects the rights of individuals to agree or disagree as we consider issues of our complex world," the university said. "Our 2017 speaker, His Holiness the 14th Dalai Lama, carries a message that promotes global responsibility and service to humanity that is of great interest to the UC San Diego community and to our students as they enter their professional lives. As a public university dedicated to the civil exchange of views, the university believes commencement is one of many events that provide an appropriate opportunity to present to graduates and their families a message of reflection and compassion."
The International Campaign for Tibet also issued a statement in support of the university, saying that the Chinese government should not be allowed to interfere with U.S. universities' academic freedom.
"By objecting to the invitation to the Dalai Lama, the CSSA of UC San Diego is doing the work of the Chinese government," the organization said. "The University of [California], San Diego's invitation to the Dalai Lama is a reflection of the tremendous American public interest in and support for his thoughts and vision for the broader world; unfortunately, the CSSA is serving the shortsighted political agenda of the current Chinese leadership."
Robert Barnett, the director of the modern Tibetan studies program at Columbia University, said there are major principles at stake. "Does the university accept to be bullied by the foreign government in terms of who it selects as a speaker, especially when that subject of that foreign government's bullying is almost certainly, without any serious question of all, not deserving of that bullying and is certainly being misrepresented and indeed demonized by the Chinese government?" he asked. "Do we allow the Chinese government's propaganda to dictate major cultural decisions in other countries?"
"What's interesting is San Diego hasn't backed down; that's an important position," said Barnett. "But the way to move forward is dialogue, not grandstanding."
Barnett said the university should immediately open up opportunities for dialogue with Chinese students and suggested it could, for example, try to arrange a private meeting with them and the Dalai Lama. "We have to be a little careful about demonizing the Chinese students' response," he said. "That's inevitable given the fact that they are acting as an arm of the Chinese embassy or consulate, but nevertheless we have to also recognize that the university has taken a strong position here, one that many people will sympathize with, but which is a challenge to the position taken by the Chinese government and shared by some Chinese."
"So the question we have to consider is, in the society which we're in, do we want to embrace that challenge, enable that conversation, encourage it to come to a resolution and understanding, or do we risk it just becoming a kind of confrontation, a marking of difference and of conflict? I think this is the underlying issue here, and I'm not sure this has been dealt with."
You may also be interested in...
Today's News from Inside Higher Ed
Inside Higher Ed's Quick Takes