You have /5 articles left.
Sign up for a free account or log in.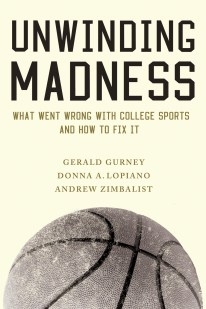 The National Collegiate Athletic Association has "placed commercial success above its responsibilities to protect the academic development, health and well-being of college athletes," a new book argues, and has let college sports fall into an "educational, ethical and economic crisis." The book, Unwinding Madness: What Went Wrong with College Sports and How to Fix It (Brookings Institution Press) was written by three college sports reformers -- Gerald Gurney, Donna Lopiano and Andrew Zimbalist -- who propose several ways to "fix" college sports, while arguing that the NCAA may not be up to the task.
Zimbalist, a sports economist and professor at Smith College, responded to questions about the book and the state of college athletics.
Q: The subtitle of this book is "what went wrong with college sports and how to fix it," so let's start with that question. What went wrong with college sports?
A: In a few words, college sports today is: One, financially unsustainable for all but a handful of schools. Two, materially exploitative of the leading athletes in high-profile sports, most of whom happen to be African-Americans. Three, ethically bankrupt. Four, deleterious to the educational process. And five, legally under assault. There will be significant change. The question is whether the system moves further toward a complete embrace of market forces and commercialism or toward a recommitment to its educational origins.
Q: You and your co-authors discuss how college sports has, in some ways, always been a commercial enterprise. The first college sports contest, a rowing match between Harvard and Yale, was organized by a railroad company. Is the current state of big-time college sports just the logical progression of how things began?
A: The commercialization of college sports is an evolutionary story, beginning in 1852 [when Harvard and Yale competed in their first rowing match] and proceeding step by step to where it is 2017. There were, however, a few key events along the way that were decisive in moving the NCAA toward the sharpening plutocracy that it is today.
Q: What would you say some of those key events were?
A: One of those events was the 1984 Supreme Court decision that declared the NCAA's television monopoly over college football constituted an illegal restraint of trade. The result was that universities and conferences were free to set their own television contracts. This, in turn, led conferences to re-align away from their historically-driven geographical and educational affinities and toward a revenue-maximizing strategy to cover as many households across the country as possible. The upshot was growing inequality across conferences and schools, heightened incentives to build winning teams, and decreased attention to the professed educational goals of universities.
Q: As noted in the book, the NCAA moved to a model of presidential control two decades ago. You argue that this has had little to no effect in slowing the arms race in Division I's men's basketball and football and in improving the related issues. Why hasn't this worked? 
A: The "presidential control" model was promoted as a reassertion of the primacy of education over athletics. In fact, the 1996 reform promoted unbridled commercialization and, if anything, diminished the role of presidents in controlling college sports. Arguably, the notion of presidential control was put forward as a smoke screen for the real purpose of the reform which was to free up Division I to follow the mandate of commercialization. The 1996 reform ended the association-wide "one school/one vote" model in favor of divisional autonomy. Within Division I, the former subdivision IA (now the Football Bowl Subdivision) was given operational control and, eventually, within FBS, the Power Conferences came to dominate decision-making.
University presidents have always had the ability to control the NCAA. They have never chosen to exercise it. Presidents have a great deal on their plates -- fund raising, physical plant, alumnae relations, town-gown relations, building a strong faculty and staff, attracting and retaining worthy students -- before taking on the contradictions of college sports. Those presidents who have raised their voices about the urgent need to reform intercollegiate athletics have been criticized and not reappointed by their governing boards, and, moreover, they have had no lasting success.
Thus, with few exceptions, college presidents have abdicated athletic reform and have left sports governance to the athletic director and the coaches. The NCAA, in turn, has come to function as a trade association of the athletic directors, coaches and conference commissioners. The 1996 model of divisional autonomy has only reinforced this pattern.
Q: How does this get fixed?
A: There are a variety of conceivable fixes for college sports. The specific one we endorse in Unwinding Madness is for Congress to give the NCAA a conditional and limited antitrust exemption. This exemption would allow the NCAA to pass certain desirable policies, such as imposing limits on coaches' salaries, who today are paid for the value produced by the players they recruit -- money the players are not allowed to receive. It would also allow the NCAA to impost limits on the length of season, the days of competition and the number of scholarships, without fear of antitrust prosecution. The NCAA would only receive this antitrust immunity if it met new standards of educational integrity and rigor, as well as new conditions to maintain athlete welfare.
Recognizing the complexity of the issues and political entanglements, however, [the book's authors] also support a bill introduced by Representative Charlie Dent, a Republican from Pennsylvania, during the last Congress, that calls for the creation of a presidential commission to study the problems of intercollegiate athletics and to propose remedies.
Q: Creating a presidential commission was an idea that found some traction in the past couple of years. Do you have a sense of whether the momentum has changed with a new White House and Congress?
A: Charlie Dent intends to reintroduce his bill in the new congress. He has more supporters in the House than he did last year. We have spoken to some senators who also show a keen interest. I think at the moment people in DC are overwhelmed by the manifold issues surrounding the Trump transition, so that it will take a while for the dust to settle and legislation attention to less urgent matters rekindles.