'Some of Our Friends Couldn't Make It'
International relations scholars meet in the shadow of Trump's presidency and his temporarily halted travel ban.
BALTIMORE -- "Some of our friends couldn't make it."
International relations scholars met for their annual convention last week against the backdrop of a Donald J. Trump presidency. Scholarly business to a large degree continued as usual, with panel sessions on the future of a liberal world order and change in world politics taking on special urgency. Hundreds of sessions covered topics like climate and energy policy, global governance institutions, the rise of populism, terrorism and counterterrorism, and the politics of nuclear weapons.
But while panels and receptions continued apace, not everyone who had originally planned to attend the International Studies Association's annual convention was able to partake. ISA's leadership reports that a total of 176 participants withdrew from the conference citing a reason related to Trump and his Jan. 27 order barring travel from seven Muslim-majority countries. Enforcement of that order, which also prohibited the entry of refugees, has been temporarily halted by the courts, but the Trump administration has pledged to introduce a new order meant to achieve the same purpose.
Sixteen of those who withdrew from the ISA conference cited visa issues. The majority of those scholars reporting visa issues did not come from one of the seven countries directly impacted by the entry ban -- Iran, Iraq, Libya, Somalia, Sudan, Syria and Yemen -- but rather from other countries (Brazil, for instance). Thirty-eight cited a reason for withdrawing related to their nationality. Ninety-eight said they were boycotting.
"There's some ambiguity in there, because there are folks who said, 'Jeez, I've got a Muslim name, so I'm not coming' and they're not really boycotting -- it's just they don't want to risk being hassled at the airport or something of the sort," said Mark A. Boyer, ISA's executive director. "So of that 176 we're not entirely sure what all the categories are."
"Some people just say, 'I don't feel comfortable coming,'" said Jennifer Fontanella, the association's director of operations and finance.
"We had a young woman from India say her parents said, 'Don't go to the U.S.,'" said Boyer. "So there are lots of different permutations and combinations of issues with regard to those 176. We generally have about 6,500 people at this meeting, plus or minus."
"If you are a Muslim, wherever you're from, you might be able to get into the United States, after some tremendous hassle, but there's no certainty about that, in that you'd be investing large amounts of money -- plane tickets, hotel reservations -- on the possibility that [Customs and Border Patrol] would let you in," said Stephen M. Saideman, the Paterson Chair in International Affairs at Carleton University, in Canada​. Saideman accepted an award at ISA on behalf of a scholar who did not attend the convention due to the ban.
"Many people are figuring out that's not worth attempting or they don't want to legitimate the United States by coming to it at a time when it is engaged in horrendous policies," Saideman continued. "I have friends who made that decision. It's sometimes hard to disentangle whether they made that decision because they suspected that they would get hassled, they may be blocked, they may be interrogated for hours, or they made it because they did not want to come to the United States when the United States was being run in this particular way. It's probably a combination of those things. And this is damaging to a variety of things. It's damaging to intellectual discourse because the whole idea of what we do is to create knowledge based on competing and overlapping and complementing ideas that are generated, in part, by the diversity of our planet. This ban is going to limit the diversity of voices in American social sciences, in American hard sciences, American medical sciences: it's across the board."
"I have told students I've had that it is up to them and if they have to choose to deny themselves important networking opportunities, important research opportunities, it probably makes sense given that going through this procedure of getting stuck in detainment for 24 hours, being denied food, being handcuffed, all that's stuff, it's probably not worth it, and that's a problem, because these people have valuable voices that could teach Americans stuff about how to fight a war against Islamic terrorists in Iraq or Syria better," Saideman said. "They probably have ideas about how better to try to unfail states, so that way we have less problems in the world. They have a great deal of knowledge that is not going to get transmitted because we have an overly repressive American administration because they have to pander to white supremacist voters."
The Decision to Come -- or Not -- to the Conference
Some chose not to come to ISA in Baltimore as a matter of conscience. Catherine Goetze, a senior lecturer in international relations at the University of Tasmania, in Australia, wrote on her blog about her reasons for not coming. In a message she sent to fellow panelists apologizing for her withdrawal, Goetze, who is German, referred to her great-grandfather's collaboration with the Nazi regime in his role as a director of libraries. "The family story told me that he had accepted this role because it always had been his ambition to develop a nationwide network of public libraries," Goetze wrote. "Historians tell me that he actively participated in the burning of books in Hannover and that he quite busily anticipated and implemented the various censorship waves in public libraries (Lenin in with Hitler-Stalin Pact, Lenin out with attack on Soviet Union, for instance). One story does not exclude the other. He was simply going on with his life, with his job, his career. Just like Eichmann, maybe even without the anti-Semitism."
"Now, the USA is not Nazi Germany (yet)," Goetze wrote. "But I strongly feel that it is quickly on its way of becoming a fundamentally anti-democratic, anti-pluralist and fascist state and it has been standard to brutally and cruelly discriminate [against] people on the grounds of their skin color or religion for a long, long time now. I also feel that this anti-enlightenment is not caused by that man in the White House but he's just a sort of caricature of white American middle-class society as it has existed since a long time. What is much more disquieting for me is not [Trump's] nonsense spluttering but the huge mass of Eichmanns, the banal collaborators of daily life."
Goetze wrote that going to ISA would now would normalize "an absolutely abnormal situation" and ignore "the cruelty and ugliness of [Trump's] junta regime. I would be setting my unease, my abhorrence, my consciousness aside because I just want to get on with my job."
Others made a different choice. Jennifer Philippa Eggert, a Ph.D. candidate in politics and international studies at the University of Warwick, in England, blogged about her choice to come to ISA as a visibly Muslim woman who wears a hijab. "I am worried about recent developments, but boycotting the ISA annual convention is not an option for me," Eggert wrote. "In fact, I will make a point of attending ISA this year. If the new president and his supporters want to ban people like me -- Muslim people and/or people of color -- from the country, that is even more reason for me to attend. I am used to present[ing] at conferences where I am the only woman wearing hijab. Sometimes, I am the only person in the room who is a Muslim, even in countries with sizable Muslim communities. Me canceling my participation would make the ISA annual conference a bit less colorful, it would prevent me from making my voice heard, and that cannot be the aim. For me, in this case, attendance is resistance."
In an interview in Baltimore, Eggert talked about flying as a Muslim woman. Eggert, who studies the Lebanese civil war, militias and female fighters, said while on her flight to the conference she made sure not to take out and read a book she had packed on innovation by terrorist groups.
"Why are we outraged now?" Eggert asked. "I've been traveling to the U.S. for five years now. I'm worried every single time, and I have a German passport, I should be fine. But I'm worried every single time I fly. I expect to be selected for a random security check. This is a running gag with my Muslim friends: random security check, again, of course."
"On the one hand it was really nice to see the solidarity. I've never seen so many people stand up for Muslims' rights," she said. "On the other hand it's a bit like, OK, where have you been all these years?"
Eggert's actual entry into the U.S. for ISA went smoothly. "It was absolutely fine. But I was worried. It doesn't matter. Even if nothing happens, you're still worried. Also it was really emotional. I was standing there and we had to wait in the queue and I really had to pull myself together. So much has happened. Even if nothing has happened, everything that has happened, it's still present. Because you know. You know what's possible and you know what happens to people who look like you."
Another scholar from overseas had a difficult time entering the U.S. for the conference. Nassef Manabilang Adiong, the founder of the Philippine International Studies Organization, came from Manila to Baltimore via Tokyo and Detroit. He said he was about to board his flight for the Tokyo-Detroit leg when he was taken from the line and questioned by a U.S. official about his address in Manila, his family, his background and the foreign countries he had visited.
"I thought that after this situation had happened to me, I would not have any difficulty at the port of entry in Detroit," Adiong said. But upon arrival in the U.S., Adiong said, he was brought into a room for secondary screening and questioned for two hours by two immigration officials whose questions kept circling around issues of Islam and terrorism. They let him go about five minutes before his connecting flight to Baltimore was scheduled to leave. "It was just a random check, that's what they said," Adiong said.
Adiong, whose research is about Islam and international relations in the pre-modern era, described the experience as exasperating, exhausting and embarrassing. "I'm having second thoughts of coming back for future ISA conferences under the current USA administration," he said. "Probably after this administration I may attend."
#ResistanceISA
An open letter signed by nearly 100 international relations scholars published during the conference criticized various of Trump's policies, including the temporarily halted travel ban and what the letter describes as the president's "go-it-alone" policy and disregard for international law and diplomatic relationships."
"Recently, President Trump tweeted that people should 'Study the world!' to understand his foreign policy," the open letter states. "As scholars of international relations, we have studied the world, and we are concerned that the actions of the president undermine rather than enhance America's national security."
"We agree it is important for any president to protect U.S. citizens from extremist violence, ensure America is respected abroad and prioritize American interests. But our knowledge of global affairs, based on history, scientific fact and experience, tells us that many of the policies Trump has undertaken thus far do not advance these goals. Instead, they have made Americans less safe," the letter states.
​Support for Trump is not strong among international relations scholars. A poll conducted last fall by the Teaching, Research and International Policy (TRIP) Project, which is based at The College of William & Mary, found that 82 percent of international relations scholars chose Hillary Clinton as the candidate whose foreign policy views most closely aligned with their own, while just under 4 percent chose Trump. The remaining 14 percent wrote in a third-party candidate, another national political figure or "none of the above."
Even among those IR scholars who self-identified as conservative, only 7 percent preferred Trump.
"While IR scholars are, on average, more liberal than the public as a whole, we found conservative and moderate IR scholars are nearly as apprehensive about a Trump presidency as their more liberal colleagues, and they are significantly more negative about Trump than their conservative and moderate counterparts within the U.S. public," the researchers wrote in an article about the poll for The Washington Post's "The Monkey Cage" blog.
At the ISA convention, a small but dedicated resistance movement organized Trump-related sessions and protest actions intended to be reminders of the political context in which the conference was held. "We don't want this to be business as usual," said Harmonie Toros, a senior lecturer in international conflict analysis at the University of Kent who organized performative resistance actions in the lobby of the conference's headquarters hotel, a Hilton, during breaks between sessions. In one action, for example, demonstrators walked up to other conference goers in the lobby, held their hands out to shake and said "resist." What they were resisting, Toros said, is "a Western slide towards a politics of intolerance, a politics of anger and a politics of exclusion."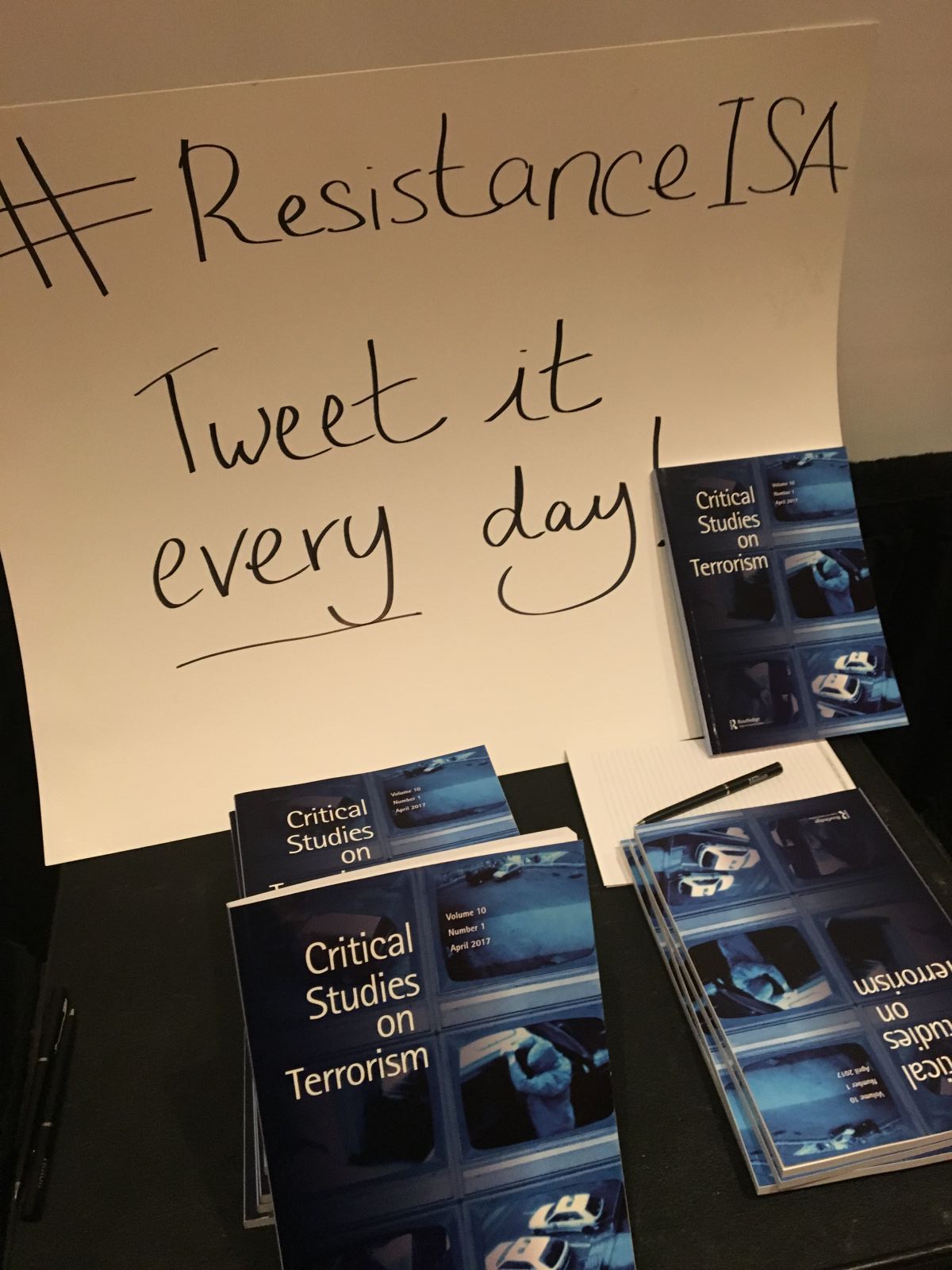 ​Toros is one of the editors of Critical Studies on Terrorism, a journal that seeks to publish articles that "challenge accepted orthodoxies" in terrorism studies. A reception to celebrate the journal's 10-year anniversary at ISA on Wednesday night doubled as a "resistance reception." Playing a guitar, the journal's editor in chief, Richard Jackson, led a sing-along to a Woody Guthrie song, "All You Fascists."
I'm gonna tell you fascists
You may be surprised
The people in this world
Are getting organized
You're bound to lose
You fascists bound to lose
"We all feel that our freedoms are very fragile. They can easily be taken away from us," said Ali Bilgic, a lecturer in politics and international relations at Loughborough University.
"There's Trump land here, Brexit land there, Erdoğan land over there. It's affecting us everywhere."
"The majority of scholars here haven't realized that the ivory towers that we live in are under threat," Bilgic said. "These ivory towers, they're on the sand."
Walkout

At 4:42 p.m. on Friday, the exact time Trump signed the executive order authorizing the travel ban four weeks earlier, many convention goers participated in a walkout outside the Hilton. Some held signs: "Some of our friends couldn't be here." "Land of the Free, Home of the Brave. Act Like It." "No to Racism." "Solidarity With Refugees and Migrants." "We miss our colleagues."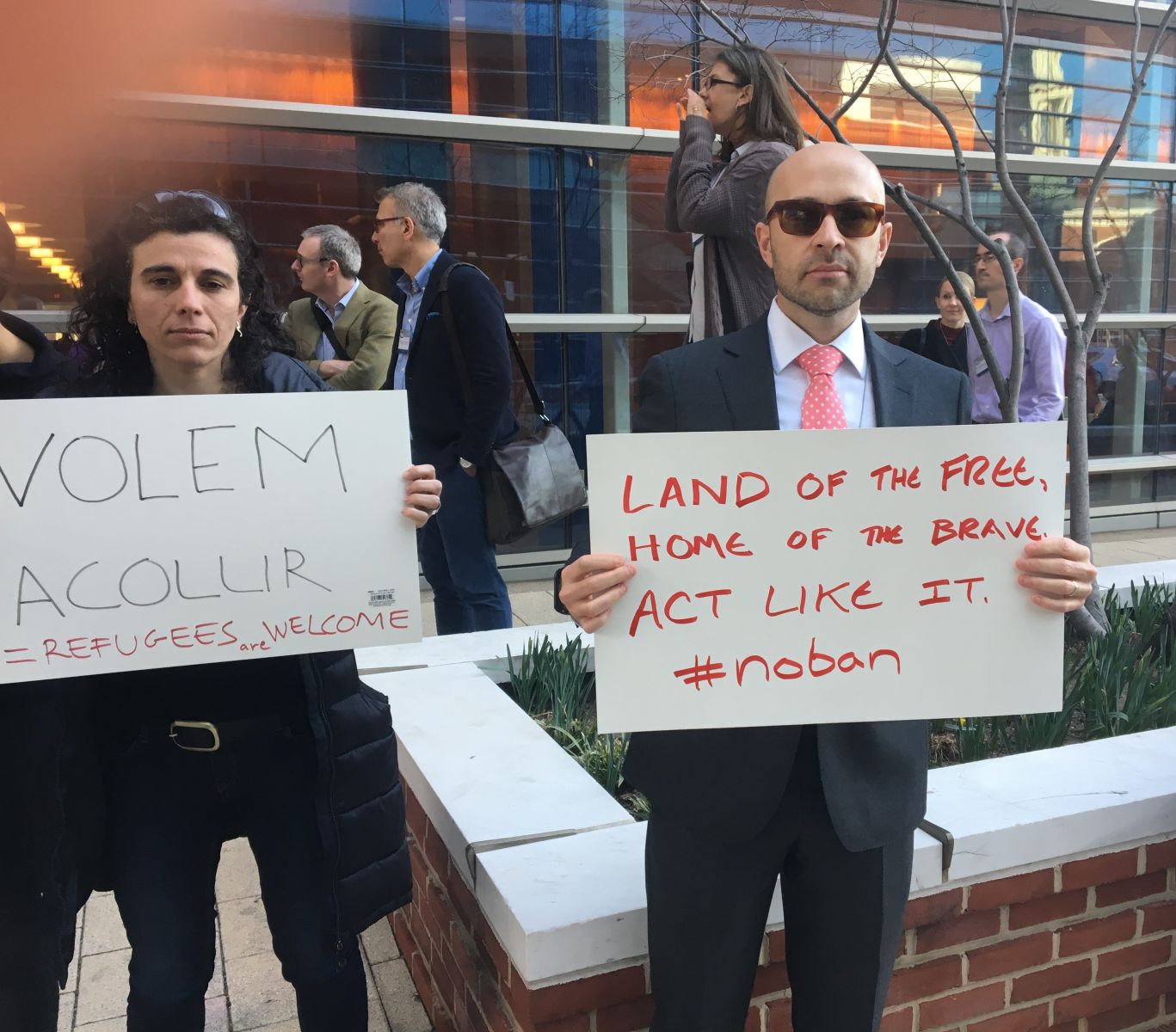 "I think the protesting is helpful, but we have to be clear why," said Nicholas Kiersey, an associate professor of political science at Ohio University. "It's not for the outside world; it's for the bureaucracy of ISA." Kiersey said he would like the association to devote resources to "hire lawyers and train people in the art of resistance and defending academic freedom."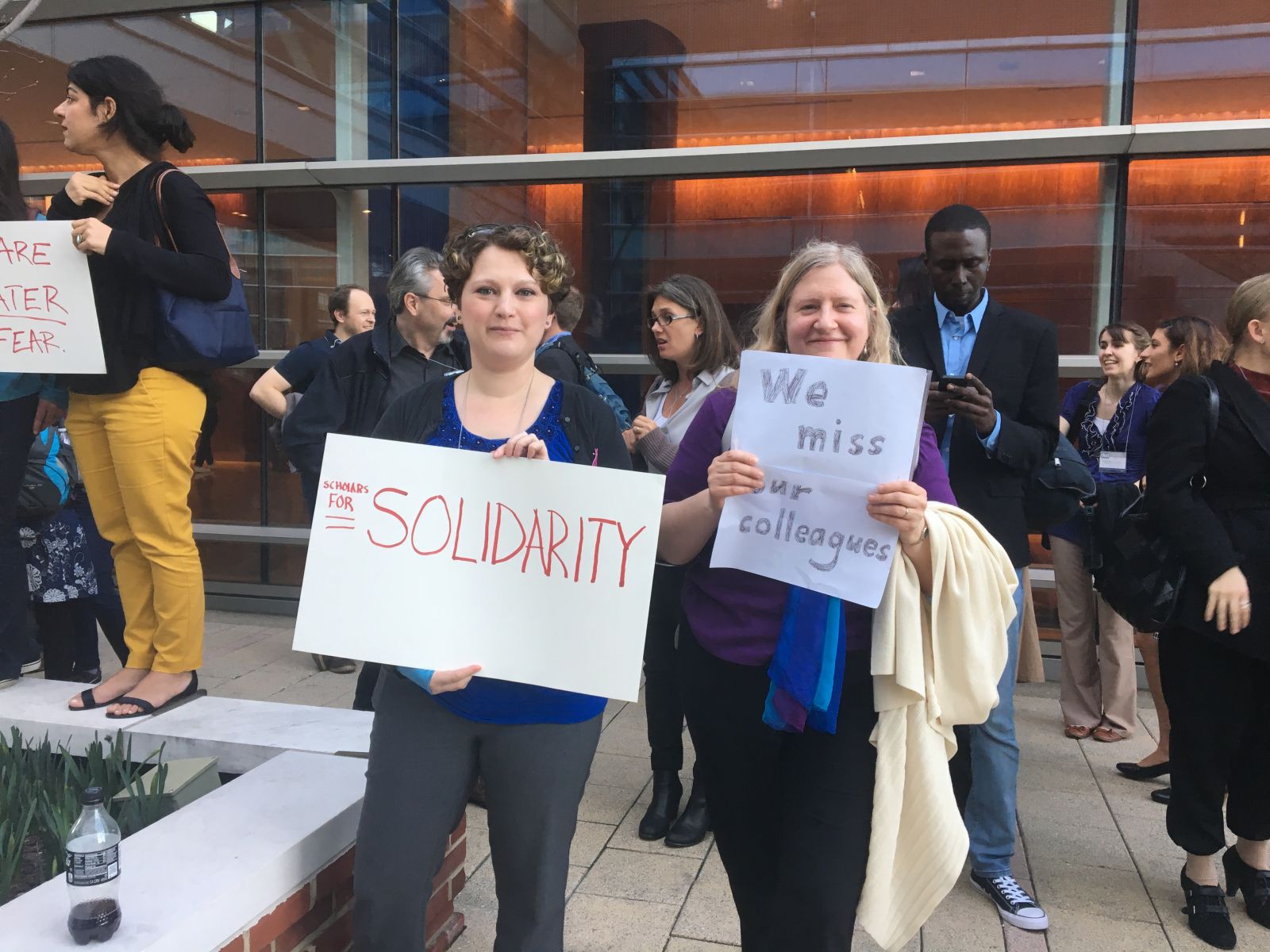 ISA as an organization faced criticism from members after it issued an initial statement on the travel ban. The association said it would refund registration fees to those who were denied visas or were unable to enter the U.S. for the conference but stopped short of actually condemning the ban (the original statement -- the first of three -- cited the organization's tax status as a nonprofit organization, "which prevents the association from taking partisan stands on policy issues"). The association's academic freedom committee subsequently issued a second statement condemning the ban as an "infringement upon the academic freedom of scholars from those countries who wish to travel to the United States to conduct research, collaborate with colleagues and engage in conferences and conventions," including ISA's.
Some suggested ISA's response should be even stronger. One professor from an American university boycotted the conference, saying in a letter of withdrawal that the association's statement was lacking in terms of its expression of solidarity with affected members and inadequate compared to responses issued by other associations, specifically the American Political Science Association, which called for the ban to be rescinded, and the American Anthropological Association. (On the other hand, Boyer, the association's executive director, said one member reached out to the leadership to criticize the second statement from a pro-Trump perspective.)
ISA landed on a very liberal, essentially "no questions asked" policy of refunding registration fees for those unable or unwilling to go to the conference, and said it would refund panel chairs for overages they incur on their wireless plans if they needed to bring panelists in virtually (this was after the association priced the cost of wirelessly connecting all the conference presentation rooms at $408,000).
In a third statement, the association shared with its members resources for travelers from the American Civil Liberties Union and information on how to find an immigration attorney.
At ISA's governing council meeting Tuesday, members discussed future conference sites and approved a change to the association's policies removing language specifying that the annual convention must be held in Canada or the U.S. Future ISA conventions could theoretically be held anywhere in the world the association can find 2,000 hotel rooms and 80 panel rooms, but there are no changes for already contracted conferences. ISA has contracts for conferences through 2023 and is bound for San Francisco in 2018.
"People understand that we face a big dilemma," said Brett Ashley Leeds, the association's new president and a professor and chair of the political science department at Rice University. "We don't want to meet in places where all of our members don't feel welcome. At the same time the discussion [at the governing council meeting] was among people who study international studies for a living, who study politics, and were thinking about what's the right thing for an association to do in this circumstance."
"There is no perfect place for us to hold a conference," said Leeds, who noted that San Francisco is a sanctuary city. "If we were looking for a place with no challenges for our members, that would be hard to find."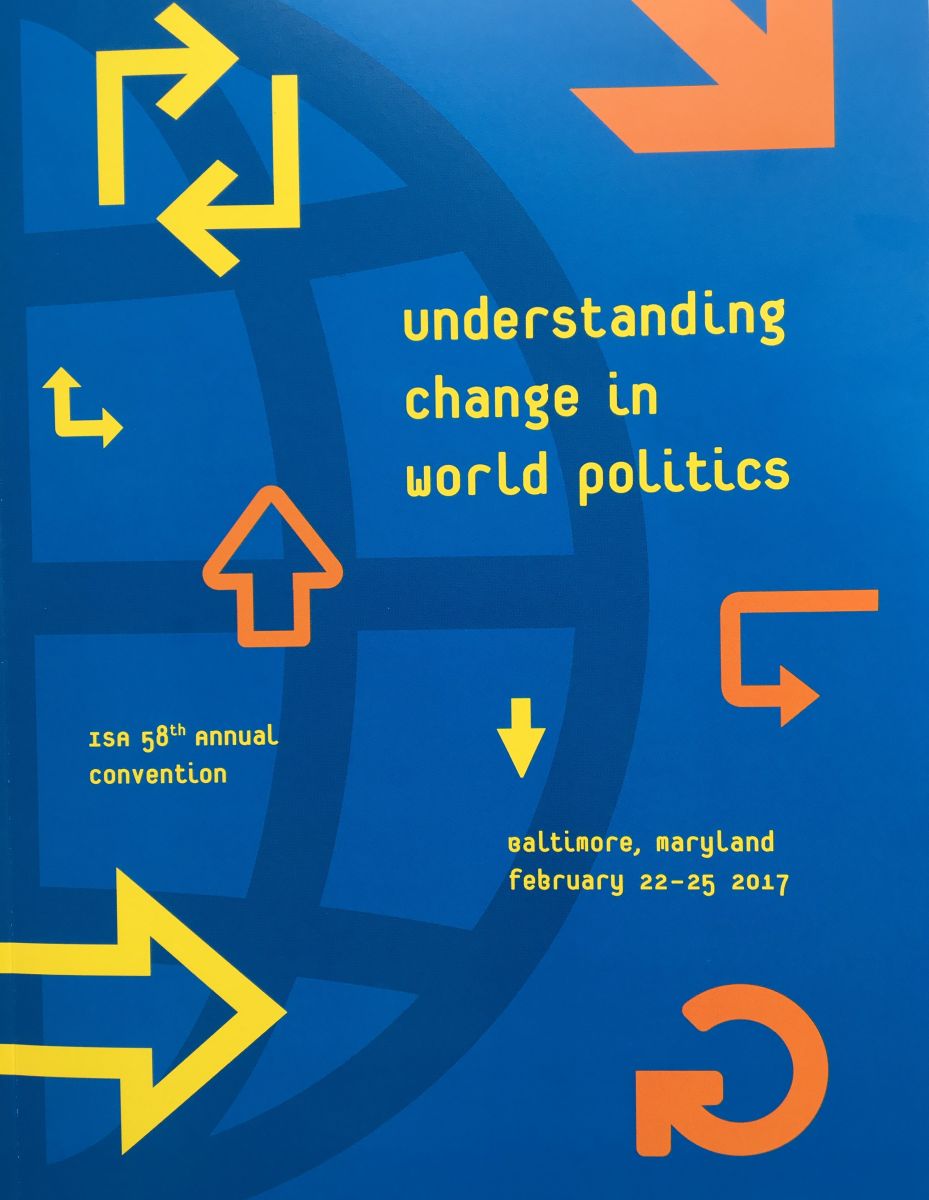 "The theme of our conference this year is Understanding Change in World Politics," Leeds said as a parting thought. "And what we're seeing is very rapid change in the politics of the United States, which is a major part of world politics right now. And so to me this is the time when we need international studies scholars together, when we need people talking about what all of our combined knowledge, our research and our wisdom says about where we we're going and where we need to go. What I would like the stories about this meeting to be about is what we have to say about the future of the liberal world order, and things like that."
You may also be interested in...
Today's News from Inside Higher Ed
Inside Higher Ed's Quick Takes