You have /5 articles left.
Sign up for a free account or log in.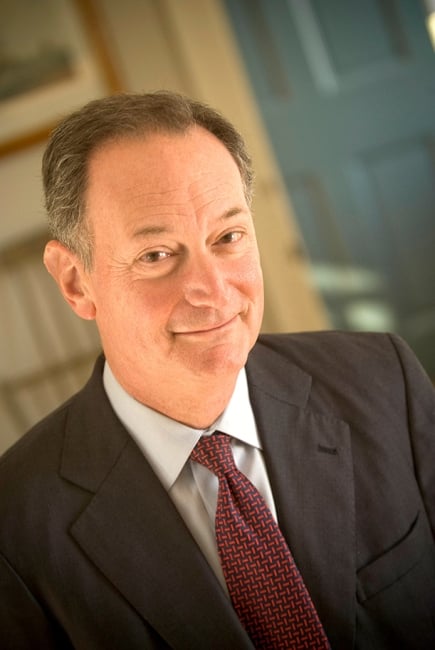 Barry Mills could be stepping into an awkward situation at the University of Massachusetts at Boston.
Mills is well regarded for a 14-year tenure as president of Bowdoin College. During that time the 1,800-student liberal arts college in Maine sharply increased its endowment. It started a financial aid policy that replaced student loans with grants and increased the enrollment of minority students.
Now Mills enters a very different situation at UMass Boston. The public institution is more than nine times larger than Bowdoin, with 12,800 undergraduates and 4,000 graduate students. It's in a fiscal pinch, with administrators trying to close a $26 million deficit that has put faculty members on edge. And Mills won't be the leader on campus.
The University of Massachusetts system announced Thursday that Mills is starting in the newly created position of deputy chancellor and chief operating officer. He's joining a campus already led by Chancellor J. Keith Motley. The University of Massachusetts System said on Thursday that Mills will work with Motley on "developing and refining" a long-term strategy in Boston.
But Mills seems undaunted by his path. He pointed out that he was a nontraditional presidential candidate when he was hired at Bowdoin in 2001 -- he'd been a partner at the New York City law firm Debevoise & Plimpton, where he worked in finance, real estate and corporate law.
And to hear Mills tell it, he's going where the action is in higher education right now.
"I have thought for a long time that the big challenge in America is public education," Mills said in a telephone interview. "The real impact, just numbers-wise and challenge-wise, is in the publics."
Mills cast his decision to join UMass Boston as one driven by ideals. The Boston campus has a mission that appeals to him. It's a commuter institution drawing students of all ages, he said. More than 40 percent of its undergraduates receive federal Pell Grants, meaning they come from low-income families. It's diverse, with only 36 percent of its undergraduates reported as white.
The graduation rate at UMass Boston is low, Mills continued. The four-year graduation rate for full-time undergraduates who began in the fall of 2009 was 17 percent, according to federal data. The six-year graduation rate for the same cohort was 42 percent.
Mills believes it is critical to find ways to improve that graduation rate. That will head off the problem of students taking on debt to attend a few years of college, not graduating, and having to try to pay off that debt without the higher wages that a college degree can bring, he said.
Additionally, Mills wants to increase UMass Boston's enrollment and make it more affordable to students. He wasn't prepared to offer specific fixes on Thursday, but he thinks online education is a part of the equation. So are connections to the Boston area and employers.
"I really want to understand how we make this work for students at all levels," he said. "How do we connect UMass Boston up to the neighboring community, so they understand there are jobs for them when they graduate?"
Those goals come as Boston Chancellor Motley is already pursuing an aggressive agenda that includes a 25-year master plan to revamp the campus and the institution's first on-campus dormitories. He also aims to improve academic offerings and raise the intuition's research profile. Motley has also worked to boost enrollment, which hit an all-time high of just over 17,000 students in 2015.
Working on those fronts will require navigating a tight financial situation. Campus leaders are fighting to close a $26 million deficit in the current fiscal year. Late last year Motley called for an across-the-board 2.5 percent budget reduction, a hiring freeze and furlough days from some employees. Faculty members are bracing for more cuts.
Officials have blamed the budget situation in part on cost overruns related to $750 million in construction and renovation projects intended to improve the campus and its reputation. Officials also pointed to a slowdown in enrollment amid the construction and to increased payroll costs.
Students and faculty members protested the situation after returning to campus in the fall -- after leaders raised in-state undergraduate tuition by $750 to $13,110 for the year and about 100 adjunct faculty positions were cut. Protesters argued that the financial crunch hurt first-generation and working-class students the most. UMass Boston leaders said the campus is in the process of a transformation that will have long-lasting benefits, according to The Boston Globe.
Mills's work will include finances.
"I will for sure be looking at the financial side," Mills said. "It's an important part of any leader's job to match your ambitions with your resources."
Fund-raising will be an important piece of the puzzle. Massachusetts does not have a strong history of private philanthropic support for public higher education, Mills said. But he thinks he can explain to donors that UMass serves a critical role in the state and should be important to them even if they did not attend one of its institutions.
The endowment for the entire UMass system was valued at $734.2 million in 2016, according to the most recent survey data from the National Association of College and University Business Officers and the nonprofit asset management firm Commonfund. Budget documents show Boston has fewer investment resources feeding its operations than some other system institutions, however. Boston's investment and endowment return was listed at $8.1 million for 2017, compared to $22.5 million for UMass Amherst.
Mills is known as a strong fund-raiser. He is credited with helping to build Bowdoin's endowment from $470 million in 2001 to almost $1.4 billion in 2015.
Faculty members are hoping Mills can help with fund-raising and finances. UMass Boston caters to first-generation college students, said Marlene Kim, a professor of economics who is the president of the Faculty Staff Union on campus. UMass Boston teaches students who don't have the chance or the money to go to private institutions, she said.
Right now, many on campus fear for the university's ability to provide a good education at an affordable price into the future.
"I think we're at a crossroads on whether we can provide that or not," Kim said. "Hopefully, he can help us."
Mills joins UMass Boston after consulting throughout the UMass system since leaving Bowdoin. His consulting focused on educational quality in a time of scarce economic resources, he said.
Chancellor Motley shares his view on UMass Boston and its mission, Mills said.
"I spent a lot of time with Keith trying to make sure it would work with both of us," Mills said. "I'm very happy that Keith is staying as chancellor and as my partner, because I can really focus on the strategic and operational parts of the place and not have to do all the ceremonial parts."
Motley (pictured at right) said in a statement that he looks forward to working with Mills.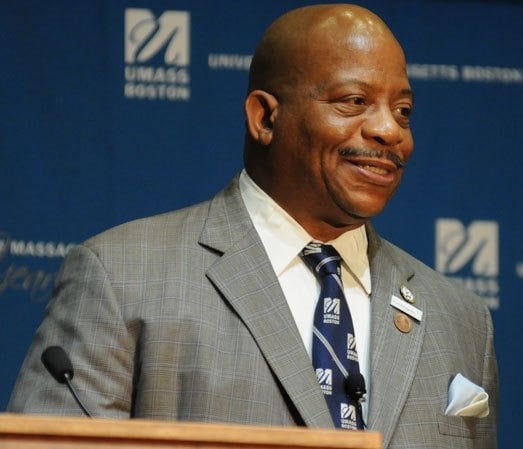 "Barry's desire to join us is indicative of his deep regard for UMass Boston and its mission -- and the passion he has for unlocking the full potential in each and every student who walks through our doors," Motley said. "I look forward to working with him in what is certain to be a fruitful and productive partnership."
Also releasing statements were UMass system President Marty Meehan and Board of Trustees Chairman Robert J. Manning.
"Throughout the course of his presidency at Bowdoin, Barry Mills was recognized as one of the nation's pre-eminent higher education leaders, managing his institution carefully and skillfully, while always maintaining an idealist's passion for extending higher education's promise to all, regardless of income or background," Meehan said.
"The Board of Trustees is thrilled to have someone with the stature and ability of Barry Mills coming to our Boston campus," Manning said. "We are committed to him and will do everything in our power to make him and UMass Boston successful."
The dynamic between Mills and Motley will be critical to watch going forward. Mills is a successful former president, while Motley has been Boston's chancellor since 2007. There is no guarantee that the relationship between two leaders will work.
Experts believe that such arrangements can be successful, however. It takes the right leaders, according to Roderick McDavis, managing principal of AGB Search and the former president of Ohio University.
"Not only do you need the right personalities, I also think you need the right understanding right at the beginning," McDavis said. "Don't see that person coming in as a competitor or rival, but see that person as a true colleague, someone with a certain skill set."
McDavis believes more former presidents are likely to start taking high-level administrative jobs that aren't at the level of chief executive on campus. Those who are able to let go of having final say can carve out successful roles as experienced administrators and advisers, he said.
Such moves would spare leaders from the harsh scrutiny of the presidency. It can also be a new challenge, said Jessica Kozloff, president of Academic Search and president emerita of Bloomsburg University in Pennsylvania.
"We refer to it as your encore career," she said. "It's another full-time career, but it's something that gives you a new experience."
Mills knows he will have a new experience at UMass Boston. He is under no illusions that it will simply be Bowdoin at a larger scale. UMass Boston is a more complex institution educating different students, he said. Like many public universities, it has challenges with infrastructure, branding and online education.
Mills doesn't need to be a college president, he said. His wife, former U.S. Small Business Administration leader Karen Gordon Mills, is a faculty member at Harvard Business School. He wants to be in Boston with his family, even if he could be president of a liberal arts college elsewhere.
"Lots of people have called me," Mills said. "This isn't something I needed to do. This isn't about being a college president. This is about a totally mission-driven opportunity for me -- and a challenge -- and I'm looking forward to it."